Dear Friends and Neighbors,
With less than two weeks left in the 2022 legislative session, my colleagues and I are hard at work finalizing the details of the supplemental operating, capital, and transportation state budgets to best meet the needs of our communities. While some of the specifics may change as these budgets are negotiated into their final forms, I wanted to give you an update on some of the proposed investments that I'm most excited about.
Thanks for taking the time to read this update,
House Democrats Pass Supplemental Budget Proposal to Move Washington Past the Pandemic
Over the weekend, the House passed the House Democrats Supplemental Operating Budget proposal. The proposal is all about moving past the pandemic and getting back to normal, but still prioritizing recovery for families that are struggling. When COVID-19 struck our state, we worked on a budget that was equitable, inclusive, and tried to help everyone recover. That included business and rental assistance, food and utility support, and major funding investments in health care, public health, and housing. It was clear that some communities were hit harder than others and this uneven recovery isn't working for all of us. A year later, we're still seeing some communities struggling to get back on their feet, and problems that existed prior to 2020 still exist today. Some are even worse than before. 
Even with these challenges, there's light at the end of the tunnel. Masks are coming off, vaccines and boosters are available to everyone, and people are going back out into their communities and workplaces. With that sense of normalcy returning, everyone deserves to come out of this pandemic better than they went into it. It's time for smart, strategic investments in what families and workers in Washington need. If we invest now, every family benefits from the better future we'll be building for Washington. That's what you deserve.
Click to learn more about the investments made in the House Supplemental Operating Budget.
In addition to the investments shown above, I recently signed on in support of a proviso to allocate $30 million for refugees. I'll be sure to keep you updated on the progress of that proposed funding, particularly in the wake of international events.
I was proud to vote yes for this budget and I hope you'll join me in supporting the critical investments made in the House Democratic Supplemental Budget as we enter final negotiations with the Senate. 
Capital Budget Means Jobs and Progress
Washington's capital budget generally provides funding support for buildings and physical infrastructure projects throughout the state. Those can include investments in affordable housing and shelter for families, broadband and water system upgrades, K-12 school improvements, and more. As Vice Chair of the House Capital Budget Committee, and therefore one of the budget negotiators, I am proud of the work we've done this session to put together a $1.26 billion construction budget proposal which will make massive new investments in affordable housing, access to broadband, early learning, and other vital infrastructure. 
This is a highly unusual supplemental capital budget, as most years there is perhaps a few hundred million dollars in new projects in spending. This year is different due to one-time infusions from the state general fund ($737 million) and aid from the federal government ($264 million). The remainder is funded via state bonds ($290 million). 
Click to learn more about the investments made in the House Democratic Supplemental Capital Budget.
My Budget Provisos
I'm excited to report that multiple budget provisos that I put forward are included within the House Supplemental Operating, Capital, and Transportation Budget proposals. These include investments in our local community and investments that will benefit Washingtonians across the state.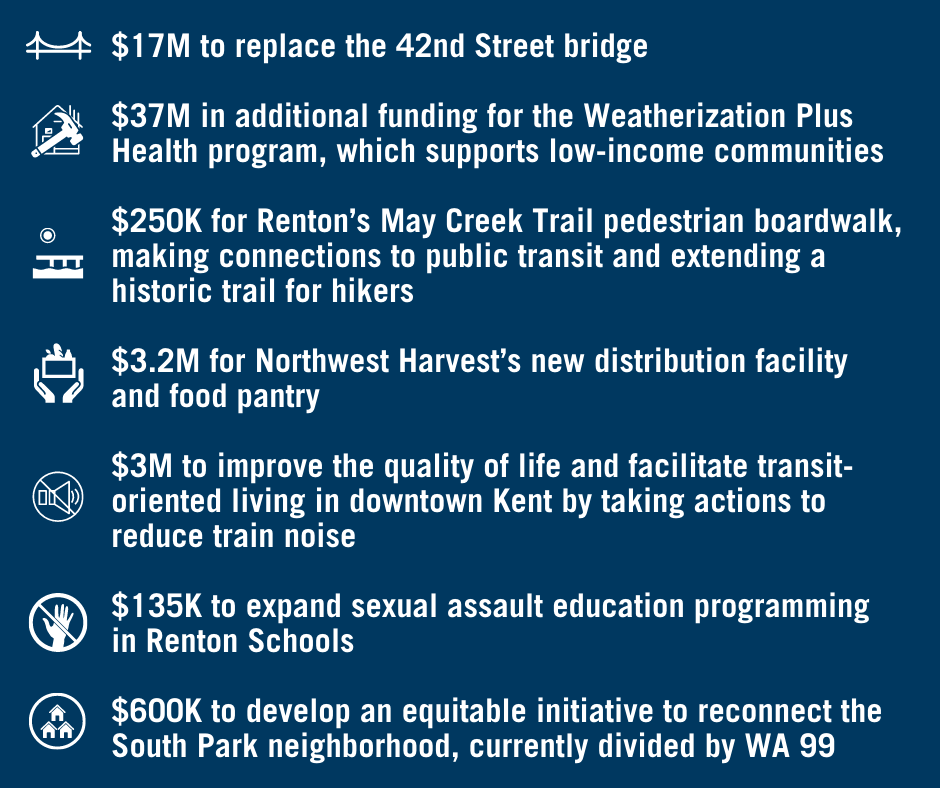 EV Charging in Common Interest Communities Passes the Senate
I'm happy to report that House Bill 1793, my bill to allow for electric vehicle charging stations in HOAs and condominiums, passed the Senate this week on a vote of 32-17!
Washington currently has over 86,000 electric vehicles and with $71 million from the federal infrastructure package to expand EV charging in Washington, the Clean Fuels Program, Climate Commitment Act, the Zero Emission Vehicle Mandate, and numerous other state programs, EVs will continue to rapidly increase in our state. With the expansion of their use, it's imperative to ensure everyone has affordable and convenient access to electricity as a transportation fuel, including at home. This bill helps achieve that by removing barriers for residents living in condos or HOAs. This is critical because about one-third of Washingtonians live in these common interest communities.
The bill now heads to the governor's desk for his signature. To learn more, watch my testimony in the Senate Law & Justice Committee last month.
---