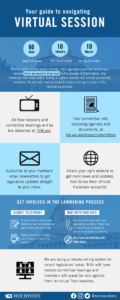 I'm hoping that we're nearing the end of COVID-19, but if you've been tracking case counts in Kitsap County you know we're not there yet. Getting a COVID-19 test has been challenging – I've experienced that myself; we had to take a ferry just to get tested. Thankfully, due in part to state funding in the budget the Legislature passed last year, the state has provided resources and links to options, including links to the federal free at-home COVID-19 tests (click the link and the top "Where can I get a COVID-19 test" menu).
We're in the third week of the 2022 Legislative Session; once again working mostly remotely. This has drawbacks, but it also has benefits: it makes it much easier for people to testify before legislative committees without traveling to Olympia. (The other day I heard testimony in our committee from people in Spokane who otherwise would have had to drive 5+ hours each way—if the pass was even open—to testify.)
Of course, remote testimony only works when you have access to high-speed internet. Last year, the Legislature passed my Public Broadband Act into law—with the strong support of the Suquamish Tribe and the Kitsap Public Utilities District—and now all cities, counties, and public utility districts can begin offering public broadband to residents. I'm going to continue working on how we get more grants and remove red tape so we can continue to expand public broadband across the state.
I'm also continuing my work to make college and apprenticeships more affordable so people can get decent jobs and support their families.
On college affordability, I'm strongly supporting a bill to expand the Washington College Grant—established in my bill in 2019—to provide more financial aid for more working families. I have a bill to expand how we connect students with financial aid, and I'm supporting another bill to create a new state student loan program with a maximum interest rate of one percent—far lower than federal student loans—so we can help people complete college or job training without high debt.
This has been a tough couple of years.  As your legislator, my focus is on helping everyone get back on their feet—and making sure the state does everything it can to help people get and keep good jobs, support our families, and continue to recover from the last few years.
Representative Drew D. Hansen
---