Dear neighbors,
It has been a busy two weeks of the long 105-day legislative session. Once again I plan to focus my legislative agenda on fixing problems in our electoral process while making government work better. I will continue to push for more transparency and accountability with our institutions as a top priority.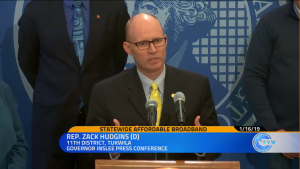 I was invited to speak on Governor Inslee's Broadband Access for All proposal, which would ensure that whether you live in a city or on a farm, you can access the internet. We are already living in the digital era and accessing this vital tool is a necessity for educators, economic developers and keeping our democracy strong and stable. Watch my remarks on this TVW clip.
Last year we made excellent strides in making voting and elections more accessible with the Democratic sponsored, "Access to Democracy" package. This year we plan to push this further with another series of bills aimed at broadening voter access, including:
I am also working closely with the League of Women Voters on a series of bills aimed at increasing transparency and accountability in elections, such as improving election data and post-election audits.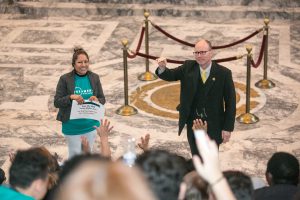 I have shifted positions within our committee structure, and I now chair the House Committee on Innovation, Technology and Economic Development. I am using my background as a high technology manager to oversee IT and prepare for the next economic downturn.
There is no denying that our bustling technology sector brings outstanding economic prosperity to our region, however some people are still being left behind. In my new role as Chair of the House Committee on Innovation, Technology and Economic Development, I am committed to encouraging the work being done for much needed diversity in the tech sector. We need to ensure that our booming tech economy is working for everyone in our state.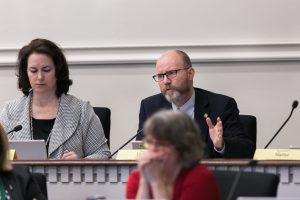 Finally, if you know teens between the ages of 14-16 interested in seeing our democracy at work in the state capitol, please encourage them to check out our Page Program. These talented young adults spend one week in Olympia learning on the job while offering legislative support to members of the House and Senate. Last year we passed a bill to help with scholarships for Pages to help offset any costs. See more information, or apply to be a Page here.
I look forward to hearing from you this session. Please don't hesitate to come visit me in Olympia, or contact my office with any questions or concerns.
Thank you for the honor and responsibility of representing you in Olympia.
Rep. Zack Hudgins
Zack in the News
Spokesman Review: State officials couldn't become lobbyists as soon as they leave
Spokesman Review: New conduct code, changes to deadly force law pass House
Crosscut: Legislature looks to bring broadband to rural 'black holes'
---