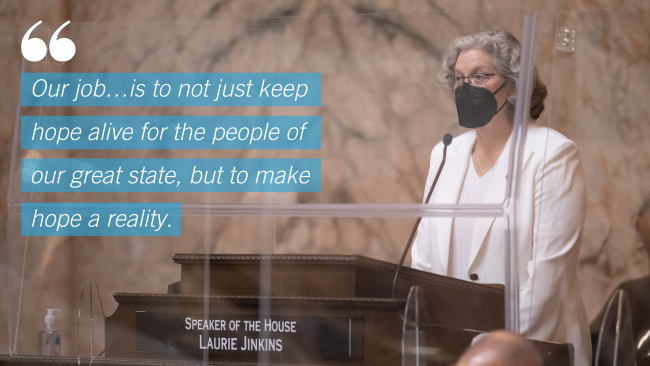 Dear friends and neighbors,
This newsletter is devoted to sharing many of the big victories of the 2021 legislative session. When the Legislature adjourned "sine die" on April 25th, it concluded a historic and unprecedented remote session. The remote nature of our work didn't deter us from our focus: helping our state get through the pandemic, and ensuring an inclusive recovery.
But first, a big thank you to the more than 2,200 27th District constituents who joined Sen. Jeannie Darneille, Rep. Jake Fey and me for a legislative telephone town hall on Tuesday evening during which we answered your questions on topics like housing and homelessness, economic recovery, transportation, behavioral health, and more. We know your time is valuable, and to have such a strong turnout for this event shows just how engaged our community is.
If you missed it or weren't able to join us, I will include a link to audio of the event in a future newsletter, as well as post it to my legislative Facebook page. We will definitely have another of these events in the future.
Telephone and virtual town halls cannot fully replace in-person events, but they are an excellent option during this pandemic to be able to come together safely as a community and talk about the issues that are important to you.
If you missed our virtual town hall back in March, here are links to the stream of that event on Facebook and on YouTube.
2021 Session delivers in four priority areas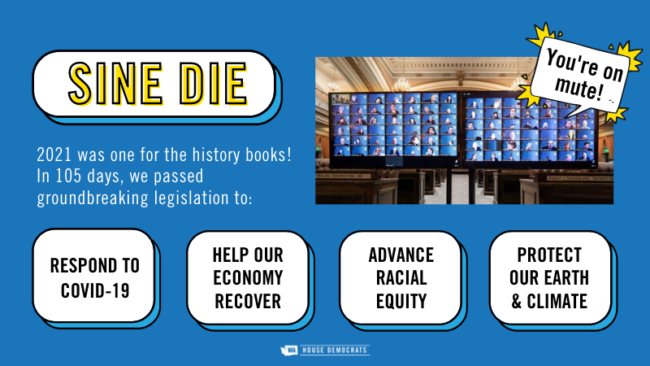 As the 2021 session began, our state faced the most challenging times we've seen in a long while. Nearly everyone in our state has been impacted by the COVID-19 pandemic, and those most impacted are working families, small businesses, students, front line health care workers, those most in need, and those painfully affected by systemic racism.
Legislators met the challenge of these unprecedented times by focusing our work this session on four specific areas: COVID-19 response, economic recovery, advancing racial equity and racial justice, and acting on climate change.
COVID-19 response
In addition to $1.2 billion for for COVID-19 vaccines, contact tracing, and testing, and $149 million for local public health districts in our budget, we passed bills responding directly to the health needs exposed by the pandemic:
House Bill 1152, which increases community involvement in public health and local boards of health, promoting greater public participation.
House Bill 1196, which requires health carriers to reimburse for audio-only telehealth. As we've seen during the pandemic, telehealth is a safe and easy way for people to get medical advice without having to travel to their provider's office and risk the spread of COVID-19. Audio-only telehealth is an option that allows those without a computer or broadband access to easily talk to a doctor and get medical advice quickly.
House Bill 1218, which strengthens protections for long-term care residents by establishing minimum communication requirements, so facilities are responsive to calls from families, and establishes a right to visitation. It will also make residents safer during emergencies by requiring things like comprehensive disaster preparedness plans.
Economic recovery
Our Washington Recovery Budget delivers big to support those hit hardest during the pandemic, those who have suffered the most, and those who face the most barriers to recovery.
With a billion dollars in rental assistance, plus hundreds of millions more for mortgage assistance to keep people from going into foreclosure, and for homelessness response and permanent housing supports, we're doing everything we can to keep and get people into housing.
Small business recovery supports total $700 million and include a cut in unemployment insurance rates and grants for small businesses.
Other policies to support economic recovery for families and businesses include:
House Bill 1297, the Working Families Tax Rebate, which makes more than 400,000 taxpayers across the state eligible for a tax rebate between $500 and $950 per year.
House Bill 1095, which exempts businesses from state tax on COVID-19 relief funds.
House Bill 1279, which expands the Main Street program to help revitalize rural downtowns and promote recovery in our small communities
Senate Bill 5237, which makes child care and early learning more accessible and affordable – something critical to long-term recovery for our state
Advancing racial equity and racial justice
We threaded racial equity throughout the entire budget development process. The result is not simply line items we can point to, but values reflected in every single decision: from boosting public health, to keeping people in their homes and fed, to investing in small business, to getting students caught up.
In order to have an inclusive recovery, we prioritized the needs of Black, Brown, and Indigenous communities that have suffered the most and faced the most barriers to accessing help.
In the racial equity space, some of the key bills we passed include:
House Bill 1016, which makes Washington the next state to recognize Juneteenth (June 19th) as an official state holiday. Please read the statement from Piece County legislator Rep. Melanie Morgan of the 29th Legislative District on the importance of our state taking this step.
House Bill 1078, which does away with Jim Crow-era policies that made it more difficult for formerly incarcerated individuals to restore their right to vote, so they can better reintegrate into their communities and civic life and are less likely to reoffend.
House Bill 1356, which ends derogatory use of Native Americans as school mascots.
Senate Bill 5044, which ensures our K-12 educators have access to anti-racism curricula as part of their cultural competency training, so they can best serve all students in our schools.
In the racial justice space, one of our big victories is passing a package of bills that ensure law enforcement officers across our state have preserving and protecting people and communities as their highest value, and help them build trust with communities through accountability and transparency. Highlights of this package include:
House Bill 1054, which bans no-knock warrants, chokeholds, neck restraints, and certain military equipment. It also establishes restrictions on vehicular pursuits and shooting at moving vehicles, and modifies when tear gas can be used and how it is authorized.
House Bill 1310, which changes the existing use-of-force law. It sets the clear expectation that de-escalation should be an officer's first instincts and that deadly force should be a last resort.
House Bill 1267, which establishes an Office of Independent Investigation for police deadly uses of force, housed in the Governor's Office. It will consist of regional teams that can respond to a deadly use of force within one hour to secure the scene and process evidence.
Acting on climate
In addition to $131 million investment that will help us take the necessary steps to establish healthier forests that will be more resistant to wildfires, we passed the following policies to take action on climate change:
House Bill 1091, which establishes a Clean Fuels Program in our state. This will not only address our single largest source of greenhouse gas emissions (the transportation sector), it will also spur economic activity and growth by creating more opportunities for Washington producers of clean transportation fuels.
Senate Bill 5126, the Climate Commitment Act, is a cap and invest system that sets a statewide emissions budget (or "cap") that applies to the largest polluters in the state, and gradually ratchets down that cap to meet Washington's goal of net zero emissions by 2050. It creates a market for polluters to buy and "trade" pollution allowances that will become increasingly expensive — an incentive to cut emissions.
---
Despite the pandemic and a remote session, historic legislation got through this year that delivers on all four priority areas. Our budget investments also ensure that we recover together as a state without leaving anyone behind.
I'm proud of what we were able to get done, and I'm especially glad we were able to do it safely, with no staff, lawmakers, or members of the public contracting COVID-19 as a result of our legislative work. This was unfortunately not the case in some other states.
It's an honor to serve the people of the 27th District. Please don't hesitate to contact me with your questions, concerns, or feedback.
Sincerely,

---