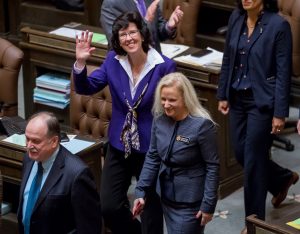 It's an honor and a privilege to serve the people of the 28th District in the House of Representatives.
In the upcoming 2019 legislative session, I look forward to serving you and standing up for:
Middle class families by advocating for property tax cuts and ST3 tax cuts and well-paying jobs that provide economic security for all Washingtonians;
All Washington students by supporting better special education funding and addressing the statewide teacher shortage, as well as further expansion of college financial aid and tuition freezes;
Military families and veterans who make unprecedented sacrifices for our state and country and deserve our unequivocal support whether transitioning to civilian life or ensuring full access to services, including a renewed push to pass my legislation to promote military spouse employment;
Providing stability for families by ensuring mental health and health care services are available to everyone who needs them, as well as a comprehensive approach to addressing the opioid crisis that affects every community in Washington; and
Communities across Pierce County so they are safe, healthy and vibrant places in which to raise our families and work.
My door is always open to you and I encourage you to reach out with any questions, concerns, or comments on anything I'm working on in Olympia. You can reach me, or my legislative assistant Jennifer, at the contact information below:
I look forward to hearing from you!
It is the highest honor to serve as your State Representative.
Yours,
Rep. Christine Kilduff