During an election year, there are certain restrictions on my communications to prevent the use of state resources for election purposes. One of these restrictions is a freeze on this website, meaning no new content can be added beginning May 11, 2020, until after the general election in November. If you have questions or comments about legislative issues, please feel free to continue to contact me.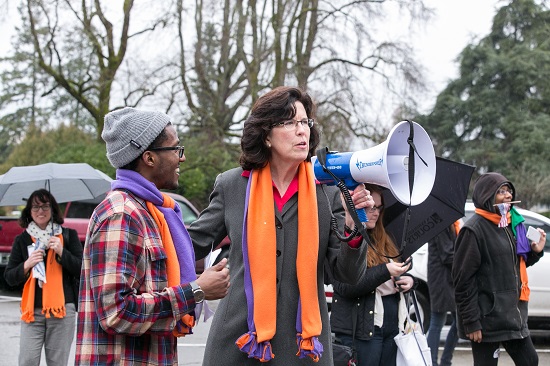 It's an honor and a privilege to serve the people of the 28th District in the House of Representatives.
So much has changed in our world since the 2020 legislative session concluded on March 12. We have had to adjust to a new and difficult reality. COVID-19 has put an enormous strain on families, the economy, and the health care system. Instead of hopelessness we have seen people joining together to support our most vulnerable neighbors. As a community we were able to flatten the curve and save lives, and if needed we can do it again. This virus cannot stop the compassion, ingenuity, and sense of community that make us Washingtonians.
Washington's government is doing everything it can to adapt to this crisis and provide services and resources to all Washingtonians. The state has created a comprehensive website that gathers resources you may find helpful in one location.
The final bill that the Legislature passed this year was to allocate $200 million to support a statewide pandemic response, including support for monitoring and testing through local public health departments, mitigating costs to businesses, and expanding unemployment insurance. We stand ready to allocate more funding and make necessary policy changes to help our state recover. You can learn more about the Legislature's response and find other resources in our end of session district newsletter which you can access by clicking the below.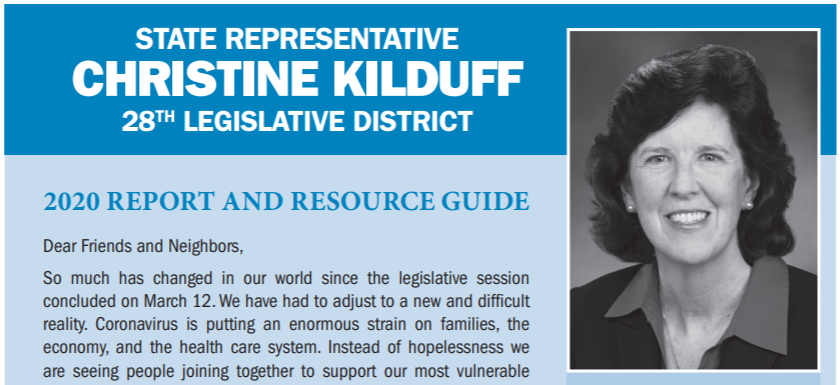 Washington was fortunate that it was able to complete the regular 2020 legislative session prior to the need to stay home and stay healthy. The legislative process was able to play out and I was able to pass legislation this year that:
Lastly, it is with some sorrow and immense gratitude that I inform you that I will not be seeking another term in the House of Representatives. I will serve out the remainder of my term until January of 2021.  In the meantime, you can still count on me to serve as a resource, address your concerns, and connect you with the rest of our state government. Representing the 28th Legislative District over the last six years has been the highest professional honor, and a privilege that I will long cherish.
My door is always open to you and I encourage you to reach out with any questions, concerns, or comments. You can reach me, or my legislative assistant Jennifer Way, at the contact information below:
Email: Christine.Kilduff@leg.wa.gov
Toll-free Hotline: 1-800-562-6000 or for TTY / hearing impaired, 1-800-635-9993
Olympia: 360-786-7958 and Mobile: 253-235-3534
Sincerely,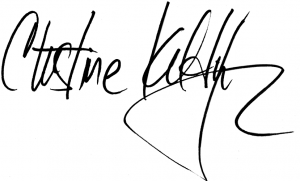 Rep. Christine Kilduff