Dear friends and neighbors,
With some sorrow and immense gratitude, I announced yesterday that I will not be seeking another term in the House of Representatives. I will serve out the remainder of my term until January of 2021 and my office will remain open. You can still count on me to serve as your voice and a resource to address issues and connect you with the rest of our state government.
Representing the 28th District has been the highest professional honor, and a privilege that I will long cherish.
As the granddaughter of four Irish immigrants who grew up in the Bronx and Long Island, it is a true testament to the American dream that I have been able to represent our diverse and beautiful home. Getting to meet so many of you over the past six years has been an immense joy. From servicemembers and military spouses at Joint Base Lewis-McChord to children and people with developmental disabilities and their parents to working parents, each of you has helped shape the policy that I have worked on during my time here.
As the Chair of the Civil Rights & Judiciary Committee, I was able to work on a number of important policies to our state. During my time in Olympia I was able to pass 29 bills, including seven this year. Hearing from you strengthened my resolve to work with fellow legislators and find real solutions to the problems and challenges that our state faces.
Hearing from you often led to ideas for positive change in our state. It was a mother from University Place who first made me aware of recent federal law changes and the creation of "ABLE" Accounts, one of the most important bills that I have passed in Olympia. ABLE accounts are a tax-deferred savings program that allow individuals with disabilities to save for the future without interfering with the means-tested benefits that many rely on. The bill passed in 2016 and just this year the program enrolled its 1000th participant. Bringing your ideas to Olympia is the part of the job I will miss the most.
I am immensely grateful to my family–my wife, Colleen, and our amazing daughters, Amelia and Julia–for their unending love and willingness to allow me to serve as state representative, which included many hours away from home. I have been representing the public and the people of this state in one form or another for the last twenty-five years and look forward to continuing to serve in some other capacity.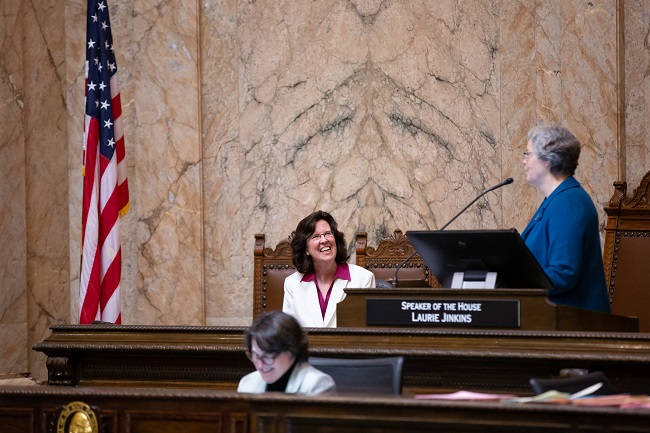 Coronavirus update
School closures
With our state experiencing a growing COVID-19 (coronavirus) outbreak, schools in Pierce County had been ordered to close from March 16 to April 24.
At a press conference on today, Governor Jay Inslee, accompanied by Superintendent of Public Instruction Chris Reykdal, took the extraordinary step of closing all schools from March 17 to April 24 to help stop the spread of COVID-19. This emergency order applies to all public and private K-12 schools in our state.
This decision was considered with the utmost care after consultation with public health authorities, the Office of Superintendent of Public Instruction (OSPI), and county executives. Health officials have advised that school closures can significantly mitigate the number of cases and slow the transmission of COVID-19. While students are at low risk for infection, we must consider their elderly or vulnerable family members whose health may be jeopardized.
We know many students and families rely on critical school services, and we know districts, including those in the 28th Legislative District, are actively planning to accommodate nutrition, childcare, and students experiencing homelessness. Districts are also working with our community to ensure that staff compensation and school planning do not falter.
Here are a few updates I can share now. The situation is rapidly evolving, and this information may change.
Governor Inslee has directed districts to provide free childcare for children of medical professionals or first responders.
Make-up school days after June 19 will be waived.
The Legislature passed a law to grant local flexibility for graduation requirements due to the COVID-19 state of emergency. Here the bill as passed by the Legislature.
OSPI has more information about school meals during closure here.
All state testing for the 2019-2020 school year has been canceled.
OSPI will continue to be your best resource for updated information. Check their website or follow them on Twitter and Facebook.
More resources:
School Closures Q&A
COVID-19 in Schools: A Parent Guide (English) (Spanish)
Federal and state response
The Legislature is taking this health crisis extremely seriously. We have now appropriated $200 million to fund our state's response, including monitoring, testing, and support for local health departments.
We have also acted to:
ensure that people receiving unemployment insurance can continue to do so even if they can't meet the work search requirement due to quarantine;
support businesses that rehire employees who had to go on unemployment insurance because of the coronavirus emergency;
reimburse nursing homes that aid in the coronavirus response; and
allow school employees to maintain health insurance eligibility for the rest of the school year even if they come up short of required work hours because of the coronavirus state of emergency.
The federal government has passed an $8.3 billion coronavirus response plan. Of that, $11.2 million came immediately came to Washington state for public health responses. Our congressional leaders are hard at work negotiating a supplemental bill that is intended to include additional Medicaid funding, housing support, and SNAP benefits.
To minimize public health risk, Governor Inslee has prohibited most large events of more than 250 throughout the state.
State agencies have announced measures to help people and businesses whose lives are disrupted. The governor's office has assembled a central list of resources here. Below are some of the most important changes that can help you.
Worker and employer assistance
If an employer temporarily shuts down operations because of coronavirus, workers may be eligible for unemployment benefits and the employer may receive relief of benefit costs.
If workers are exposed to coronavirus and asked to isolate or quarantine by a doctor or health official, they may receive unemployment benefits while they are temporarily away from work. A bill passed recently by the Legislature waives the requirement that people in this situation must be actively searching for work.
In response to the spread of coronavirus, the Washington Health Benefit Exchange has opened a special enrollment period for health insurance through April 8. You can call 1-855-923-4633 between 7:30 a.m. and 5:30 p.m. Monday through Friday.
The Insurance Commissioner has required all insurance plans to cover coronavirus tests with no cost-sharing and no prior authorization requirement for people who meet the CDC criteria for testing.
He has also required insurance plans to allow enrollees to refill their prescriptions early one time in order to maintain an adequate supply.
Protect your health and your loved ones
Remember, if someone you know has a fever and non-acute respiratory distress, they should call their doctor. Symptoms to watch for are fever, cough, and shortness of breath.
The best preparations are to prevent infection with simple yet effective actions:
Wash your hands often with soap and water for 20 seconds (singing happy birthday twice).
Cover coughs and sneezes with your elbow, sleeve or tissue (not your hands).
Avoid touching your eyes, nose, and mouth.
Bump elbows with friends rather than giving hugs or handshakes.
Clean and disinfect frequently touched objects and surfaces.
Use hand sanitizers when unable to wash your hands.
If you have symptoms and do not have a doctor to call, you can call the Washington State Department of Health call center at 1-800-525-0127.

It remains the highest professional honor to serve as your State Representative.
---