Dear Friends and Neighbors,
Last week was our first joint email update on COVID-19 and this week we will continue that effort, starting by updating you on the proposal from bipartisan lawmakers on a first step to opening the economy up safely and in line with the best guidance from public health officials.
For many who are out of work, there are questions about how to get benefits and how much money is available. We have been receiving constant updates from the state Employment Security Department and we'll give you the latest news on how to access benefits and the status of the federally-increased unemployment insurance.
We are also concerned about how people are coping with the "Stay Home, Stay Healthy" order. Even though this order is helping many of our loved ones and neighbors avoid getting sick, and it's the right thing to do, the major disruption to our daily schedules can be a tough burden to carry. Paying attention to our behavioral health is as important as our physical health, so we are sharing some guidance and resources below.
In this difficult time, we want to stress that this truly is a collective effort to stop COVID-19 from claiming more lives. While this is challenging, it is something we can overcome together.
Stay strong, take care of yourself, and reach out if there is anything you need.
It's an honor to serve as your Representatives.
| | |
| --- | --- |
| | |
| Christine Kilduff | Mari Leavitt |
---
How We Reopen the Economy: Step One
Last week, House Democrats and Republicans and Senate Democrats submitted their "First Step" in reopening the economy to the governor's office. This is truly a first step, not a full plan, but one that will serve as a basis for how we can safely begin reopening the economy and getting people back to work. It's important we do not rush to open up certain sectors without knowing work can proceed without unnecessarily endangering others. An analogy you may have seen online likens it to jumping out of an airplane. Once your parachute slows you down, you don't cut it off. That's why it's important we don't just reopen every sector of the economy—we don't want to end up crashing to the ground.
The governor announced the Washington Recovery Plan that incorporates the larger issues we are all working on when it comes to protecting the health and safety of our communities, while facilitating a safe start to reopening the economy. You can read more about his plan here.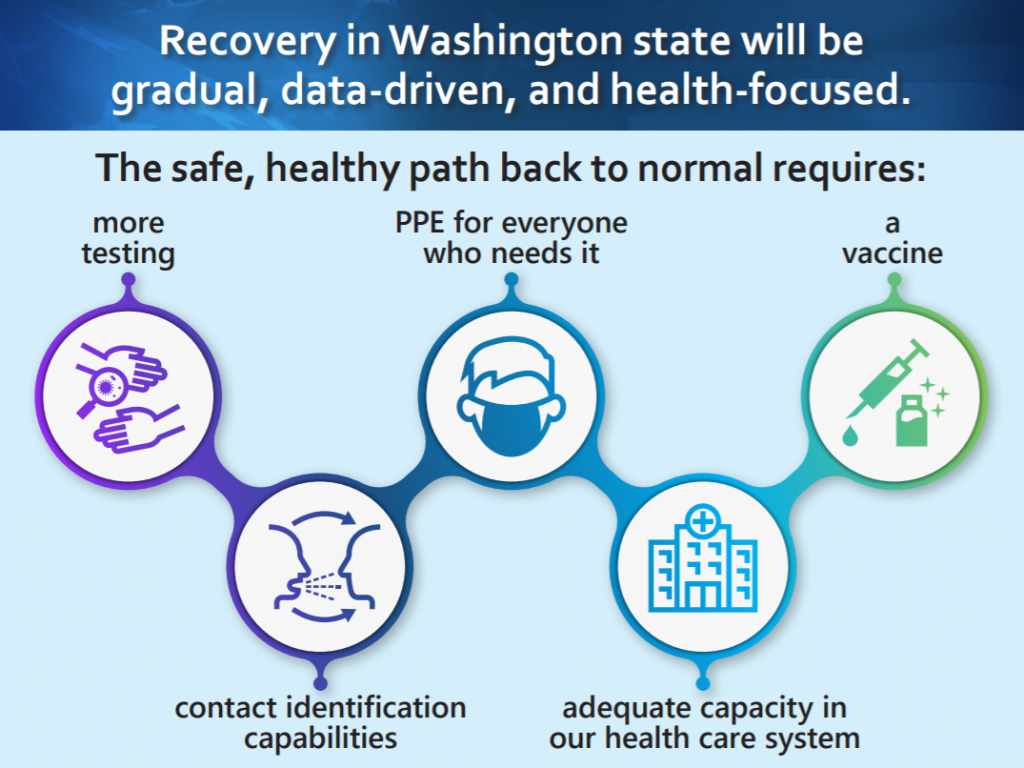 Outlined in the bipartisan plan is a recommendation to the governor to allow:
Residential construction in a limited fashion;
Online automobile and RV sales;
Landscaping;
Mobile home hook-ups;
Retailers who have door or curbside pick-up options, online sales, or appointment only options OR in communities with limited broadband access or COVID-19 cases; and
In-home cleaning companies with limited employees working in a single residence.
All of these would have strict social distancing and personal protective equipment (PPE) requirements to help ensure people remain at low-risk for acquiring COVID-19.
For retailers that might mean including hand sanitizer at the register and face masks for every employee and limiting the number of customers allowed in the store. For construction N95 alternative masks and limited subcontractors on the site could be the recommendation. There may be other industries added to this list, or taken away, and the requirements might change as more health experts weigh in.
This is the "First Step" recommended by a bipartisan group of legislators in the House and Senate. Whatever is determined to be the safest way forward to reopening our economy, a first step and a plan is necessary and we are grateful the governor has involved so many public health experts, state lawmakers, business leaders, labor unions, and community groups to be a part of the discussion.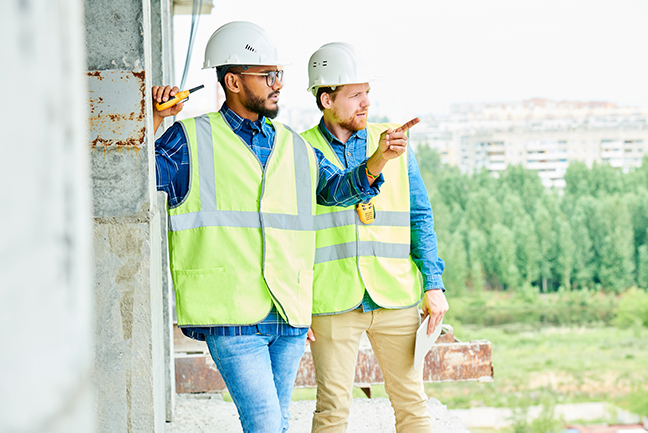 ---
Finding Success in the Unemployment Benefit Process
With so many people out of work or unable to work due to COVID-19, the state Employment Security Department is strained with many more families applying for benefits than normal. However, they are working hard on updating their website and getting important information out and we wanted to share what they told us.
Make sure to read all the instructions and information on the ESD website before you apply. This can help you make sure you have necessary information to fill out the application and submit your claim.
Are you having a hard time applying due to high demand straining the system? Try applying on a different day or at an off-hour. This can help you get through more quickly.
The money from is not going to run out. Everyone who is eligible will get their money and will be paid retroactive to their date of eligibility.
The ESD is hiring a lot of new customer service staff to help respond to need, even bringing back retirees. As that staffing ramps up, ESD will be better equipped to handle the high volume of requests.
For independent contractors and self-employed workers to get benefits as quickly as possible, ESD will pay them right away a minimum weekly benefit amount ($235 for full-time workers) plus the $600 from the Federal CARES Act. When the independent contractor or self-employed workers wages have been verified, ESD will retroactively pay them any difference in their weekly benefit amount. This is to expedite getting money into workers pockets, but still protect against fraud.
You must submit your claim weekly and weekly claims can be filed anytime online at www.esd.wa.gov from Sunday through Saturday and can also be filed over the automated phone system at: 800-318-6022.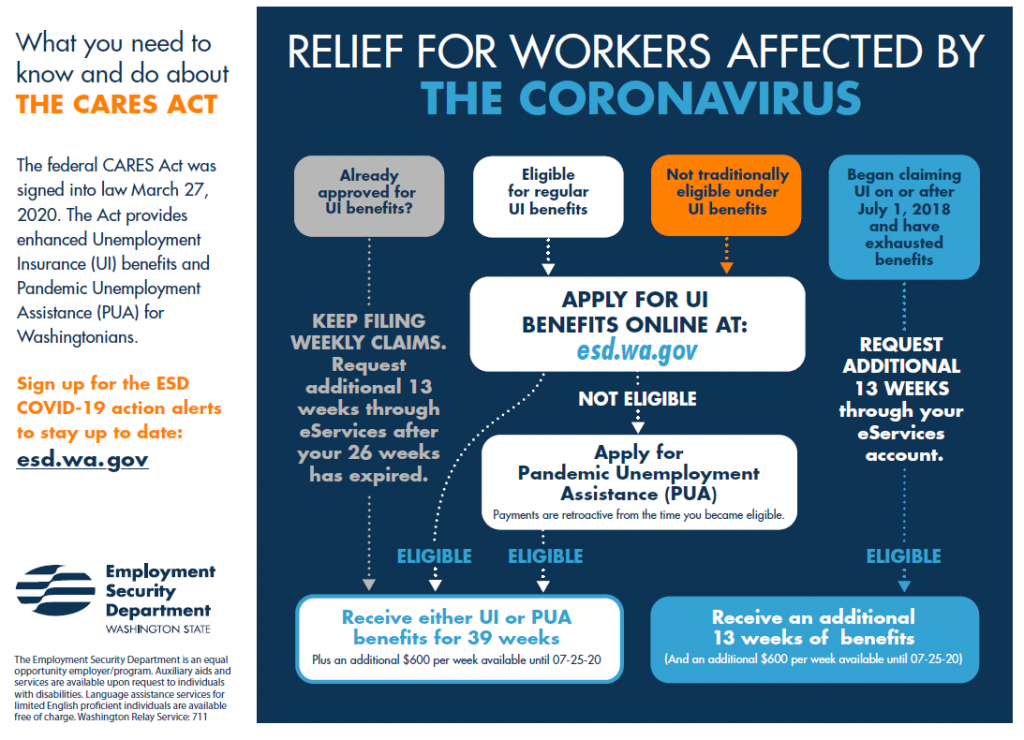 ---
Taking Care of Your Health and Getting Help
Staying home, being away from friends and loved ones, unable to go to your worksite or maybe even losing your job: these are all hard, no matter who you are, and can lead to unhealthy behaviors. It's important to recognize the stress you may be experiencing and find appropriate coping mechanisms. The Centers for Disease Control and Prevention have recommendations, help identifying warning signs, and ways to support your children during COVID-19.
If you or a family member is struggling and turning to addiction, such as alcohol, substance abuse, or gambling (legal or not), there are resources available in Washington state to get help. A long list of resources is available on the state coronavirus response website or you can find specific sites with access to resources below.
The Health Care Authority has a website on problem gambling: How to tell if someone may have a gambling problem, what to do if you think you have a gambling problem, who is eligible for treatment or you can call the Washington State Problem Gambling Helpline at 1-800-547-6133.
If you are struggling with substance use disorder, you can find a treatment provider and get help from the Washington Recovery Help Line website or by calling 1-866-789-1511.
Finally, if you are struggling with thoughts of suicide or self-harm, please consider calling the National Suicide Prevention Lifeline at 1-800-273-8255.
---