During an election year, there are certain restrictions on my communications to prevent the use of state resources for election purposes. One of these restrictions is a freeze on this website, meaning no new content can be added beginning May 14, 2018 until after the general election in November. If you have questions or comments about legislative issues, please feel free to continue to contact me.
Biography

Legislator. Volunteer. Law student.
Raised in Pierce County, David Sawyer graduated from Rogers High School in Puyallup. He attended Central Washington University, where he studied Political Science as well as Geography and Land Studies. After college, he worked in Washington D.C. for Senator Maria Cantwell before moving back to the Washington state to work on his first political campaign.
David was one of the first 25 staffers on the ground in Iowa to work for then-Senator Barack Obama's presidential campaign. Next, he returned to Washington state to work on the gubernatorial campaign and later ran a campaign for Attorney General.
David and his business partner then started a small consulting business and represented clients in the private, public, and non-profit sectors. He has been an active volunteer in his community, volunteering for Big Brothers Big Sisters and serving on the board of a program sponsored by the United Way. He also participated in Habitat for Humanity projects in Guatemala.
When not working in Olympia, David works full time at Sadler Ladenburg as a Law Clerk/Law Student under the A.P.R. 6 Law a Clerk program through the Washington State Bar Association. After completing the program, David will take the bar exam to become an attorney.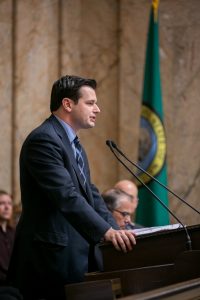 News
[memberloop catname="'David Sawyer'" perpage="5″]