Lillian Ortiz-Self
Biography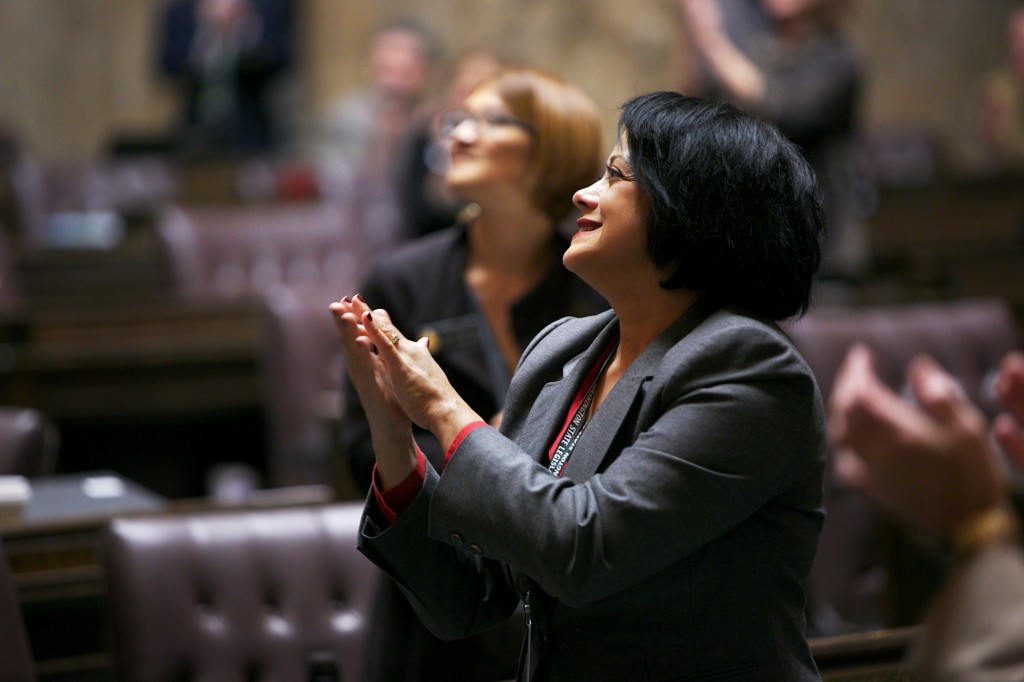 Lillian was appointed in 2013 to fill the seat vacated by former Rep. Marko Liias, who took the place of retired Sen. Paull Shin. She was elected the following year and is now serving her third session.
In her current role as a school counselor for the Everett Public School District, she works with a variety of youth in both a teaching and mentoring capacity. This, along with her past work in several child-service organizations, has given her a deep appreciation and understanding of how human services can help families.
Lillian came to the Legislature with a wealth of experience. In Illinois, she served as the clinical director of a mental health center, regional coordinator for the Board of Education, education adviser for the Department of Children and Family Services, and founder and former director of the Comunidad Unida Project, a center for Latino families and youth.
She currently serves as vice-chair of the Education Committee and is also a member of the Early Learning and Human Services, and the Transportation committees. She was appointed as a co-chair to the Educational Opportunity Gap Oversight and Accountability Committee and as a member on the Education Committee for the National Council of State Legislators.
Her past experiences working in her community, in the schools and child-serving agencies gives her a passion to advocate for the issues families face.
She moved to the Snohomish area in 2003, and has been living in Mukilteo for a decade, where she raised her three children, Leanna who graduated from Columbia University in Chicago; Tyler who is a Junior at Washington State University majoring in Mechanical Engineering and Kayla who is a Junior at Kamiak High School.
Lillian has a master's in public administration and a master's in counseling from Drake University in Des Moines, Iowa.
Awards:
Washington School Counselor Association, School Counselor Advocacy All-Stars
KSER Voice of the Community, Community Leader Award
NW ASIAN WEEKLY, Women of Power in Education Award
WOMEN'S LEAGUE OF SNOHOMISH COUNTY, Education Advocate Award
RAY SIEVERS ADULT ACHIEVEMENT AWARD, YMCA
———————————————
We asked Lillian to tell us a little bit more about herself and her new position under the Capitol Dome:
Q: What inspired you to run for office?
LO-S: I wanted to use my direct experience across child-serving systems to impact the policies and legislation that affect our children and families.

Q: How do your committee assignments fit you and the 21st Legislative District?
LO-S: I believe in a holistic approach to meeting the needs of our children and families, some of which includes education, human services, transportation, and environmental issues. These committees deal with legislation that effects our families' quality of life and I am excited to represent my constituents on these committees.

Q: Is there a moment you'll remember most from your first day as a lawmaker?
LO-S: Bringing the map of the 21st Legislative district into my office was a memorable moment for me. I felt the seriousness of the responsibility on my shoulders to assure that my families' voices are well represented.

Q: If you could pass any legislation, what problem would you fix?
LO-S: I want to continue to fight for academic success for all students. Our graduation rates across the state are not acceptable. We cannot continue to lose our most precious resources, our children. I want to make sure our educational system works for all, including preparing students for the jobs of the future in science, math and technology, as well as career and technical education programs and apprenticeships for students who do not want to go to college.

Q: If we peeked at your iPod, who would we see?
LO-S: An eclectic variety. Everything from McLemore, Bruno Mars, Alicia Keys and Adele, to salsa music, and musicals from In the Heights to Les Misérables.
Q: What is your preferred communication technique with social media?
LO-S: I don't know that I have a favorite technique, but I mostly use Facebook.
---