Pat Sullivan
During an election year, there are certain restrictions on my communications to prevent the use of state resources for election purposes. One of these restrictions is a freeze on this website, meaning no new content can be added beginning May 14, 2018 until after the general election in November. If you have questions or comments about legislative issues, please feel free to
email me
, and I'll get back to you as soon as possible.
Welcome to my legislative homepage!
The 2018 Legislative Session begins January 8, and although it's a "short session" (scheduled to last 60 days) there's no shortage of issues we must address. Fine-tuning the historic education funding package passed last session, protecting our health care and mental health care systems, and improving local economies throughout the state are a few of the issues I'll be focused on as House Democratic Caucus Majority Leader.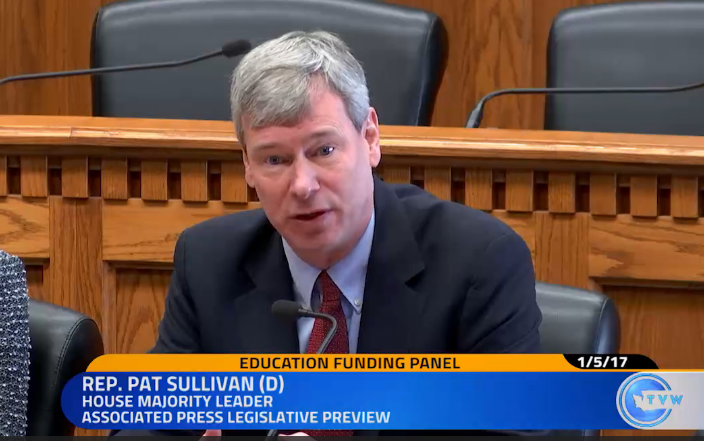 Please check back frequently for the latest news and updates on what is happening in Olympia during the legislative season.
And if you need information or have a legislative issue, always feel free to contact me with your requests and concerns and either I or my legislative assistant will return your call, email, or letter promptly. Thank you for allowing me to serve you as your Representative in Olympia.
Biography
Pat Sullivan was elected to represent the 47th Legislative District in the Washington State House of Representatives in November of 2004. He is the Majority Leader of the House and serves on the Appropriations Committee.
Pat's legislative priorities include building a strong economy by investing in education, creating good paying jobs with benefits and affordable health care.
A graduate of the University of Washington, Pat has a long history of being involved in his community. He was the first mayor of Covington and chaired the Economic Development Council. Prior to being elected to the House of Representatives, Pat worked for the Legislature and for King County.
He also has served as co-president of the Covington Elementary PTA, as a member of the Learning Improvement Team, and on the Kent Communities in Schools board.
Pat has lived in Covington for over two decades. He and his wife Amy, an oncology nurse, have three daughters: Katie is a college student, Maddie just graduated from Kentwood High School and Green River Community College, and Molly attends Kent schools.
News
Contact
I enjoy hearing from people back home in the 47th Legislative District. Please don't hesitate to contact me if you have an idea, question or concern. I'll get back to you as soon as possible.
Olympia Address:
LEG 339A
PO Box 40600
Olympia, WA
98504-0600
(360) 786-7858
Email Pat
Legislative Assistant:
Lesley Roberts
Email: Lesley.Roberts@leg.wa.gov
Toll-free Hotline:
1-800-562-6000
1-800-635-9993 (TTY)
For Press Inquiries:
Jim Richards, Communications Director
(360) 786-7206
Jim.Richards@leg.wa.gov
For broadcast-quality audio or TV/radio interviews:
Dan Frizzell, Broadcast Coordinator
(360) 786-7208
Dan.Frizzell@leg.wa.gov
---