Strom Peterson
During an election year, there are certain restrictions on my communications to prevent the use of state resources for election purposes. One of these restrictions is a freeze on this website, meaning no new content can be added beginning May 14, 2018 until after the general election in November. If you have questions or comments about legislative issues, please feel free to continue to contact me.
Home
Hello,
Thank you for visiting my website. It is a great honor to serve as one of your state representatives for the 21st Legislative District. I hope you'll find this a useful resource for learning about the Legislature, the House Democratic Caucus and the work I'm doing to represent you. You can read about my current work under the News section or sign-up for my e-newsletter if you would like occasional legislative updates.
You can also Like the House Democrats on Facebook here or follow us on Twitter here.
If you have any questions or concerns, please don't hesitate to email me or call me at (360) 786-7950.
Sincerely,



-Strom
Biography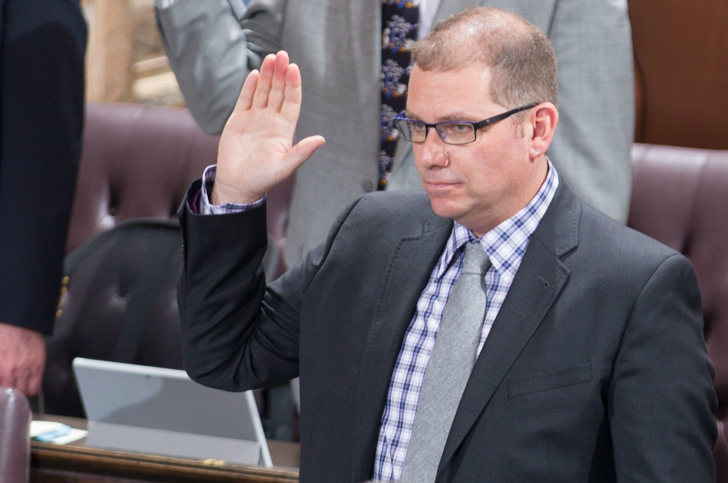 Representative Strom Peterson represents the 21st Legislative District, which includes neighborhoods in Edmonds, Everett, Lynnwood, and Mukilteo.
He began his first term in Olympia in January 2015. Strom serves as the Vice Chair of the Environment and Capital Budget Committees and as a member of the Local Government Committee.
Strom owns the Cheesemonger's Table, a cheese shop and café in Edmonds. As a small business owner, he has seen firsthand the benefits a living wage and smart infrastructure investments can have for a community. Strom served on the Edmonds City Council for six years prior to his election to the legislature, where he served on the Public Safety and Economic Development Committees. He was, and remains, a strong advocate for protection of our environment and our state's natural resources.
Strom's community involvement includes supporting and volunteering for the Edmonds Center for the Arts, his local Rotary, Chamber Board, the Edmonds Community College Boots to Books program, and the Edmonds Veteran's Plaza.
Born in Albuquerque, New Mexico, Strom received his B.A. in English from the University of New Mexico. He has lived in Edmonds since 2001, where he resides with his wife, Maria Montalvo, and their dog Lulu.
News
Protecting the environment & Feeding our state's students
Protecting our communities and the environment from toxic PFAS chemicals
Recently, some Washington communities have found alarming levels of per- and polyfluorylalkyl substances, or PFAS, in their water supplies. Not only are PFAS chemicals long-lasting, they have been tied to multiple serious health issues, such as certain cancers, hormone disruption, and liver toxicity. While these communities are taking steps to protect their residents from the toxic chemicals, more needs to be done to protect our communities and the environment.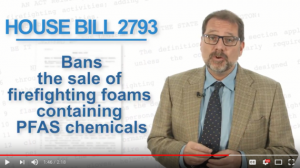 Experts have pinpointed the source of the contamination to a kind of firefighting foam used to put out oil fires. In order to protect our environment, our health, and the health of our state's fire fighters, I've proposed House Bill 2793, which will ban the sale of the PFAS-containing firefighting foam.
Learn more about toxic PFAS chemicals and what can be done to protect our water supplies, our health, our communities, and the environment in this week's legislative update!
Updating Washington's emissions reduction targets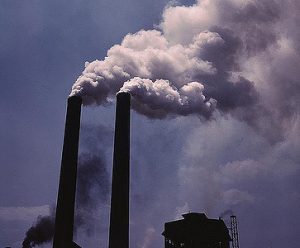 In 2008, our state enacted legislation setting emissions reduction targets for greenhouse gases in 2020, 2035, and 2050. In 2016, the state Department of Ecology recommended the Legislature update and strengthen these targets based on the latest climate science.
This week, the House passed a bill doing exactly that. HB 1144 aligns Washington state's greenhouse gas reduction goals with those the United States committed to in the 2015 Paris climate agreement. Those targets are based on the most up-to-date climate science, reflecting what would likely limit global temperature increases to below 2 degrees Celsius on average. While the Trump Administration has since said it is withdrawing the United States from the Paris agreement, that doesn't prevent individual states from setting their own emissions reduction goals.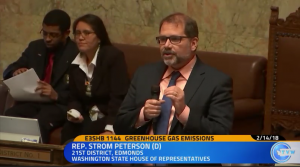 Why is setting these targets important? Because climate change is already making our ocean waters more acidic, increasing the severity of wildfires and melting our mountain snowpack earlier. Climate change is a global problem, but climate action starts at home. With this bill, our state signals it will lead the way on reducing greenhouse gas emissions and do the responsible thing for the next generation of Washingtonians.
Learn more by watching my speech on the House floor.
Banning lunch shaming in Washington schools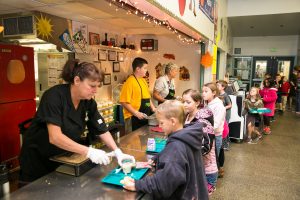 Children should not go hungry or be humiliated because they cannot afford lunch that day. Yet lawmakers have heard reports of "lunch shaming" in some schools.
Lunch shaming is when students are singled out in the cafeteria for not being able to pay for their meal or having an outstanding meal debt. In some schools, students are given a cheap replacement meal, like a cold cheese sandwich in a paper bag, distinguishing it from the meals served to other students. There are also reports of students having their meals taken away and thrown out when it is discovered they cannot pay or being sent home with conspicuous debt reminders, such as hand stamps.
It's time we take steps to ensure our school districts are not stigmatizing kids and that our state's students are getting the nutrition they need to succeed. That's why I am sponsoring the Hunger-Free Students' Bill of Rights. The bill bans lunch shaming and requires schools to provide healthy, balanced meals to students, regardless of their ability to pay.
I'm happy to report the bill passed out of the House last week, and will now be considered in the Senate.
Look for more updates coming soon and please feel free to reach out if you have questions, comments, or ideas.
Sincerely,



Rep. Strom Peterson
---
Check back frequently for my latest video updates.
---
Contact
Olympia Address:
JLOB 324
PO Box 40600
Olympia, WA
98504-0600
(360) 786-7950
District Office:
18560 1st Ave NE, Suite E806
Shoreline, WA 98155
(206)556-3194
Legislative Assistant:
Joshua Apata
Email: Joshua.Apata@leg.wa.gov
Toll-free Hotline:
1-800-562-6000
1-800-635-9993 (TTY)
Committees:
Capital Budget (Vice Chair)
Environment (Vice Chair)
Local Government
For Press Inquiries:
Megan Stockhausen, Communications Specialist
(360) 786-7323
Megan.Stockhausen@leg.wa.gov
For broadcast-quality audio or TV/radio interviews:
Dan Frizzell, Broadcast Coordinator
(360) 786-7208
Dan.Frizzell@leg.wa.gov
---