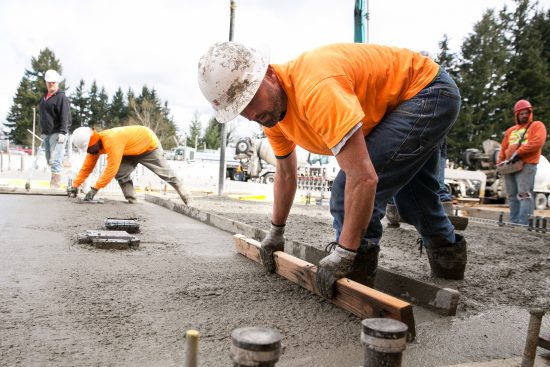 OLYMPIA—The new capital budget (House Bill 1102) passed by the state House and Senate invests a record-breaking amount to build public schools, colleges, affordable housing and mental health facilities.
"This is a bipartisan budget that shows we can create thousands of jobs and a better future when we work together," said Sen. Steve Hobbs (D-Lake Stevens). "This is a tremendous win for Snohomish County in terms of jobs and quality of life. There is something in this budget for everyone to like."
The construction budget passed the House on a 97-1 vote and passed the Senate 48-0.
"It's great news that we're building new mental health hospitals and facilities," said Acting Speaker John Lovick (D-Mill Creek). "As a former county sheriff and state trooper, I can tell you that it will make a huge difference that people can get the help they need instead of being cycled through the justice system or in our medical hospitals."
The new two-year budget includes $154 million for projects at state mental health facilities, including the design of a new forensic hospital and the design and construction of new 16-bed and 45-bed behavioral health facilities. Additionally, there's $120 million for Community Behavioral Health Capacity grants spread across the state, $35 million for Permanent Supportive Housing and $34 million for a new behavioral health teaching hospital at the University of Washington.
"I'm proud we're investing a record $1.1 billion to build public schools," said Rep. Jared Mead (D-Mill Creek). "This budget also builds almost one billion dollars in facilities at our public colleges and universities, with all of the funding united behind a common goal: giving every child in this state a world-class education so they can compete for the best jobs in the world."
Other highlights of the new budget include:
Recreation and conservation
$585 million for orca, salmon recovery and water quality projects
$85 million for the Washington Wildlife and Recreation Program
$50 million for projects at state parks
$16 million for forest health and wildfire prevention
Local infrastructure
$290 million for clean drinking water and Centennial Clean Water projects
$44 million for storm water
$25 million for broadband access in rural Washington
$13.6 million for the Community Economic Revitalization Board
Housing and other investments
$175 million for affordable housing development
$70 million for energy efficiency, clean energy and weatherization
$163 million for local and community projects
$54.6 million for Arts, Building Communities and Youth Recreation programs
Local projects in the 44th District total $8.07 million, excluding school construction, and include:
Lake Stevens Civic Center Phase II ($1 million)—The Civic Center will provide public meeting, gathering, and activity spaces with a convention facility component which will improve local services, support local business, and provide an economic boost for local and regional East Snohomish County tourism. This phase includes design of a 10,000 to 15,000 square foot Community / Conference Center. It also includes design and construction of pedestrian/bicycle connections along 18th Street for a festival street connecting the park, center and boat launch and completes a pedestrian promenade encircling the park, stage and play area along with improvements to North Cove Park, including the construction of a replica water tower emblematic of features from the Rucker Mill that occupied the site at the turn of the 20th Century.
Snohomish County Sheriff's Office- South Precinct ($1 million)—The Snohomish County Sheriff's Office is relocating their largest patrol facility from the City of Mill Creek to a location already owned by Snohomish County that provides greater access to the public and improves overall patrol response in south Snohomish County. These funds would help finish the project.
All projects in the 44th District
Lake Stevens Civic Center Phase II (Lake Stevens)—$1 million
Land Use & Infrastructure Subarea Plan (Mill Creek)—$300,000
Snohomish Carnegie Project (Snohomish)—$500,000
Snohomish County Sheriff's Office South Precinct (Snohomish)—$1 million
Snohomish County Wildlife Rehabilitation Facility (PAWS)—$2 million
Military Department, Pavement Surface Improvement (Snohomish RC)—$200,000
Minor Works Program (Snohomish)—$1.25 million
Catherine Creek fish barrier removal—$90,000
Sexton Creek fish barrier removal—$142,000
Ebey Island and Snohomish Delta estuary and salmon restoration—$293,000
French Slough Farm, Washington Wildlife Recreation Grant—$952,000
Getchell Ranch, Washington Wildlife Recreation Grant—$111,000
Ebey Island Recreation Access Development—$232,000
For maps and lists of local projects—by county or legislative district—please visit http://fiscal.wa.gov/BudgetC.aspx
###
---