Dear neighbors,
I wanted to give you a quick update and invite you to my next town hall in Federal Way.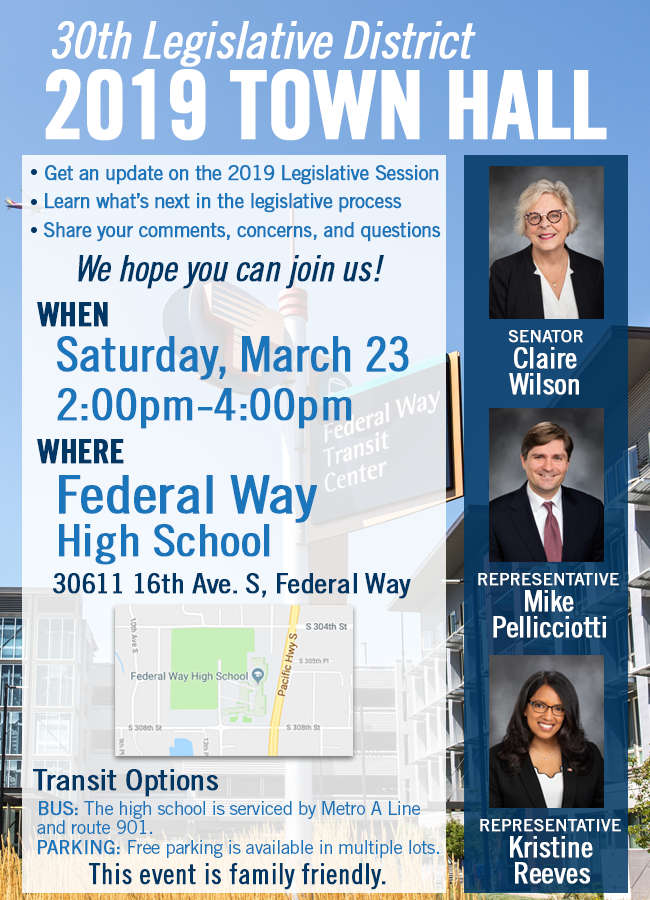 Being heard on airplane noise
The impact of airplane traffic overhead remains a top issue for many in our region. While this is generally a federal issue, I have been doing all I can to make sure that our state laws are written to serve our region's interests on this issue.

My legislation, House Bill 1847, which expands future potential air impact mitigation zones to include parts of Federal Way and Milton for the first time passed the House of Representatives last week, and was heard this past week in the Senate Committee on Local Government.

This bill is in addition to my operating budget proviso that I introduced this week to continue to view the impacts of air traffic over our communities, and House Bill 1683/Senate Bill 5370, which I am co-sponsoring to encourage the expansion of future commercial and cargo air traffic to airports in Everett and Moses Lake. This airport-siting legislation passed the Senate and will soon be in the House Transportation Committee where the bill passed in a similar form earlier this month.

Moving legislation through Olympia
In addition to airport noise reduction, the House of Representatives passed several more of my bills off the House floor. These bills are now being considered in the Senate:
Thank you for reading my newsletter. Please do not hesitate to reach out to me if I can ever be of assistance.
Rep. Mike Pellicciotti
---