Friends,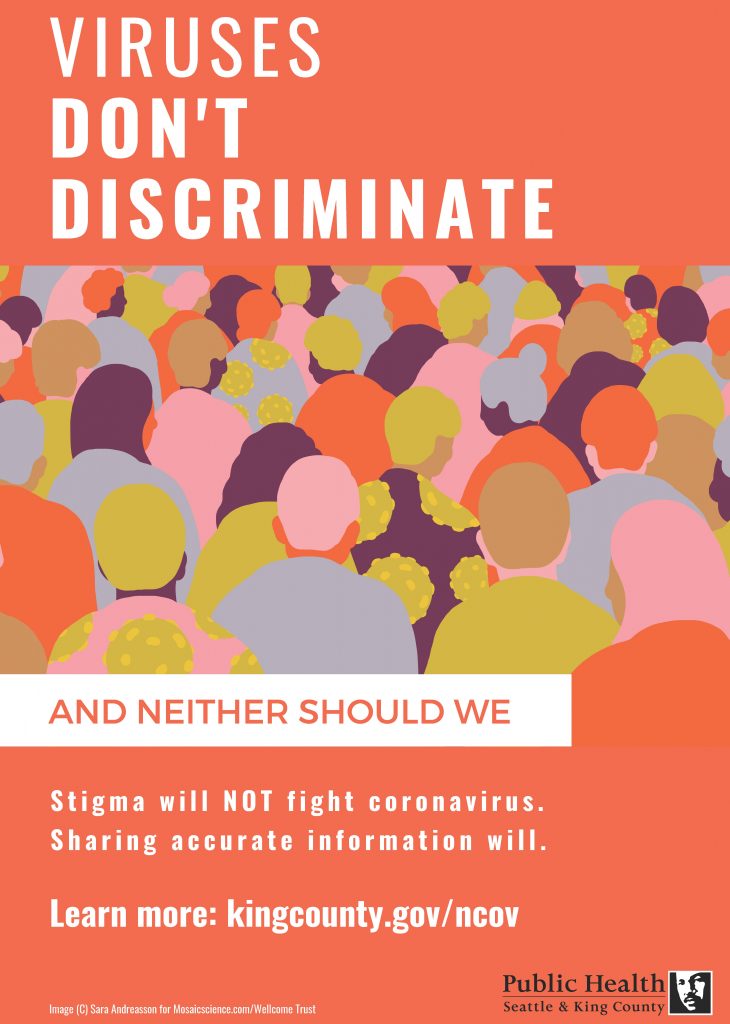 We understand the concern surrounding COVID-19 (Coronavirus) and want to share the most up-to-date and relevant websites and contact information regarding this disease. King County is the epicenter of this disease in the United States and we want to make sure you know the appropriate contact information for our local department of health and the Washington State Department of Health. Please direct your questions to these departments. Additionally, here are some recommendations from the State Department of Health.
Wash your hands often and avoid touching your face.
Stay home when you're sick.
Cover your coughs and sneezes with an elbow, sleeve or tissue
Good personal health habits (diet/exercise) help prevent respiratory infections, including coronaviruses and influenza.
Clean and disinfect frequently touched objects and surfaces.
If you are sick and wondering what to do, call your healthcare provider before you go to a clinic or emergency room. #Callfirst
Show compassion and support for individuals and communities most closely impacted and anyone who might be sick. Viruses don't discriminate and neither should we.
Get prepared in case of a COVID-19 outbreak in your community. We have resources at https://www.doh.wa.gov/Emergencies/Coronavirus#beprepared.
Symptoms
Fever
Cough
Shortness of breath
*from the Washington State Department of Health

Washington State Department of Health
Hotline: 1-800-525-0127 – Press #
Website: https://www.doh.wa.gov/Emergencies/Coronavirus
Blog about reducing stigma during disease outbreaks
Facebook: https://www.facebook.com/WADeptHealth
Twitter: https://twitter.com/WADeptHealth
CDC
Website: https://bit.ly/2TiScwm
King County Department of Health
Email: https://bit.ly/2PFF0iN
www.kingcounty.gov/covid
Novel coronavirus fact sheet
(*King County Department of Health)
ኖቭል ኮሮናቫይረስ
Amharic
新型冠状病毒
Chinese, Simplified
新型冠狀病毒
Chinese, Traditional
ីរុសកូរុ៉ូរប្រភេទថ្មី
Khmer
신종 코로나바이러스
Korean
Новый штамм коронавируса
Russian
Caabuqa Xalfaafka Wadnaha
Somali
Nuevo coronavirus
Spanish
Vi-rút Corona Mới
Vietnamese
Thank you,



Rep. Gerry Pollet            Rep. Javier Valdez      Sen. David Frockt
---