Dear Friends and Neighbors,
The first week of the legislative session has come and gone. We held our first virtual committee hearings and our first virtual floor debate and vote. The House took important steps for providing relief for small businesses and continuity and certainty for Washington families. I also was joined the Governor to help kick off our legislative agenda for a clean energy future.
Advancing Our Clean Energy Future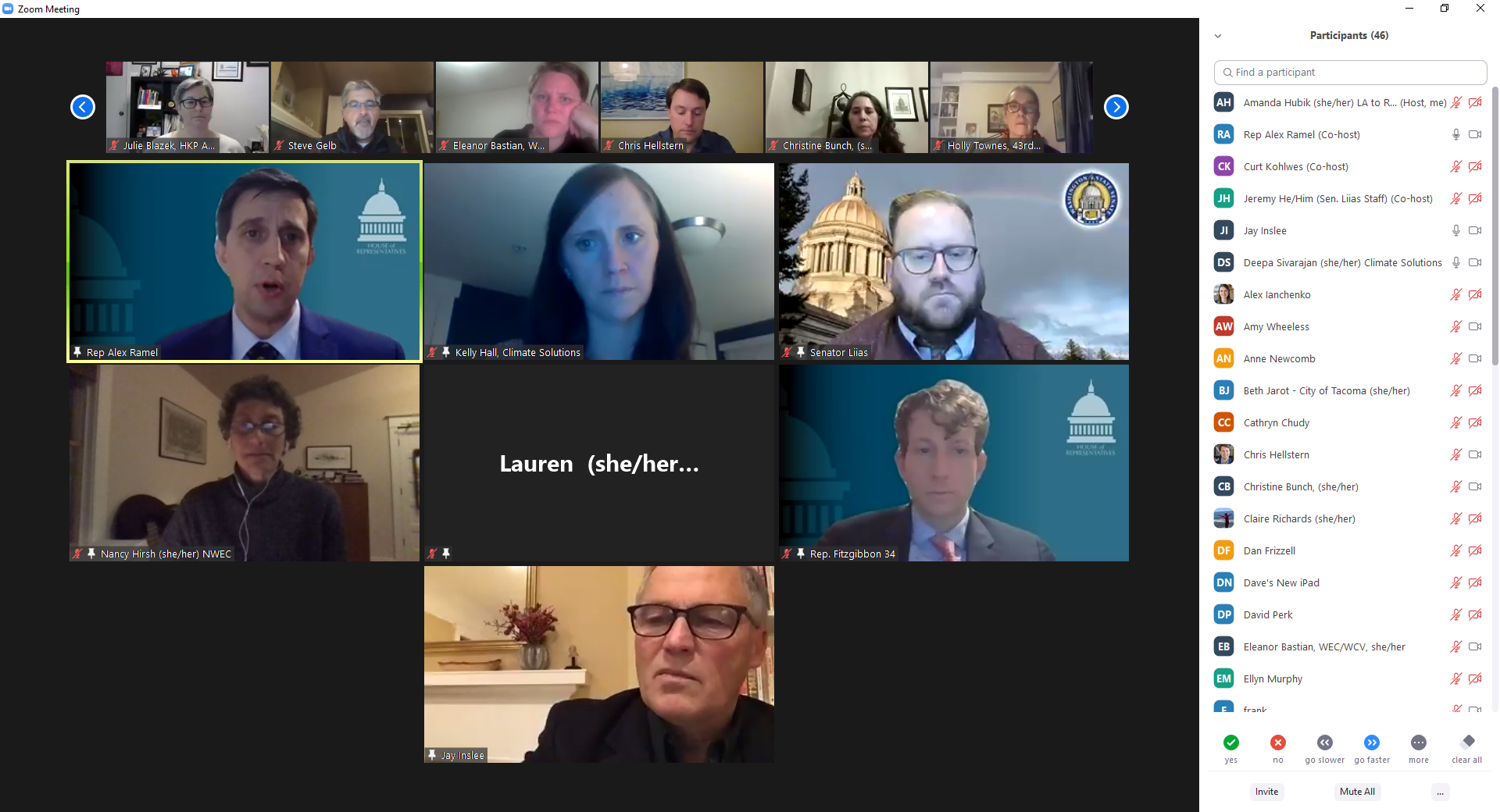 I was honored to be asked to introduce Governor's Request legislation called the Healthy Homes and Clean Buildings Act. With this bill, we can put Washington's buildings on track to achieve our science driven climate goals by 2050, with meaningful steps along the way. It's focused on standards for new construction, investment in retrofits, and justice for both workers and low-income energy users. And I hope it will be a model for other states in this important part of the clean energy transition.
We have real momentum with 25 cosponsors in the House, and a huge showing at our kickoff event last Thursday to build support. The hearing in the House Environment & Energy Committee will be next Friday at 10:00 AM, and I'd welcome your voices to let my colleagues know how important this is. You can testify remotely or submit written testimony here. You can also sign in to support a bill at a committee hearing without testifying. You can watch the committee hearing on www.TVW.org.
This week I also introduced two other bills to advance the clean energy economy: HB 1280 which encourages electrification in public buildings and HB 1287 to start coordinated planning for electric vehicle changing infrastructure and electricity supply. We can build a new energy economy that reduces pollution, improves reliability, protects low income ratepayers, creates opportunities for people and communities who have been left behind all too often, and creates and protects family wage jobs here in Washington.
Relief for Small Businesses is on the Way
House Democrats are committed to early action this year with bills that will support our healthcare system, communities hurt by the pandemic and the related economic recession, and our impacted small businesses.
In the House Finance Committee the first bill we heard was HB 1095, sponsored by Rep. Amy Walen (D-Kirkland). Without clear action, businesses who received federal relief, like forgivable PPP loans, might be expected to pay B&O or other taxes on those grants. Such an interpretation wouldn't make any sense and would add insult to injury for companies struggling in this recession. I was eager to hear this bill, and I look forward to passing it as soon as we can.
At the same time, the Senate is moving SB 5061, which will respond to the unemployment insurance increases that would otherwise occur for many businesses. Companies whose employees were unable to work because of the COVID 19 pandemic shouldn't see an increase in their experience rating which would cause their rates to skyrocket. I anticipate this bill will move quickly through the Senate and become part of the House Democrats' early action agenda.
Extending the Emergency Proclamations to Protect Washington's health and economy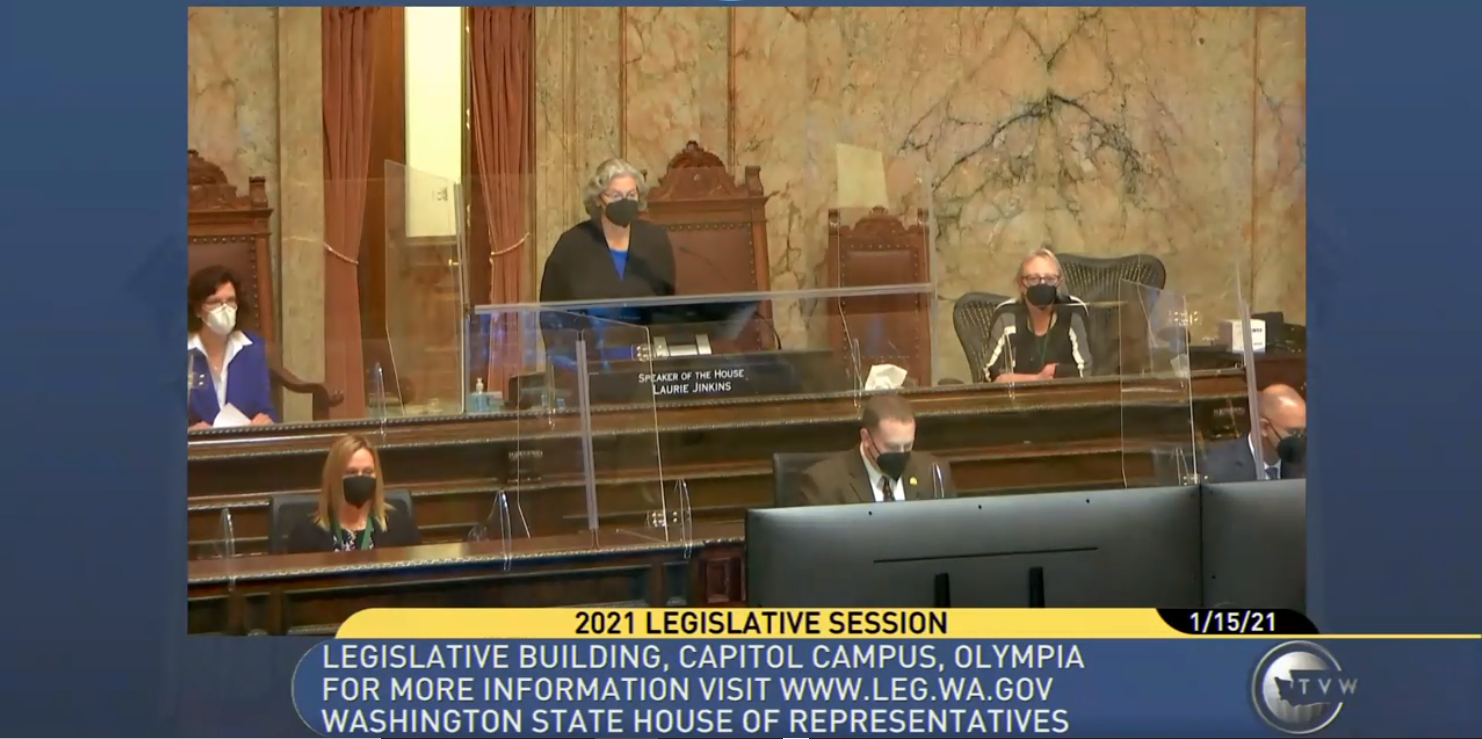 On Friday, the House held its first ever virtual floor debate and vote to pass extensions to the Governor's emergency proclamations. Extending the proclamations ends uncertainty for Washington businesses and families. They were important to pass because they will extend crucial measures that keep Washington safe and working during the pandemic. The extensions:
Grant small businesses relief through waived fees
Suspend regulations that would lead to fewer childcare providers
Help domestic violence victims get protective orders from their abusers
Ensure federal emergency aid to our state isn't jeopardized
Unfortunately, Republicans in the House voted against continuing these rules, even though they have each been approved several times each by Republicans and Democrats in the House and Senate over the last 9 months. I was proud to vote for these extensions because they have been planned to protect lives and the economy. The Legislature can revisit each individual element, as needed, in legislation with hearings, any time we want during the next three months. Ending them suddenly would have been a chaotic disruption right when we most need coordination.
In Service,

Rep. Alex Ramel
---