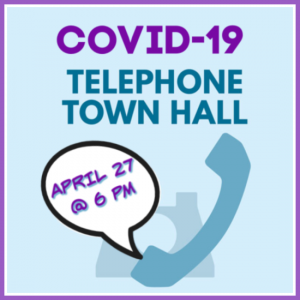 Who: State Reps. Lisa Callan and Bill Ramos
What: Telephone Town Hall conversation with 5th Legislative District constituents
When: 6:00 – 7:00 p.m., Monday, April 27, 2020
Where: Calls will go out to thousands of homes across the 5th District. Those who do not receive a call, but want to participate, can dial 1-877-229-8493 and use PIN 118320.
Constituents may also participate by signing up ahead of time at https://vekeo.com/whdc05/
Why: The lawmakers will be joined by a representative from Executive Constantine's office to give 5th Legislative District constituents an update on the response to the COVID-19 crisis, and to answer their questions.
---