In this week's e-newsletter, I report back on the survey that many of you took and also address some of the school related issues that I have been hearing about from you including school safety and sex education.
Please continue to contact me about issues that are important – your feedback is a valuable part of the legislative process. Thank you for taking the time to read about what is happening down here in Olympia.


Representative June Robinson
38th Legislative District
---
Results of the survey
Thanks to those of you who took the time to fill out my survey over the last several weeks. I will keep all of your answers and comments in mind in the coming weeks as I make decisions regarding policies and budgets that affect our region.
It was great to read about all of the things that you value about our community including the quiet, small town feel, great services and events, and the proximity to both the big city and the natural environment. Some of my favorite answers were, "Everett is the undiscovered gem of Central Puget Sound" and "I can boat and ski all in the same day!"
I also heard you loud and clear on some of the problems that we are facing, including the high cost of housing, the traffic and lack of transportation options, and the opioid and homelessness crisis. There were many comments like, "I like the location, but can't afford to live there anymore" and "the traffic is the worst thing about living here."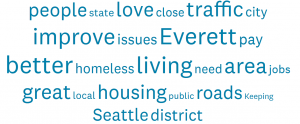 In the coming weeks I will continue to update you on progress that House Democrats are making on these issues.
Here is a graphic with the words that were most frequently used when answering the question, "What do you like about living in the 38th District–and what things would you want to change or improve?"
---
Making our schools a safe place to learn
Our nation has experienced far too many tragic school shootings in recent years: Sandy Hook Elementary, Marjory Stoneman Douglas High School, Marysville Pilchuck High School.
Students need to be safe in schools, and they need to feel safe in schools. Those are the guiding principles behind a package of bills to improve school safety and student well-being.
Unfortunately, some lawmakers in Olympia want to address the school safety issue by arming teachers. I wholeheartedly reject this idea. Gun violence is not reduced by adding more guns to the situation.
The bills we are advocating for focus on preventing youth suicide, increasing access to school guidance counselors, building regional safety support networks, improving student mental health services and training, and reforming school resource officer policies.
These bills aren't just about eliminating school shootings, they are also about giving students and teachers the tools they need for better mental health and well-being that will serve them well in all aspects of their lives. I look forward to working with my colleagues this session in making our schools safer and providing support to all students and teachers.
---
Washington teens ask for consent
Many of you have emailed supporting House Bill 1407, which would require public schools to provide comprehensive sexual health education that is both evidence-based and medically and scientifically accurate. A few weeks ago, teens from across the state came to Olympia to support the bill, especially the requirements that schools emphasize the importance of affirmative consent for sexual activity; encourage healthy relationships that are free from violence; and teach students how to identify and respond to attitudes that contribute to sexual violence.
The changes of puberty, combined with the social pressures of high school and the transition to adulthood is a challenging time for young people. It's important that students have the knowledge and skills to navigate these challenges. I look forward to supporting this legislation that will give our youth the resources to make educated decisions, and develop healthy relationships.
---
---