Protecting Working Families
The COVID-19 pandemic has hurt working families severely. This session we made it a priority in the Labor and Workplace Standards Committee, which I chair, to pass bills that protect workers now and into the future. Here's a brief rundown of the measures that passed the House and are now in the Senate:
HB 1073 – Expands coverage for Paid Family and Medical leave to workers whose hours were cut due to COVID-19. This is a one-time-only deal that will help workers who have already paid into the program, but otherwise would not qualify for due to furloughs and job losses.
HB 1076 – This measure, known as the Worker Protection Act (Qui Tam), gives workers the chance to blow the whistle on employers that violate labor and workplace standard laws. With this bill, when workers experience or witness bad labor practices, they will be able to get relief for themselves or their coworkers.
HB 1097 – This bill reminds me of a song by Harry Stamper, an Oregonian longshoreman who sadly passed in 2012. His compelling lyrics became an anthem of the occupational health and safety movement in the 1970s-80s. The song still rings true today: "we just come to work here, we don't come to die." All these years later, safety in the workplace remains an issue. Workers should not keep quiet about unsafe conditions at their workplace due to fear of retaliation. This measure strengthens Washington's anti-retaliation provisions, adds penalties for non-compliance and issues grants to help small businesses meet safety standards.
Watch my Floor remarks on House Bill 1097:
HB 1206 – Establishes specific safety standards for temporary workers. Everyone wearing the same hard hat and doing the same kind of work should get the same information and training to protect their health and life.
HB 1492– Allows for extended benefits for unemployment insurance past the 52-week benefit limit. The unemployment insurance system provides critical support to individuals and to the economy. This bill allows for claimants to maximize federally funded extended benefits so the state can take full advantage of federal relief.
Unemployment Insurance Reform
Many people in our community remain rightfully frustrated by their experiences trying to access unemployment insurance benefits during the pandemic.
Improving our unemployment system and the Employment Security Department (ESD) remains a key priority this legislative session. Last week, a bill to reform the Employment Security Department and correct several of the issues that prevented Washingtonians from receiving unemployment benefits in a timely manner received bipartisan support in the state Senate.
The legislation will implement additional oversight and performance measures at ESD to ensure Washingtonians who have lost their job will find a more responsive agency, receive benefits quickly and securely and that when disputes do arise, they are handled in a timely manner.
We heard this bill in my committee last Wednesday and it's scheduled for executive action on March 17 at 10 a.m.
Vaccines Update
A few days ago, the governor announced that starting Wednesday, March 17, everyone in Phase 1B, Tier 2 will be eligible for the COVID-19 vaccine. This includes workers in agriculture, food processing, grocery stores, public transit, firefighters and law enforcement, among others. Phase 1B, Tier 2 also includes people over the age of 16 who are pregnant or have a disability that puts them at high-risk.
As you may have heard, President Biden issued a directive earlier this month for all states to prioritize vaccinations of teachers and childcare workers.  Gov. Inslee complied by immediately adding educators and licensed childcare workers to Washington's Phase 1B-1. The Washington State Department of Health is seeking clarification from the federal government to ensure that the roll-out of this change comes with sufficient supply and equitable access. For more information, please see the statement by the Department of Health.
Last weekend, hundreds of Everett teachers received the new Johnson & Johnson single dose vaccine. If you're an educator and you were not there last Saturday, but you have a healthcare provider, they will contact you when they have enough doses to set up an appointment. Another way to find a vaccine provider is through the state DOH Vaccine Locator. And if you need translation assistance or can't get online, call the state COVID-19 Assistance Hotline at 1-800-525-0127.
You can also visit the Snohomish County Coronavirus Response & Community Resources Hub to see vaccine availability in mass vaccination sites in our area:
While vaccine supply from the federal government is low and appointments fill up fast, more doses are on the way. We've come a long way, with 1.7 million Washingtonians having received at least one dose and increased progress towards our goal of 45,000 vaccines administered each day.
According to the Department of Health Data Dashboard, soon one in five Snohomish County residents will have received at least one dose. Click here or on the image below to check out the Data Dashboard, where you can look up information for every county on demographics, testing, vaccine doses given, hospitalizations, confirmed cases and more.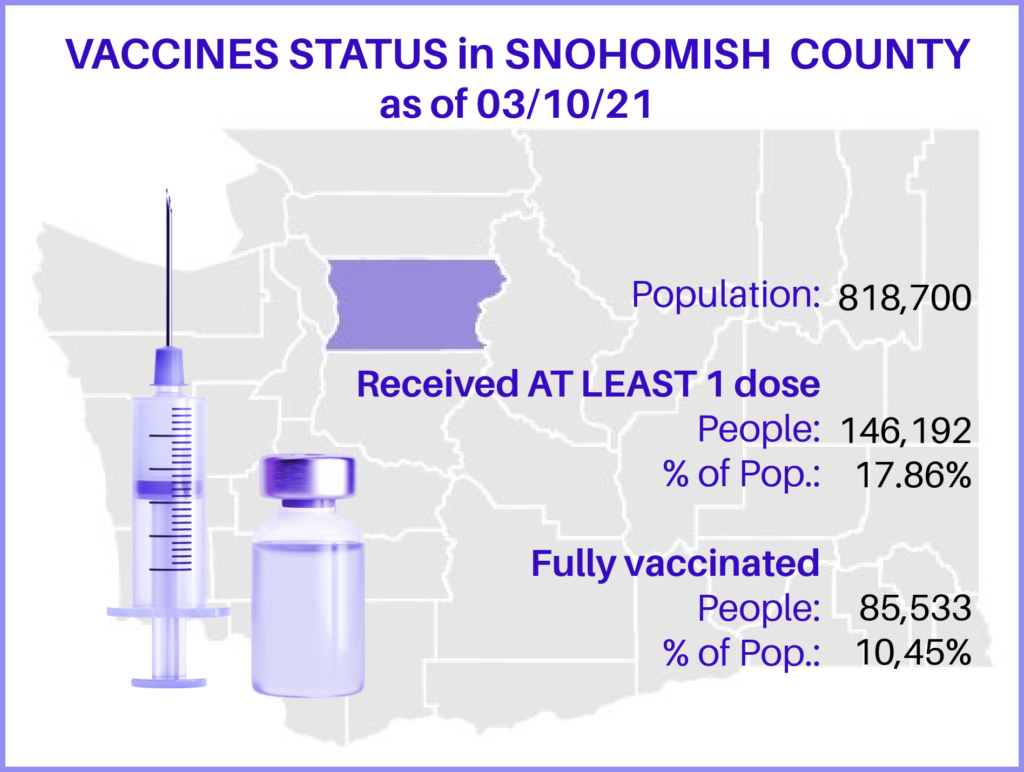 I'd like to take a moment to reflect on the fact that we recently passed a sobering milestone – over 5,000 lives lost to COVID-19 in our state.
This milestone serves as an important reminder to remain vigilant in our fight against COVID-19. New variants are much more transmissible and can create more strain in our healthcare system. We can still save lives if we continue to mask-up, wash our hands and keep our physical distance. We can carry the legacy of the lives lost and help our community and economy recover more quickly when we do it together.
Thank you for reading my newsletter.  If you need more information on any of the issues discussed here, or on any other legislative matter, please don't hesitate to contact my office.
Stop by my official Facebook page for frequent updates.
Sincerely,