​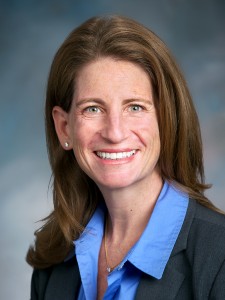 Rep. Tana Senn is the newest member of Team House Democratic Caucus, having received unanimous King County Council appointment to the Legislature just this past September. Tana (pronounced "TAW-na") was selected to finish the unexpired term of former Rep. Marcie Maxwell, who left the Legislature to take a position as an education-policy adviser in Gov. Inslee's administration. The 41st Legislative District that Tana represents includes all or parts of Beaux Arts Village, Bellevue, Issaquah, Mercer Island, Newcastle, Renton, and Sammamish.
Let's take a few minutes today to get to know more about Tana.
She and her husband, Kevin, have two children. Eleven-year-old Benjamin and 8-year-old Rachel attend public schools in the family's Mercer Island community. Rounding out the family is Buddy, a 95-pound black Lab.
A member of the Mercer Island City Council, Tana also serves on the Sound Cities Association Public Issues Committee. She brings a combination of local-government experience and private-sector communications expertise to the Legislature. Just prior to her service in public office, Tana was the Marketing and Communications Director at the Jewish Federation of Greater Seattle. She helped direct the federation several years ago, in fact, through a very tragic time in the organization's history. Tana worked with the media, and helped manage testimony, community relations, and public affairs during the two murder trials that followed the horrific hate-crime shooting of July 28, 2006 — the worst hate crime in our state's history.
Here, the newest legislator answers a few pertinent HDC Advance questions:
HDC Advance: What inspired you and convinced you to answer a calling for public service?
Rep. Tana Senn: From an early age, I've been acutely aware of the importance of speaking up against injustice and advocating for policies in which I believe. My grandparents were Holocaust survivors who experienced firsthand the dramatic impacts when people sit idly by and let injustice happen. When the 41st Legislative District opening occurred, I first thought that I couldn't possibly do it because I have two children at home. The more I thought about it, however, I realized that was exactly why I had to do it. Ensuring a strong, safe, and healthy future is what I want for them, just as my parents and grandparents wanted for me.
HDC: How has it been juggling your two public offices?
TS: Like most of my colleagues in the Legislature, I have a job outside of Olympia. For me, it just happens to be another elected office. Serving as a Mercer Island City Councilperson for the past two years, I've become exceptionally familiar with the most pressing policy issues of the day — including transportation. My local-government role, regional coalition-building experience, and commitment to connecting with diverse interests in my community puts me on solid footing as a legislator. I must say, my legislative assistant, William Parmer, has also made juggling much easier.
HDC: What stands out from the recently concluded legislative session?
TS: The three-day session was like a crash course on how the Legislature works. With the issues before us affecting my district so directly — the Renton Boeing plant, future training center, surrounding support-network businesses, and thousands of students and employees — it was exciting to take my first vote with them so clearly in mind. The standing ovation from my new colleagues that I received as I entered the caucus room was hands-down the greatest stand-out moment!
HDC: What committees best fit you and the 41st Legislative District?
TS: Three of the most pressing issues of concern to the 41st Legislative District are transportation, education, and the environment. My 41st District colleague, Rep. Judy Clibborn, chairs the House Transportation Committee, and she very effectively covers transportation. So, I hope to serve on the Early Learning and Human Services Committee to help ensure all children get a strong start in their lifelong education. I would also like to serve on the Environment Committee to preserve the beauty and health around us.
HDC: What is your preferred communication technique with social media?
TS: Facebook is my social media tool of choice. Having spent time in Los Angeles, St. Louis and New York, in addition to the Seattle area, I've found that Facebook is the best way to keep up with friends and family. It's been similarly useful in keeping citizens and relatives up to speed on the latest developments, events, and family news.
According to additional information from her curriculum vitae:
After Tana earned a Bachelor's Degree from Washington University in St. Louis, she earned a Master's in Public Policy and Administration from Columbia University in New York. Shortly after receiving her Master's Degree, Tana worked as Director of National Domestic Policy at Hadassah. The new representative's previous community involvement includes service on the boards of the Mercer Island Youth & Family Services Foundation, the Island Park Elementary School PTA, the Jewish Federation of Greater Seattle, the Coro Alumni Association, and the National Breast Cancer Coalition.
---