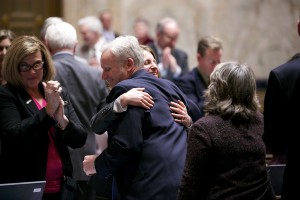 Representative Tana Senn's (D-Mercer Island) first bill passed the House floor yesterday by a strong bi-partisan vote of 90-8 and now heads to the Senate for consideration. The goal of this bill, HB 2519, is to help children in our child welfare system access quality early learning services.
"All children deserve the opportunity to excel—not just get by," Senn said on the House floor. "But our most vulnerable—those in the child welfare system—are barely even getting by."
The bill language requires that families going through the child welfare system be evaluated to ensure the child's safety and well-being. If it is in the best interest of the child, the family is referred to a quality early learning program like Early Childhood Education and Assistance Program (ECAEP), home visiting services or Headstart.
"With data mounting about the long-term benefits of quality early learning, this bill is an amazing opportunity to positively benefit our most vulnerable young children," said Sharon Osborne, president and CEO of Children's Home Society of Washington.
House Bill 2519 is a strong initial step toward ensuring that young children who are at the greatest risk for abuse and neglect are connected to the State's existing high quality early learning programs.
"Having my first bill make a difference in the lives of children across our state is exactly why I'm here in the Legislature," Rep. Senn explained. "The long term success of all children in Washington is a responsibility we all share. This measure is an important investment in those who most need it."
---