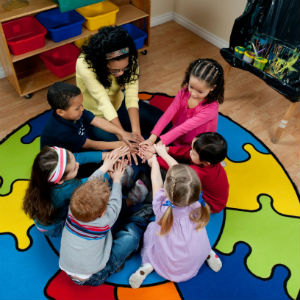 Rep. Tana Senn (D-Mercer Island) has been selected as one of 20 legislators across the country to take part in the National Conference of State Legislatures' (NCSL) Early Learning Fellows Program.
The Early Learning Fellows Program is designed to support legislators who are experienced or emerging leaders on early childhood and early learning issues. Rep. Senn was nominated for the fellowship by House leadership after she demonstrated passion for early learning issues during the 2014 legislative session. In fact, Rep. Senn's first piece of legislation signed into law helps kids in the child welfare system access quality early learning programs.
"Investing in quality early learning is just plain smart. It gives all children a strong footing with payoffs throughout their lives and saves money in K-12 education as well," Rep. Senn explained. "Working with state legislators from around the country as part of the Fellows program, I look forward to sharing Washington state's ideas and learning about best practices, leading research, and model legislation that will help children in our state – and across the country – thrive."
Rep. Senn was also appointed to the Washington State Building Code Council (SBCC).
"As someone with local and state government experience, I understand the value and importance of the State Building Code Council's work," Rep. Senn said. "As the daughter of a developer and as an environmentalist, I bring a unique perspective that will guide my work with the Council."
The SBCC establishes the minimum building, mechanical, fire, plumbing and energy code requirements necessary to promote the health, safety and welfare of the people of Washington state by reviewing, developing and adopting the state building code.
Rep. Senn represents the 41st Legislative District, which includes Bellevue, Sammamish, Issaquah, Mercer Island, Newcastle, Renton and Beaux Arts Village.
---