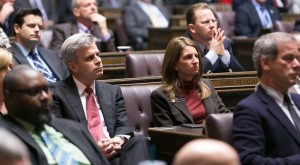 OLYMPIA–Incorporating social and emotional learning into academic preparation is the focus of new legislation proposed by two Mercer Island lawmakers. The bills, sponsored by Sen. Steve Litzow and Rep. Tana Senn, would develop standards for social-emotional learning in Washington's public schools. These standards aim to provide students with skills ranging from self-awareness and self-regulation, to responsible decision making and relationship skills. The measure was discussed in the Senate last week and will receive a public hearing on Thursday in the House of Representatives.
"Research and firsthand experience from teachers shows that listening, decision making and working well with others has a significant impact on academic achievement," said Litzow, who serves as chairman of the Senate Early Learning and K-12 Education Committee. "The Washington Kindergarten Inventory of Developing Skills shows that too often children begin school lacking social and emotional readiness. This plan takes that valuable information and begins addressing it in a meaningful way."
The Senate hearing included testimony in support of the plan from teachers, parents, school psychologists, the Washington State Parent Teacher Association and students from Pacific Middle School.
"Unfortunately, too many of our students experience intense life stresses ranging from homelessness to bullying," said Senn. "In order for children to be ready to learn, they need to have not only academic skills, but also social and emotional ones. Solid mental health is a critical building block for school and life."
According to a recent study 94 percent of public school teachers surveyed in Washington found social and emotional learning to be an important part of a student's educational experience. Another study found that social and emotional learning programs improved student test scores by at least 11 percent.
During the Senate hearing a teacher from the Highline School District shared firsthand experience with the benefits she witnessed when using social and emotional learning strategies.
The House Committee on Education will hold a public hearing on Thursday, February 12 at 8 a.m. which can be viewed online at www.tvw.org.
---