Friends and neighbors,
We're over halfway through session! Which means we're spending less and less time in committee and more time on the House floor voting on bills. This week I want to talk about two bills that we passed on the house floor that will make workplaces more welcoming for all. But first, an announcement about our town hall!
---
Mark your calendars!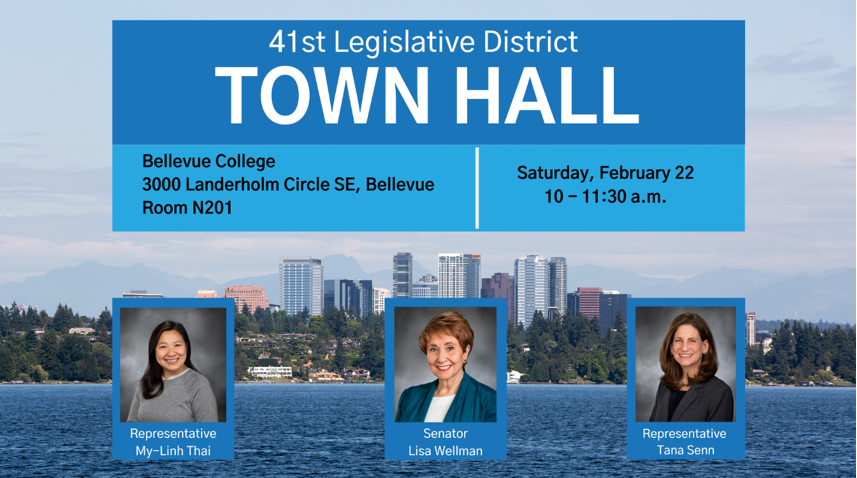 Please join me, Rep. Thai and Senator Wellman for a 41st Legislative District town hall! We'll be providing an update on the 2020 legislative session, letting you know what's coming up next, and listening to your comments on the issues that are most important to you and your family.
In order to answer as many questions as possible, we're collecting them early via survey. Click this link if you want to submit a question before the town hall: https://bit.ly/3827lqP.
For those of you taking the bus, you can get to Bellevue College via Metro routes 211, 212, 217, 241, 245, 989, and Sound Transit route 555. Parking is available for free. Directional signs will be provided to guide you to the meeting location. If you are in need of interpreter services, please contact Alex.Hamasaki@leg.wa.gov
I look forward to seeing you there!
---
Welcoming workplaces for all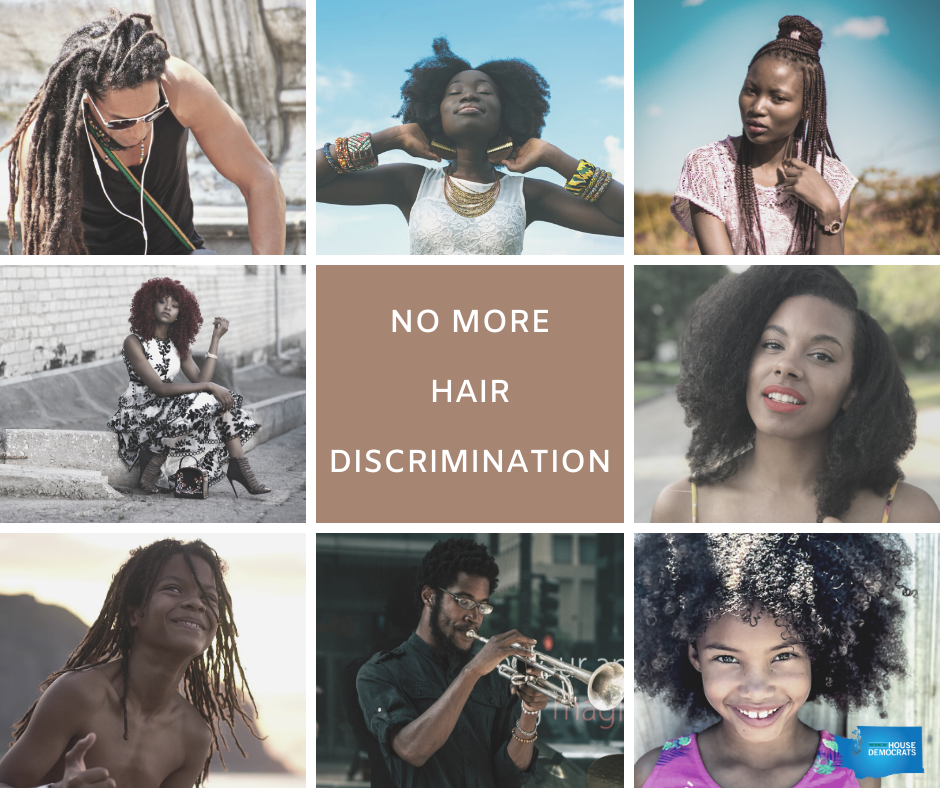 Everyone, regardless of their skin color, gender or age, should feel welcome in their workplace. That's why it's so important that we passed two bills off the House floor this week to ensure people can show up to work as they are and focus on work.
For far too long, Black people have felt pressured to spend hundreds of dollars, countless hours, and have risked scalp burns from harmful chemicals just to conform to "professional" hairstyles in the workplace. HB 2602 would prohibit discrimination on the basis of hairstyle or texture and would tighten up the Washington Law Against Discrimination so that the term 'race' includes traits historically associated or perceived to be associated with race. California, New York, and New Jersey have passed hair discrimination laws. However, hair discrimination remains a source of racial injustice with serious emotional and economic consequences for Black people. This bill will help to correct these racial injustices by making hair discrimination illegal in Washington and making sure the focus in the workplace is someone's job, not their hair.
HB 2266 would make it easier for new moms to ease back into work by prohibiting an employer from requiring written certification for the need for reasonable accommodations to pump. Most employers know when an employee has given birth and needs a private space to take care of pumping breast milk during work hours. A new mom who is trying to stay focused on work likely doesn't have the time to go back to her doctor to gather unnecessary paperwork. This bill would cut a burdensome requirement and make it easier for working moms to their jobs!
When people can show up to work as they are and know that they'll be judged on the content of their work, not the way they present themselves, they can better focus on the job in front of them. I'm proud to have voted in favor of these bills.
---
100 years of women's suffrage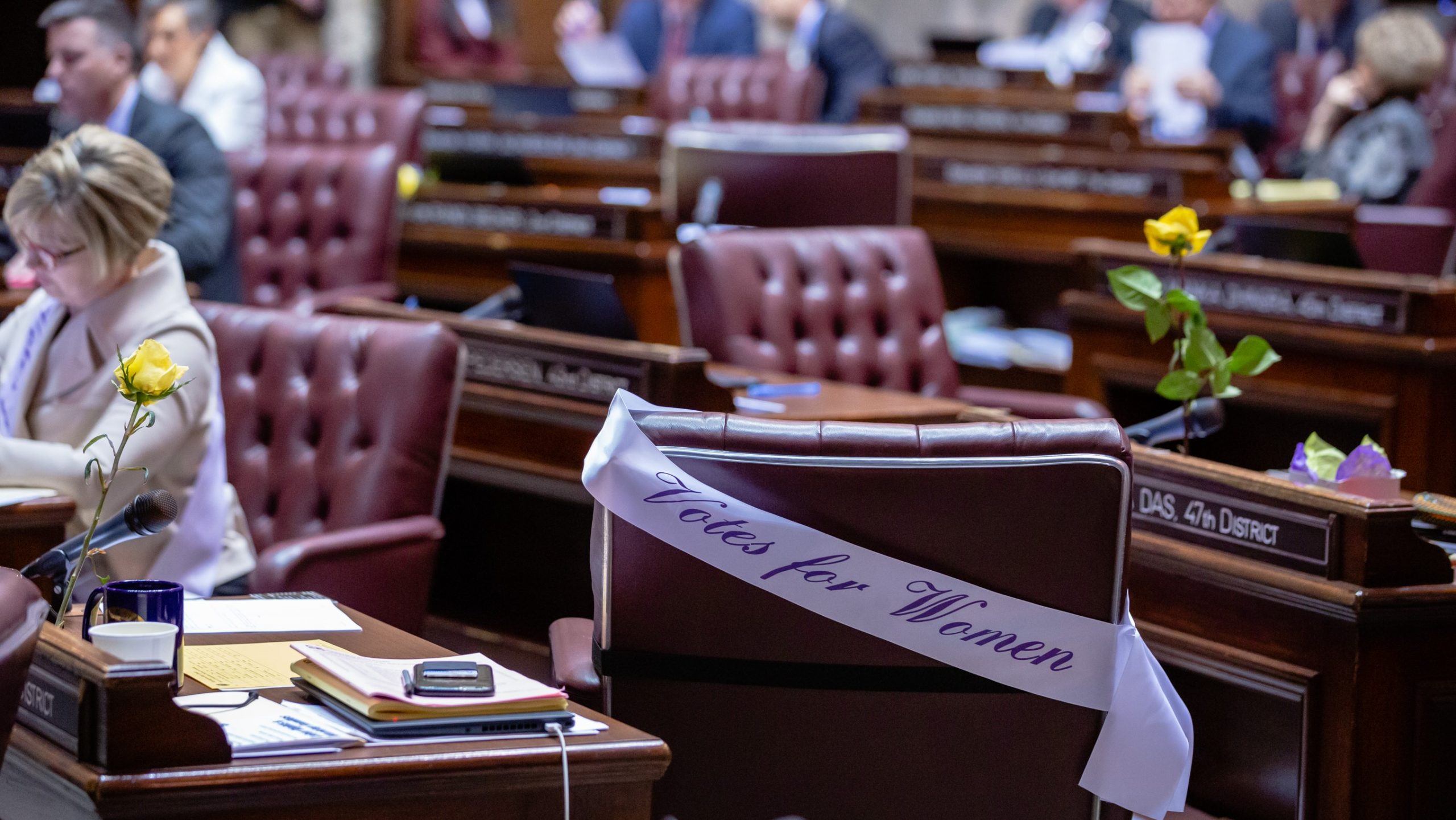 This week we honored the 100th anniversary of the amendment to the Constitution that gave women the right to vote. While we acknowledge that the first step forward in suffrage left out women of color, it was significant progress in women's participation in civic life and a step that helped make it possible for women to run for public office. We continue to work towards a world in which all women have equitable access to opportunities. In addition to today's resolution, women members of the legislature had the opportunity to sign the suffragist's flag in the Secretary of State's office, which will be donated to the Washington State History Museum. I was proud to add my signature to this piece of women's history in our state.
Please continue to reach out to my office with your thoughts and opinions. I hope I'll see you at the town hall on Saturday, February 22nd.
Sincerely,


Tana
---