Dear friends and neighbors,
We hope this e-newsletter finds you and your family staying safe and healthy. We want to let you know this will be our last official e-newsletter until November–not because there isn't so much to share, but simply because on May 11, we start "the election year freeze," which is a protection to ensure incumbent legislators do not use state resources for election purposes. Practically, this means we will not be able to send out official e-newsletters and our House websites and Facebook accounts will be frozen until after the November election results are certified. Please continue to check out coronavirus.wa.gov for the most up to date information and resources.
During the freeze, we will remain available to hear your concerns and answer your questions. Please reach out to us via email or phone as our offices are operating remotely due to the Stay at Home order.
Wishing a full recovery to everyone who is struggling with their health, economic situation or cabin fever,
Rep. Tana Senn                                                           Rep. My-Linh Thai
Tana.Senn@leg.wa.gov                                              My-Linh.Thai@leg.wa.gov
(425) 279 –5345                                                         (206) 435 – 7034
Safe Start Washington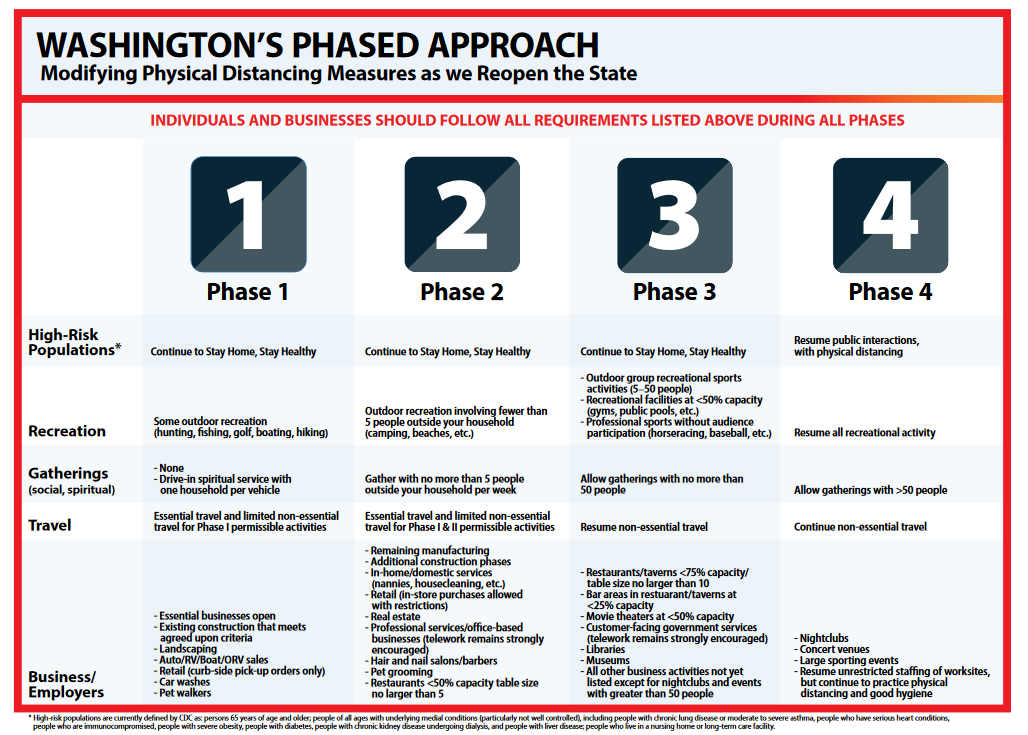 On May 1, Governor Inslee announced a continued stay-at-home directive until May 31, as well as a plan for reopening Washington. This is a phased, data-driven approach. All reopening activities depend on continued success in slowing the spread of COVID-19 and meeting four capabilities including health care system readiness, testing capacity, ability to perform contact investigations, and ability to protect high-risk populations.
Every phase will still require physical distancing and appropriate health precautions. During all phases, individuals should continue to practice social distancing, wear a face mask in public places where it's hard to stay apart from people, and wash hands frequently.
We are currently in phase one. There will be a minimum of three weeks between each phase in order to allow one complete disease incubation period and an additional week to compile data and confirm trends. The governor and public health officials will look at numerous data sources to determine when we can move to the next phase safely. You can check out their data dashboard here and read more about the plan in it's entirety here.
Where to Find Food Assistance
No one should go hungry. That is why our state, local, and community partners are coming together to coordinate on the fight against hunger. Most recently, the governor announced the WA Food Fund, which will not only help keep our kids fed, but will also help food banks keep their shelves stocked. It's a collaboration between government, nonprofits, and philanthropies to coordinate food distribution to those in need across the state. Learn more, volunteer or donate by visiting WAFoodFund.org.
If you're having trouble getting enough food, you can always apply for food benefits or get help covering the basics by calling 211. Additionally, schools are providing free meals to students. Too often, the only meal a child gets in a day is the one provided by their public school. We are so grateful to the volunteers and school staff that have continued to make lifesaving meals available, at least until the end of the school year. (After June 19, please check each school district's website.) Please help keep teachers and volunteers safe when picking up meals by following their guidance, staying six feet apart, wearing face masks and gloves, and washing your hands.
King County has put together a resource page for COVID-19 emergency food information, including organizations assisting with food delivery and pick up options.
Washington State has put together a food assistance resource page on the official Washington State COVID-19 website, which includes information on emergency food access.
Recreate Responsibly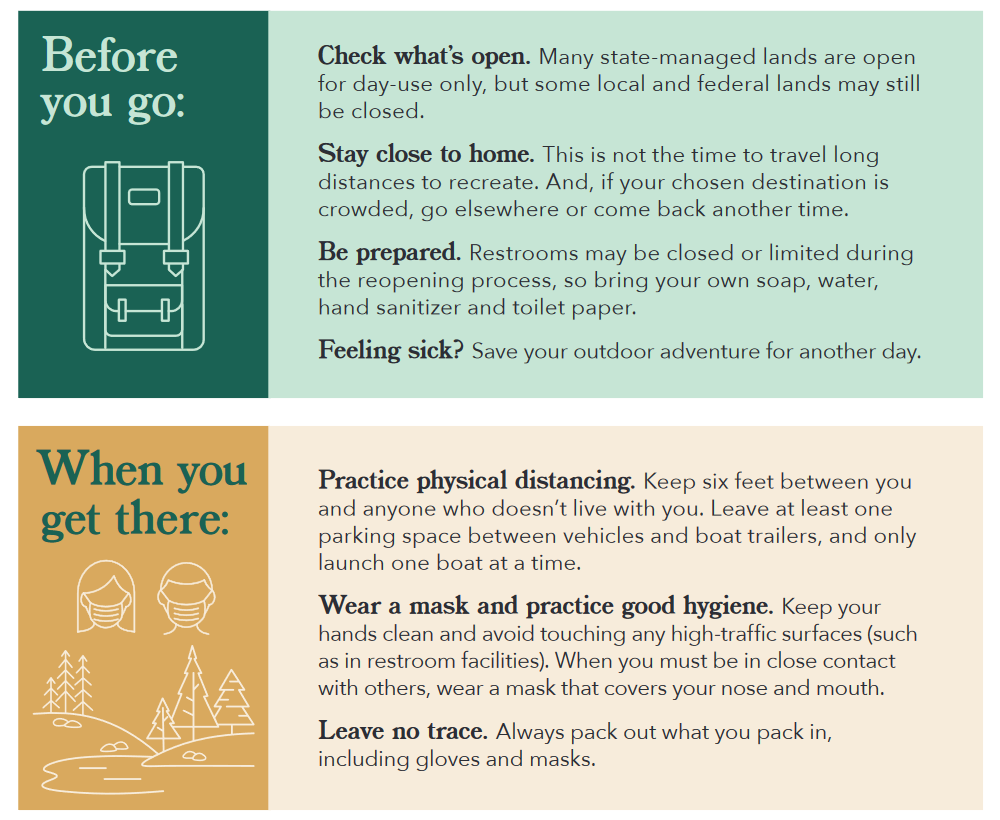 We are lucky to live in such a beautiful district and state, with quick access to the great outdoors. Starting May 5, Governor Inslee has re-opened fishing, hiking, hunting, and golfing, as long as people maintain social distancing. Please remember to avoid crowds, bring a mask, wash your hands, and pack out what you pack in. It's more important than ever that we all keep up these best practices so we can stay healthy, continue to open our economy back up safely, and preserve our beautiful environment. Read more about the specifics here and don't forget to check state websites before you head out the door.
ICYMI: Virtual Town Hall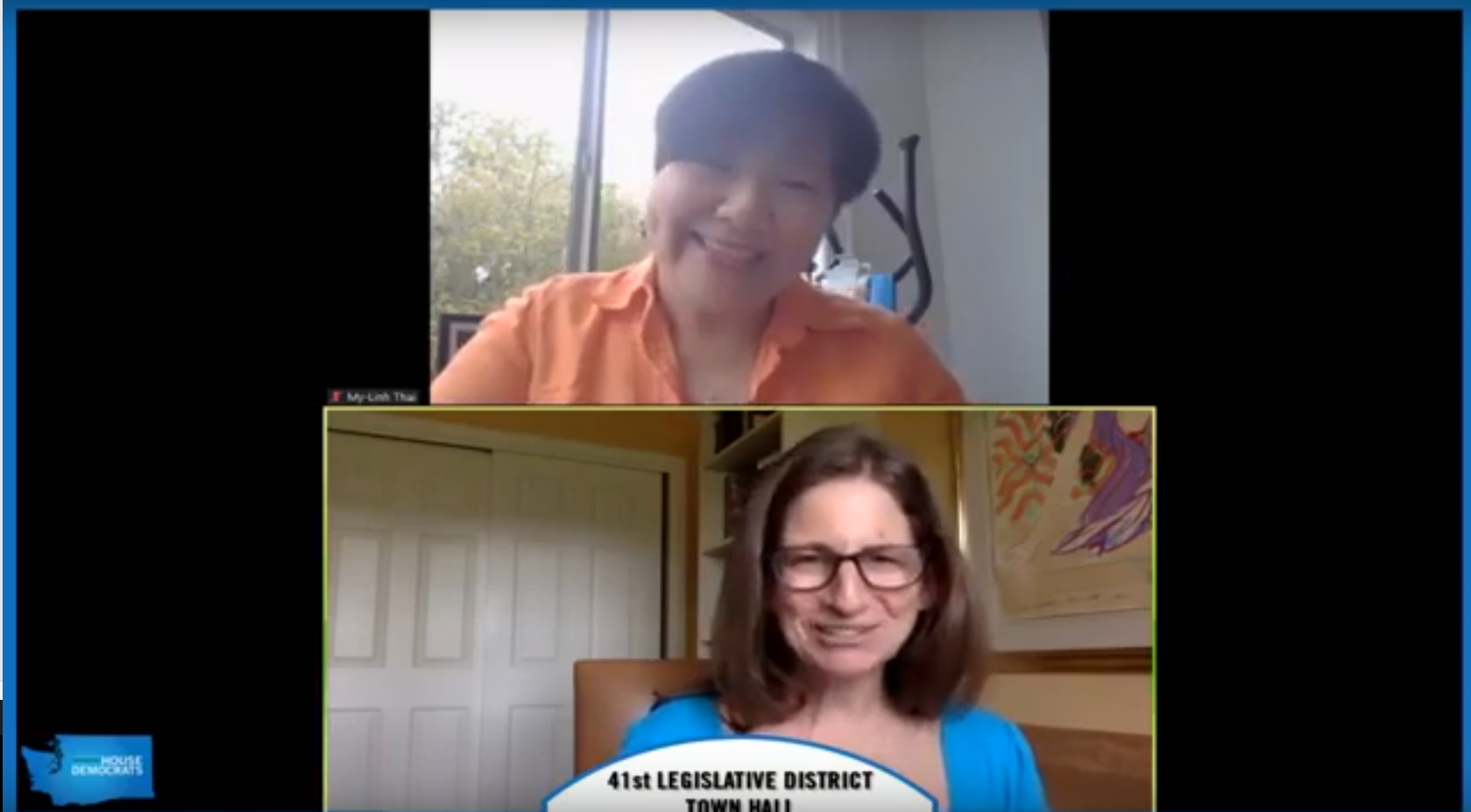 Thank you for those who joined us for our first ever virtual Town Hall on Facebook. We were so happy to find a way to connect with you while staying home and staying healthy. You can watch the full recording on YouTube.
We know that these are difficult times for everyone. Thanks to the joint effort of millions of Washingtonians, we are one step closer to visiting with our loved ones, opening our businesses, and returning to school. Thank you for doing your part to combat this virus and support our friends, neighbors, first responders and those grieving during this challenging time. We are here with you!
Your representatives,
Representative Tana Senn                                 Representative My-Linh Thai
---