It's the end of week three of the nine-week legislative session! I've spent these first weeks introducing bills, testifying in committee hearings, and meeting with constituents.
In addition to updating you on a couple of the bills I've written and introduced, I wanted to explain how I represent you even on bills I didn't sponsor. Often, an important role of legislators is supporting and working on bills that our names aren't attached to. Read on to learn more and click here for a complete list of the bills I've sponsored.
---
Thanks for stopping by!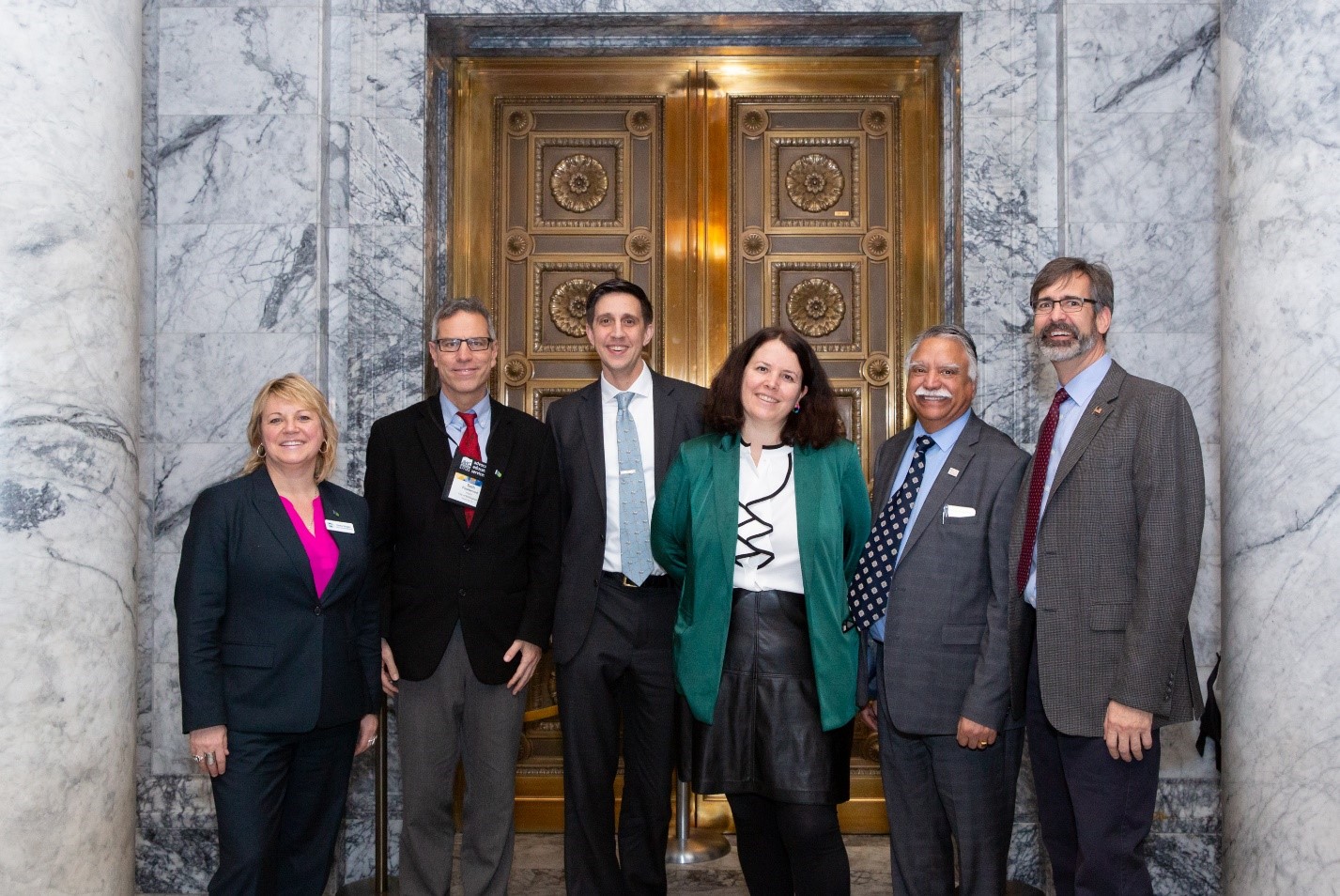 This week we had visitors from Whatcom County, the Port of Bellingham, the City of Lynden, City of Bellingham, City of Blaine and City of Ferndale. This was on top of our normal group of business leaders, non-profit directors, students, teachers, and other constituents from Whatcom. The mayors, commissioners, council members, and executives of Whatcom County are all dedicated individuals who diligently serve their communities. We spoke about housing, transportation, childcare, protecting the environment, and of course—projects. In some meetings, we came up with new bill ideas for next year that would streamline the relationship between local and state government. It's really great to have folks visit from Whatcom County!
---
Rural Child Care Access
Being a new mom is exciting! What's not exciting is worrying about paying for child care. The average price for one year of infant care in Washington state is $11,208 and often you need to be on a waiting list before you've even given birth. We don't have enough slots and, while we have subsidies for some families, they are so low we're seeing centers go out of business because they can't afford to do this good work. Talk of Kids' World shutting down in Whatcom County sent a shiver through the spines of parents.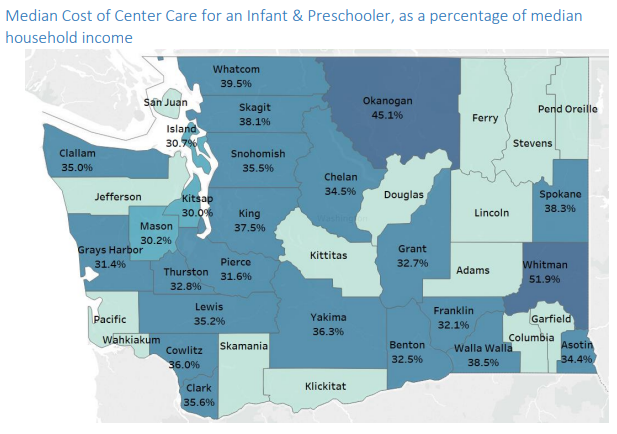 CAPTION: Whatcom County's child-care is among the most unaffordable in the state. But we have some solutions we can enact this year! Source: Child-Care Aware, "Report: 2018 Child Care Affordability in Washington State."
Both the House and the Senate are working on larger plans to make child care more affordable. At the time in their lives when kids need care the most, families in rural areas are met with rising prices and a lack of options. My bill, HB 2619, aims to take lower costs for rural families by expanding the Early Childhood Education and Assistance Program (ECEAP) to make sure it reaches all corners of our state. This bill also tasks the Department of Children, Youth, and Families (DCYF) with developing a comprehensive plan to expand child-care options to all rural areas in Washington State. For every dollar that we invest in child care, we see seven dollars in return. It just makes sense to invest in our littlest learners from rural Washington.
---
Watching out for agriculture
As legislators we don't just work on our own bills, we also ensure everyone else's bills work for all of Washington. An example of this is HB 2186, introduced by Representative Kilduff (D-Tacoma). The bill requires drivers carrying rocks and other aggregates to cover their load so these items don't hit other motorists on the highway. It modifies and expands a bill referred to as "Maria's Law," named for a woman blinded by trailer debris. The way the original bill was written inadvertently included a requirement for trucks to cover things like hay, even when moving from farm to field.
Loose hay doesn't break windshields and isn't much different than leaves or other organic materials on roadways, so I've been working with stakeholders to exempt farmers traveling with loose material, and loggers whose trucks are impossible to cover. We've had a number of meetings on this topic and I will be introducing an amendment next week.
---
What's next?
It's a drag being so far away from Whatcom County during the months the legislature is in session. Commute times, traffic, and transportation can be real barriers to connecting with your representatives. That's why I've scheduled two upcoming chances for you to weigh in!
1) Telephone Town Hall
On Monday, February 10th from 6-7pm, I'll be hosting a telephone town hall. This is a great opportunity to ask me about current legislation, voice your comments or concerns, and share how the legislature affects you. To reach me, call the number listed below between 6 and 7pm, and input the pin.
Phone number: 877-229-8493
PIN: 118322
2) In-Person Town Hall – Everyone's invited.
When: February 22nd , 1:00 – 3:30 pm
Where: Whatcom Community College's Heiner Theater
As always, you can call my office or send me an email at the contact info listed below.
Thanks for your continued support,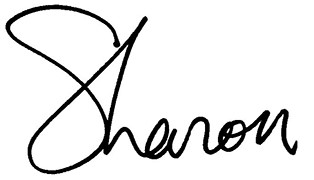 Sharon
---