Dear friends and neighbors,
These weeks haven't been easy. Doctors, nurses and hospital staff are working tirelessly. Families are grieving the 28 lives lost in our community, figuring out how to make ends meet, and adjusting to being teachers on top of everything else. The announcement that Alcoa Corporation will close the Intalco Works smelter and cut 700 jobs is absolutely devastating. I'll be doing everything I can to make sure that Intalco workers have every option possible to continue to work. I've already scheduled two digital events to find solutions and will continue these discussions.
In this newsletter I'll discuss what I'm doing to safely reopen our economy, an upcoming virtual town hall with state representatives from Northwest Washington, tips on applying for unemployment insurance, and the opening of outdoor recreation. Before that, I want to let you know this is my last official e-newsletter until November.  On May 11th, we start "the freeze" which is a protection to ensure incumbent legislators do not use state resources for election purposes. Practically, this means I will not be able to send out e-newsletters and my official House website will be frozen until after the November election results are certified. However, you can always e-mail me at Sharon.Shewmake@leg.wa.gov.
I have been selected to be one of eight legislators advising the governor on economic recovery from the pandemic and I want to share my perspective as an economist on this effort. A recent paper by Federal Reserve economists and one MIT economist examined cities' responses to the 1918 flu pandemic and found that cities that prioritized public health had lower deaths and were able to recover more quickly from the 1918 flu pandemic. Protecting the economy means protecting human health and ensuring we do not see a second wave of infection. It is the virus that is hurting out economy and our public health interventions are a response to mitigate that damage. On the taskforce we will be looking at what sectors we can potentially re-open safely, the metrics for ensuring we are continuing to make progress, and how can we plan for the economic impacts of this crisis so we can return to normal both in terms of health and in terms of being a great place to live and do business.
---
Facebook Live Town Hall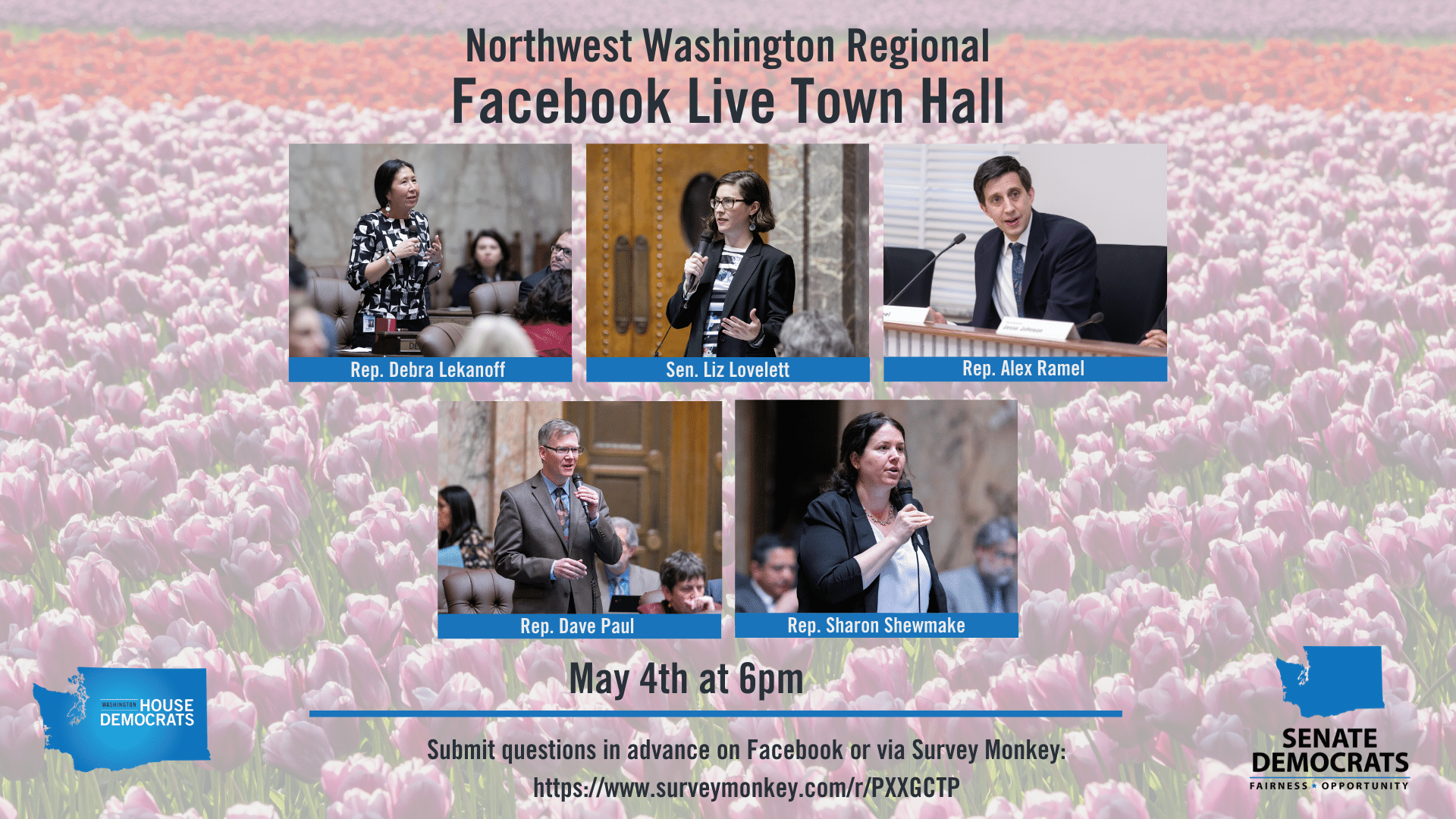 I want to stay home, stay healthy, AND stay connected with you. That's why I am joining my legislative colleagues from Northwest Washington to organize a Facebook Live town hall next week. We'll be sharing the latest updates from the legislature and answering some of your most pressing questions. To learn more, please visit our Facebook event page here. Submit your questions on the Facebook event page or via Survey Monkey. I look forward to hearing from you.
---
Tips for Success with Unemployment Benefits
With so many people out of work or unable to work due to COVID-19, the state Employment Security Department (the state agency responsible for unemployment benefits) is strained with many more families applying for benefits than normal. Since the beginning of the crises they've distributed $1.4 billion dollars to Washington residents. They are working hard on processing claims and I wanted to share what they told legislators.
The money is not going to run out. Everyone who is eligible will get their money and will be paid retroactive to their date of eligibility. As long as you submit your weekly claims, ESD will review your claims for eligibility and ensure your benefits are delivered to you.
Make sure to read all the instructions and information on the ESD website before you apply. This can help you make sure you have necessary information to fill out the application and submit your claim. ESD is putting on daily webinars to help answer your questions.
Apply when there's less internet traffic. Trying to apply at an off-hour (online traffic is lowest 11 pm to 6 am) can help you get through more quickly. If you can wait until Tuesday or later to file your claim, then please do. This will help ensure the people who need benefits the most receive them as soon as possible. You can also try using the automated phone system to submit your claim after 6 pm (800-318-6022).
The ESD is hiring a lot of new customer service staff to help respond to need, even bringing back retirees. As that staffing ramps up, ESD will be better equipped to handle the high volume of requests. Learn more about ESD's remote work opportunities.
For independent contractors and self-employed workers to get benefits as quickly as possible, ESD will pay them right away a minimum weekly benefit amount ($235 for full-time workers) plus the $600 from the Federal CARES Act. When the independent contractor or self-employed worker's wages have been verified, ESD will retroactively pay them any difference in their weekly benefit amount. This is to expedite getting money into workers pockets, but still protect against fraud. For more information, please visit: https://www.esd.wa.gov/unemployment/self-employed
Ineligible for unemployment benefits previously? This might have changed since you last applied. Through Pandemic Unemployment Assistance, our state has been able to expand eligibility to self-employed, independent contractors, those who are sick or caring for an ill loved one, as well as folks who didn't work enough hours to hit the 680-hour mark for receiving benefits.
ESD has been working around the clock to provide the most up to date information and answer frequently asked questions on their website at https://www.esd.wa.gov/.
---
Enjoying the Outdoors, Safely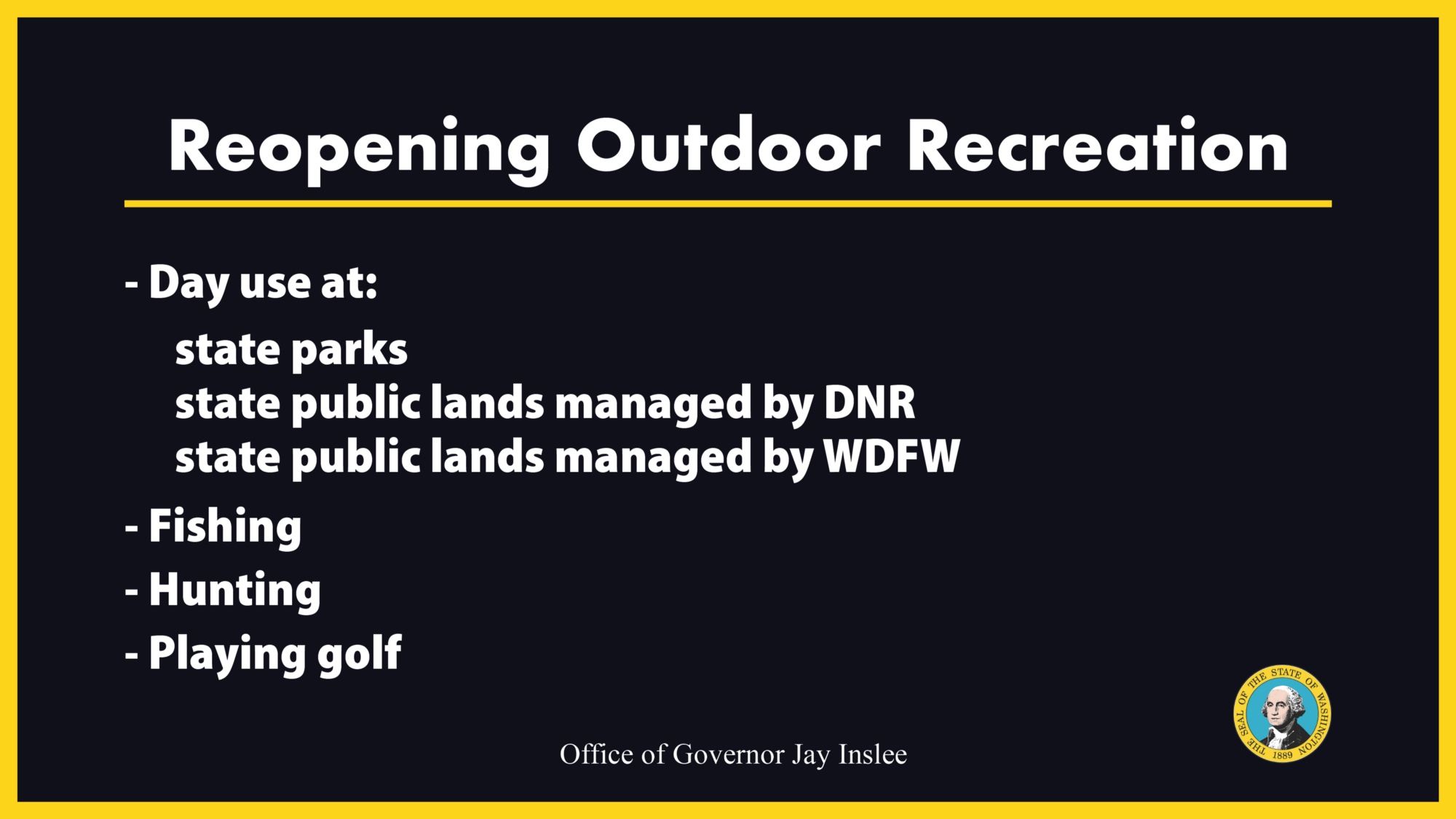 On April 27th, Governor Inslee announced a new order to re-open fishing, hiking, hunting, and golfing starting on May 5, as long as people maintain social distancing. Please remember to avoid crowds, bring a mask, wash your hands, and pack out what you pack in. It's more important than ever that we all keep up these best practices so we can stay healthy and continue to open our economy back up safely. Read more about the specifics here and don't forget to check state websites before you head out the door.
---
Remember, you can check Washington's official response website anytime for a comprehensive list of resources and Whatcom Unified Command's website for reliable, up-to-date, Whatcom-specific information.  If you can't find an answer to your question, please e-mail me and I'll figure out what we can do.
Right now, I'm doing everything I can to help our community get answers and make sure decision makers know our concerns. Even during the legislative freeze, you can still contact me at Sharon.Shewmake@leg.wa.gov and I will do my best to respond to you directly.
Stay well and wash your hands,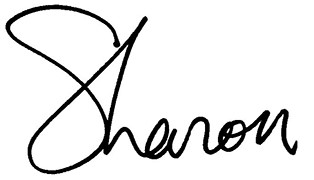 ---