Dear friends and neighbors, 
I hope you are healthy and safe this holiday season.
Last week we finalized committee assignments and I am happy and excited to report that I will be the new chair of the House College and Workforce Development Committee. I look forward to working with the committee on addressing higher education needs and the economic recovery. I am truly grateful for the calls and emails I've received from many of you, expressing your trust and support. For more information on this new appointment and my other committee assignments, please read this press release.
Thanks to the amazing efforts of biotech companies, scientists, clinicians and thousands of clinical trial volunteers, we have two recent approvals of COVID-19 vaccines and more should be coming. Learn more in the vaccine update below.  You will also see the latest update on safely bringing kids back to school!
It has been a long road and, while we are more than ready to see 2020 fade in the rear-view mirror, we must stay the course so that we start the new year safely. To help, there are resources and recommendations linked to this newsletter.
Since the legislative session starts on January 11th, we will be carrying out our legislative work remotely. This is to make sure everyone is safe, while also ensuring people have access to keep up to date on state government activities. In my next newsletter, I will include the information you'll need to stay connected to your legislature from the safety of your home.
New guidance released to bring more kids back into classrooms safely
Governor Inslee and State Schools Superintendent Chris Reykdal recently announced updated guidance for getting students back into classrooms in a phased approach. The guidance includes state Department of Health suggested categories for re-introducing in-person learning: one approach for counties with a "low" number of COVID-19 cases, another for counties with a "moderate" number of cases, and a third for counties with a "high" number of cases.
This guidance reflects the latest research indicating in-person learning can be phased-in while also protecting the health and safety of students, staff, and their communities.
The decision to begin or expand in-person learning will be made by the school districts themselves.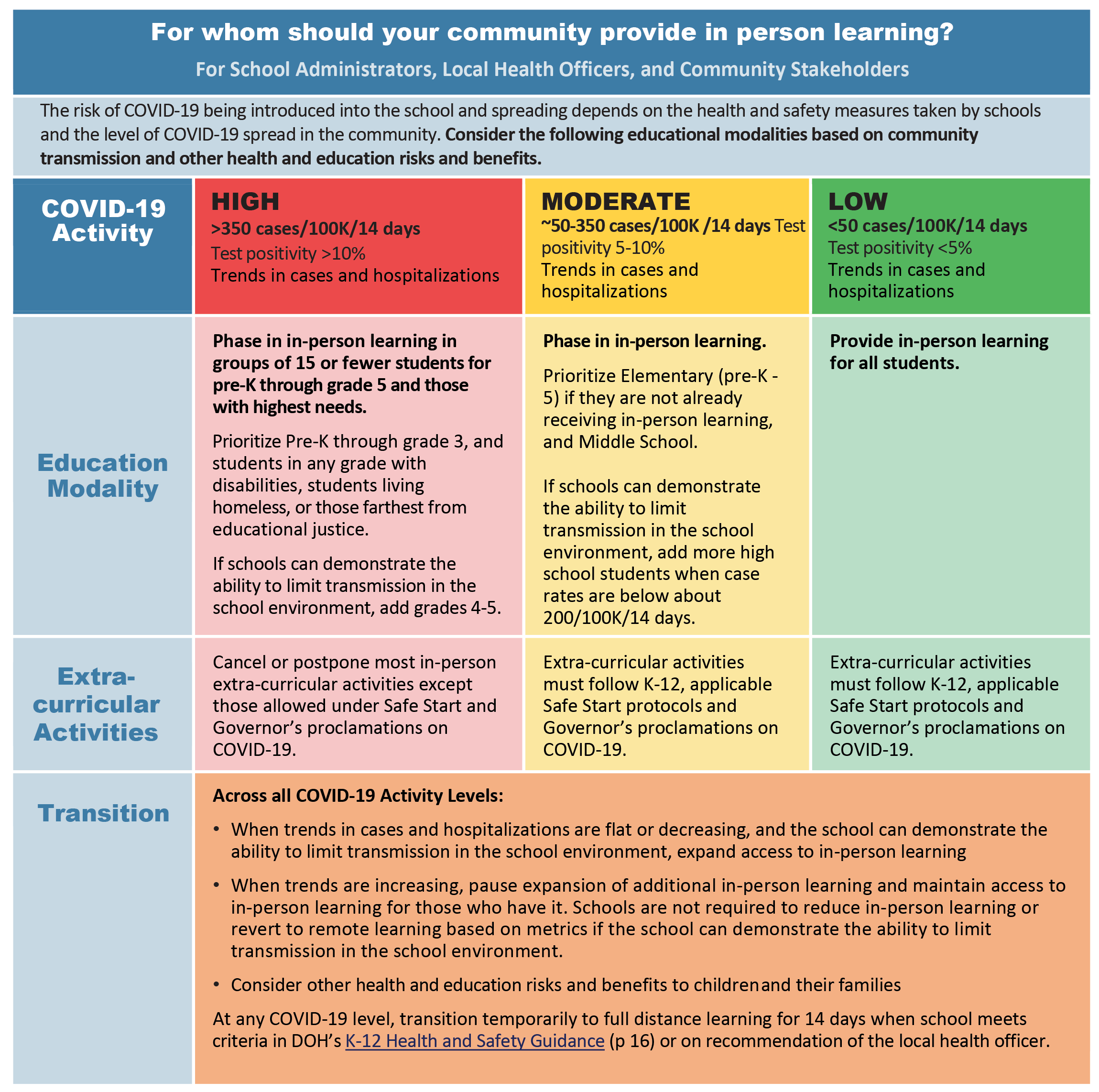 Governor Inslee also announced $3 million from set-aside funds that will be directed to OSPI to support health and safety work in our state's schools.
With careful planning, preparation and precautions, in-person learning can happen safely. The new guidance and directed funds will hopefully help more districts start to transition kids back into classrooms.
CORONAVIRUS VACCINES UPDATE
Washington's COVID-19 vaccines plan
A year ago, no one even knew the novel coronavirus existed. Now, the FDA has determined that vaccines from two different laboratories are safe and effective. While it's true that these vaccines were developed with unprecedented speed, it is also true that the suffering has been immense and hardly bearable. Here in our state, as of yesterday, over 200,000 people had contracted the virus, and more than 3,000 of our friends, family, and neighbors have died.
Dr. Anthony Fauci recently said that help is on the way, but he stressed that we need to double down on the public health measures as we wait to get vaccinated.
Washington state is wasting no time. The Department of Health worked with local partners in every corner of our state to plan for vaccine distribution and, now that the first batch is here, it's all hands on deck.
But we need to keep in mind that we won't immediately have enough vaccines for everybody in Washington. Healthcare workers, as well as long-term care facilities' staff and residents will be among the first to receive the vaccine. Additionally, the National Academy of Medicine's "Framework for Equitable Allocation COVID-19 Vaccine" will serve as a guide in our state's development of a distribution plan, along with feedback from communities across Washington, and additional sectors and industries that are heavily impacted by COVID-19.
There's a lot of uncertainty and anxiety over the vaccines, but I think we will all feel better as we become more familiar with them. I found this Seattle Times piece with answers to frequently asked questions, and this one minute video on how the vaccines are made, tested and approved very informative.
Estimate your place in line to get vaccinated
The New York Times recently released a tool to estimate your place in line for the Coronavirus vaccine. This calculator is not endorsed by the state of Washington and is merely for estimation purposes.
We will all get our turn, but until then, and even after the vaccine is widely available, masking up, social distancing, frequent handwashing, and staying home as much as possible are our greatest tools for slowing the spread of the virus.
Practicing  these efforts together to the greatest extent possible is how we'll reopen our economy and make sure Washington remains the best state for working families.
Need help staying home with COVID-19?
Staying home and fully isolating while sick with COVID-19 is not easy. That's why local departments of health around our state have teamed up to provide support.
Care Connect WA helps people find services like food banks, assistance applying for unemployment, local housing agencies, and medication delivery so it's easier to stay home and recover.
Anyone is eligible for services once a case investigator or contact tracer calls them. Individuals who are actively isolating and quarantining at home can also find Care Connect WA services in our area here.
This is one small way to make it easier for people with COVID-19 to stay home, stay safe, and keep their community healthy.
Thanks for your interest in reading this newsletter, I hope you found it informative.
I know that the holidays won't be the same this year without being able to get together and celebrate with family and friends. Thank you for all you do to keep your family and community safe.  As we near the end of this difficult year, may all our efforts prove worthwhile so that in 2021 we get to be among our loved ones and friends once again.
My best wishes for health, harmony and prosperity to you and yours.