And we're off!
The 2019 Session has begun and the Legislature is full of energy. All members of the House took their oath of office on Monday and it was a remarkable sight. I was sworn in to begin my 8th term and I am excited to be back in Olympia representing all of you.
Speaker Chopp kicked things off with a speech calling for a renewed commitment to One Washington and emphasizing that by working together we can accomplish great things. Here is a copy of his full remarks.
He also proudly spoke about the diversity in the House, saying that "this year, this House, will be the most representative of all our people, in state history."
State legislature welcomes most diverse membership on record, including women of color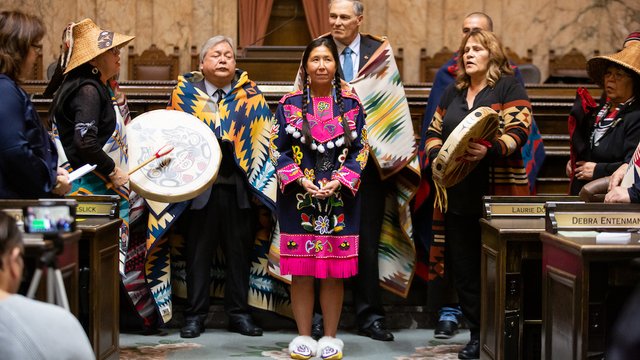 The Washington State Legislature welcomed the most diverse cohort of elected officials in state history on January 14. The 2019 Legislature includes a female majority in the House Democratic Caucus, with women of color serving in the ranks of both the House and Senate leadership. We are welcoming twelve new Democratic members including the first Native American woman elected to the House and the first Vietnamese refugee elected to the state Legislature.
Washington currently ranks fourth in the nation in terms of gender parity in the state Legislature.
When our elected officials look like the communities they represent, our government can better address the diverse needs of all people across Washington.
Collaboration leads to consensus on deadly force initiative
For years, communities, especially communities of color, have been frustrated by the outcomes of interactions between police and members of the community. There have been too many instances where people in a mental health crisis end up injured or dead instead of receiving help. And when someone is shot or killed by the police, Washington's laws left victims and their families without a clear path to justice.
This past fall, voters approved Initiative 940, which updates Washington's use of deadly force statute by requiring de-escalation and mental health training, mandating a duty to provide first aid, and updating the standards so prosecutors can more fairly evaluate deadly force incidents. While the initiative is a great step forward in repairing the trust between the public and law enforcement, there are sections that need further clarification in order to be implemented. Last session, community groups and representatives of law enforcement worked with lawmakers to agree to language to clarify and strengthen the initiative.
This session, my colleague and seatmate Rep. Roger Goodman introduced House Bill 1064 to enact that agreed-upon language, and the bill was unanimously approved by the House and sent to the Senate last week. I am a cosponsor of HB 1064, and look forward to seeing it signed into law soon, so we can begin to bridge the gap between our communities and law enforcement.
How can you get informed and involved in your democracy?
The House and Senate are now at work in Olympia in a session that is scheduled to last 105 days.
Here's a quick guide on how to contact your lawmakers, learn about the issues or share your views on legislation being debated:
As a constituent, your views and interests, combined with your participation, are crucial to decision-making here in Olympia.
Our democracy is strongest when everyone has the ability to learn about the issues and share their comments, questions and ideas. I hope to hear from you soon!
 Would your teen like to join us in Olympia for a week?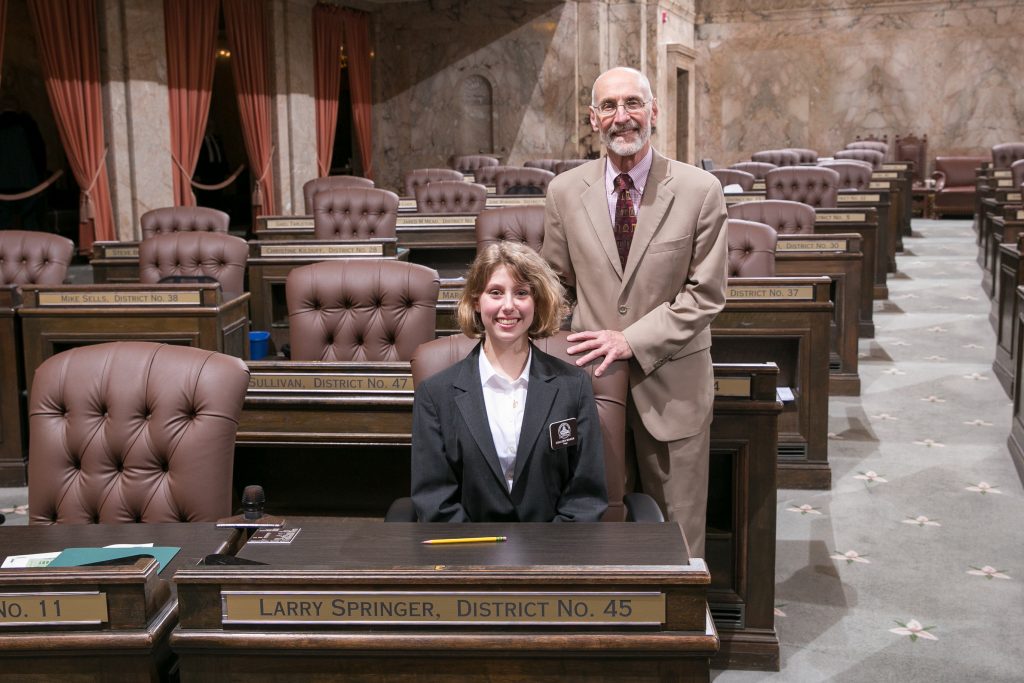 Every year, students ages 14 to 16 come from all over the state to serve as legislative pages at the House of Representatives. Pages perform a wide variety of responsibilities, from presenting the flags to distributing amendments on the House floor.
In addition to contributing to the efficient operation of the Legislature, pages receive daily civics instruction, draft their own bills, and participate in mock committee hearings.
Pages are sponsored by members of the Legislature, usually from the district in which they live.
To help lower income families participate in the program, the House of Representatives created the Gina Grant Bull Scholarship; check out the FAQ page to see if you can apply.
Taking part in the page program is a great opportunity for young people to gain a unique perspective of the legislative process. If you have a teen who could benefit from this experience, I encourage you to consider sending him or her to Olympia for a week.
For more information, please visit the House Page Program website.
Stay tuned!
Stay tuned, there is still much work to be done before session ends. I always welcome your comments so do not hesitate to contact me at larry.springer@leg.wa.gov.
---