No stamp, no problem
Voting should be accessible, easy, and free. That is why Democrats are removing barriers to the ballot box for everyone in our state.
As our world has become more digitized, people are less accustomed to using the post office and often do not have stamps at home. With Senate Bill 5063, we are working to provide prepaid postage permanently for return ballots in all Washington elections.
With House Bill 1520, the date of the election would be printed on the outside of ballot return envelopes. This simple but meaningful change would act as a gentle reminder of the deadline to return ballots. Too often, people forget to turn in their ballot because they are not sure of the election date.
Finally, with Senate Bill 5273, we are moving up the date of the presidential nominating process, giving Washington more stake in national elections. Historically, by the time Washingtonians have decided on who to put forward, nominees have already been decided. We are also building a more inclusive process, by removing inconvenient caucuses with an accessible vote-by-mail primary so that more people can participate in the conversation of who leads our nation. The bill was signed into law on March 14, along with the Native American Voting Rights Act.
These are easy steps we can take to create a more inclusive democratic system. More participation means a stronger democracy for all of us.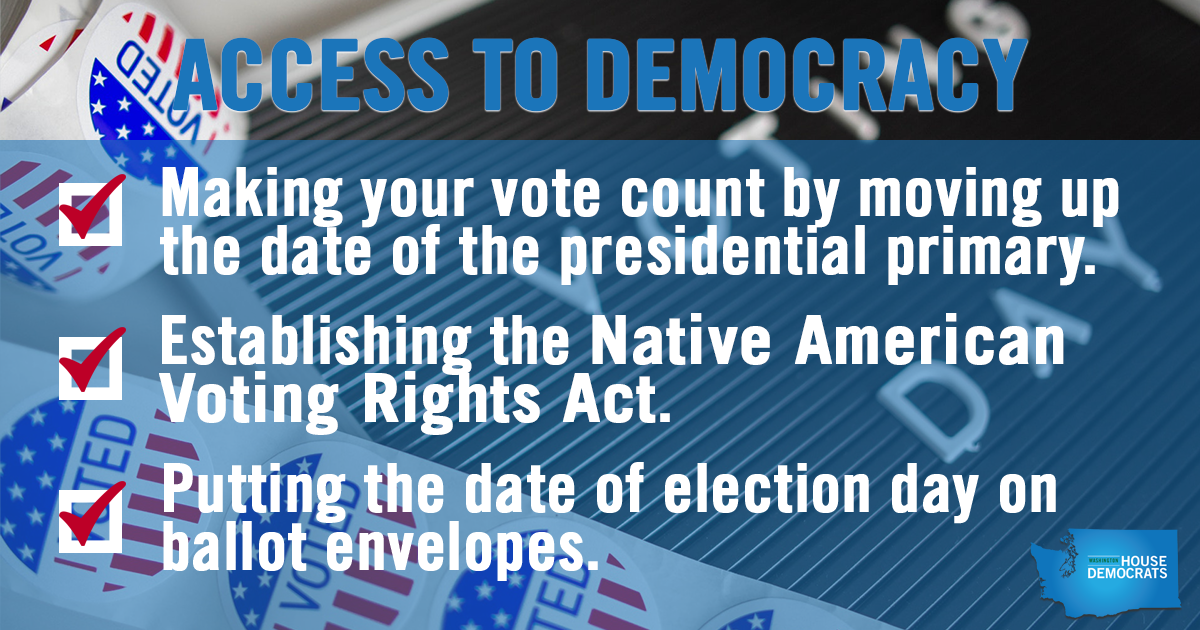 Recognizing Dolores Huerta
The first time the Washington State Legislature designated a day, in statute, honoring a woman was in 1999, establishing April 16 as Mother Joseph Day.
The second time was on March 21, 2019, when Governor Inslee signed House Bill 1906, to designate April 10 as Dolores Huerta Day.
I cosponsored the measure when we passed it out of the House the first week of March, and the Senate passed it unanimously on March 18, with Ms. Huerta herself looking on from the Senate wings. She was in Olympia that day to participate in Latino Legislative Day activities.
You've surely heard chanting of the phrase "Sí se puede!" (Yes, we can!), however, did you know it was not César Chávez, but rather Huerta who started it?
Together, Chávez and Huerta fought against abuse and discrimination and in 1962, they launched the National Farm Workers Association, which preceded the United Farm Workers of America Union.
Huerta is a feminist, civil rights activist, and labor leader whose work went beyond improving living conditions for farmworkers. She also stood up for the rights of women and emphasized the importance of building community.
I am proud that Washington will honor the work and legacy of an inspiring American icon, a symbol of strength, perseverance and leadership, and an example to us all.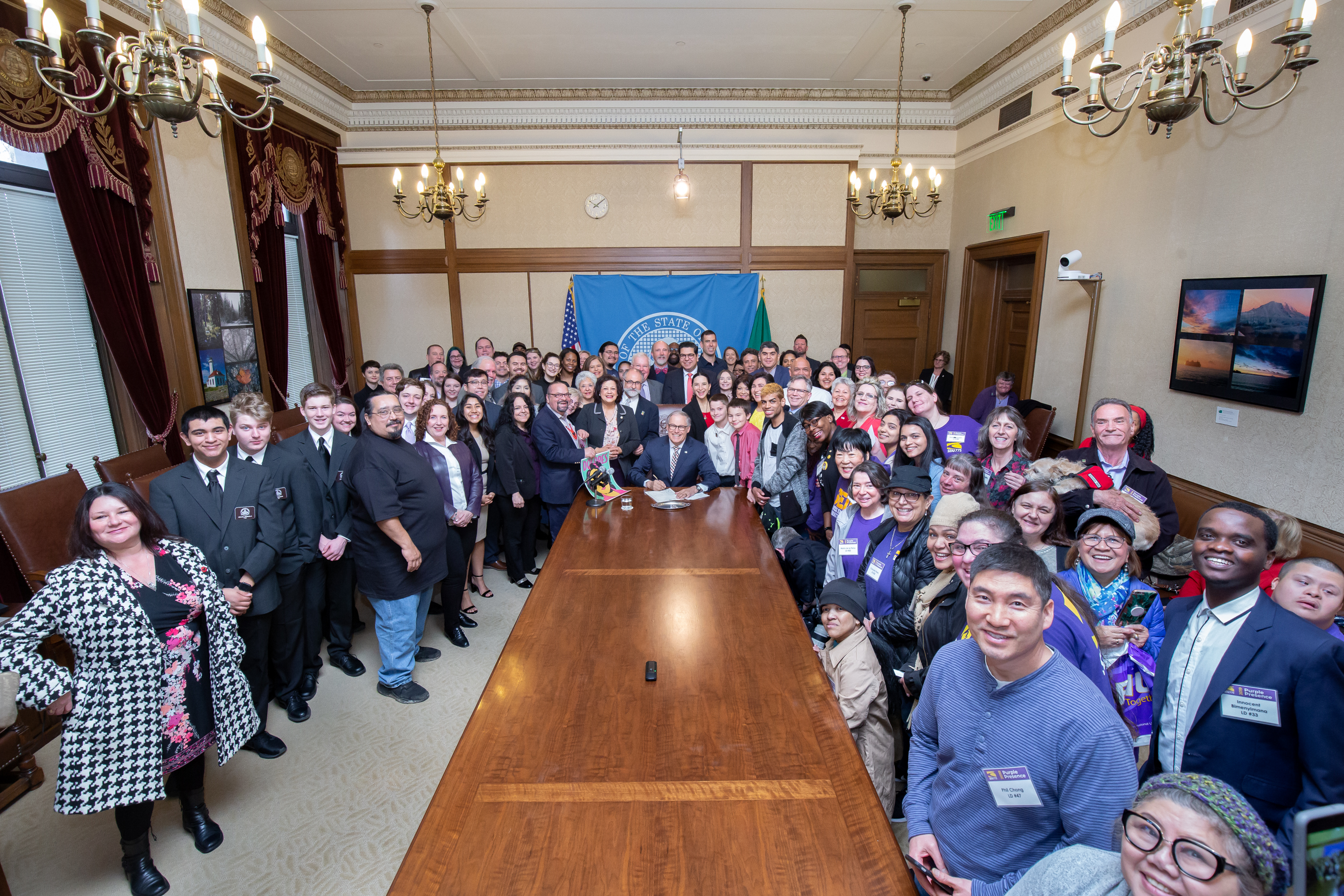 The Workforce Education Investment Act: Jobs and 0pportunities for Washington students
Washington Democrats proposed a budget that includes significant investments in financial aid and workforce education for Washington students. The Washington Workforce Education Investment Act renames the State Need Grant as the Washington College Grant and dramatically expands the program by adding $230 million to fully fund and increase eligibility. It also allocates over $100 million to invest in services that connect students with degrees, certificates, and apprenticeships, leading to high-demand jobs like nursing, engineering, and computer science.
A targeted Business and Occupation Tax on specific sectors, like the technology industry, provides the needed funds for these higher education investments. Some business leaders from these sectors, such as president of Microsoft Brad Smith, support and endorse this revenue package as a way to develop a skilled work force for high-demand and high-wage jobs.
Debt deform bills one step away from Governor's desk
It is a challenging time in America with vast economic disparities between the wealthiest and the poorest, and a serious lack of resources for many families. Forty percent of Americans cannot afford an unexpected expense of $400 or more and another 11 percent live at or below the federal poverty level. Washington state has these same problems on top of some of the harshest debt collection practices in the country.
House Democrats are addressing post-judgment interest rates, wage garnishment limits, medical debt, statute of limitations on debt collection, and pocket service.
Democrats propose lowering the maximum allowed post-judgment interest rate from 12 percent to 9 percent and exempting more of a person's earnings from wage garnishment so they won't be forced into poverty or even homelessness over a debt. The proposals also include a response to medical debt, the top cause of bankruptcy in the United States, by ensuring debt collectors cannot report medical debt to credit agencies for 120 days. This would give people the necessary time to make arrangements without damaging their credit.
Other parts of the Democratic proposals end unfair practices around extending the statute of limitations on debt collection and using a process called "pocket service" to trick people into default judgments against them.
House Bills 1602, 1531, 1730, and 1066 address those issues and are currently awaiting final approval from the Senate before going to the governor's desk for approval.
As always, you can contact me with any questions or comments at Derek.Stanford@leg.wa.gov, or by phone at (360) 786-7928.
Thank you,

Rep. Derek Stanford
---