Hello from Olympia and the start of the 2019 legislative session
Week one of the state legislative session is behind us, which is usually taken up with ceremonial tasks such as swearing in new members, hearing from the Governor on the state of the state, and officially assigning legislators to their committees.
Speaker Frank Chopp kicked things off by calling for a renewed commitment to One Washington. Decrying the partisan politics in Washington, DC, the Speaker emphasized that by working together in this Washington we can accomplish great things all across the state.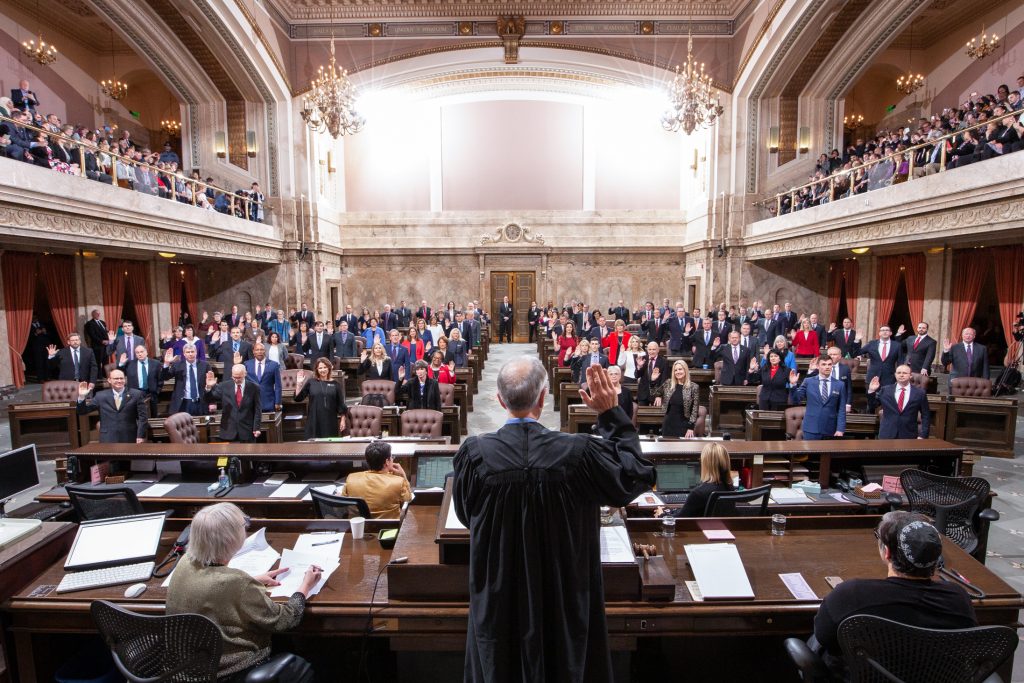 Committee hearings underway
At the same time, members are busy introducing their bills, meeting with constituents, and testifying before committees about their policy ideas.
As House Majority Leader and a member of the budget writing team, I'm meeting almost daily with Appropriations Committee leaders and staff going over our state budget line by line to review where we can find efficiencies in our state services.
Putting people first: Important issues this session
My priorities this session include making higher education more affordable for all people. I want to fully fund our State Need Grant so that less fortunate students have the chance to find success. At the same time, we need to help middle-class families and students crushed by loan debt. I'm working on legislation now that will reduce student loan interest rates to make that debt less burdensome.
We also have more work to do surrounding K-12 education funding. The Legislature has met the state Supreme Court's "McCleary" ruling, but that's not enough. For example, special education services are not being funded as they should be. All legislators need to remember that any decisions we make should put people first, including our 1.1 million school kids.
I want to make more progress on our mental health care and substance use disorder services. This issue affects us all – there are very few people in our state who haven't directly or indirectly faced behavioral health issues.
How can you stay informed and involved in your democracy?
Here's a quick guide on how to contact your lawmakers, learn about the issues or share your views on legislation being debated:
As a constituent, your views and interests, combined with your participation, are crucial to decision-making here in Olympia. Our democracy is strongest when everyone has the ability to learn about the issues and share their comments, questions and ideas.
I hope to hear from you soon!

Pat Sullivan
---