Safely reopening our economy
We are in the first phase of a four-phased approach to reopening our economy from the Stay Home, Stay Healthy order.
Because we've done a great job with social distancing, Washington is doing better than many other states in flattening the curve of COVID-19 infections. As the husband of a front-line health care worker, I'm heartened by the strong support for data and public health expertise in guiding our reopening efforts.
Phase 1 includes restarting some outdoor recreation – just in time for the nicer weather – like boating, fishing, hunting, and golf. It also opens some businesses back up, like some construction, landscaping, auto sales, car washes, and curbside retail.
While all of us are eager for our state to fully reopen, safely reopening is less like flipping a switch and more like turning a dial. The key is to keep turning the dial up – even if it's slowly – and not having to turn it back down due to infection rates spiking.
Supporting Washington's recovery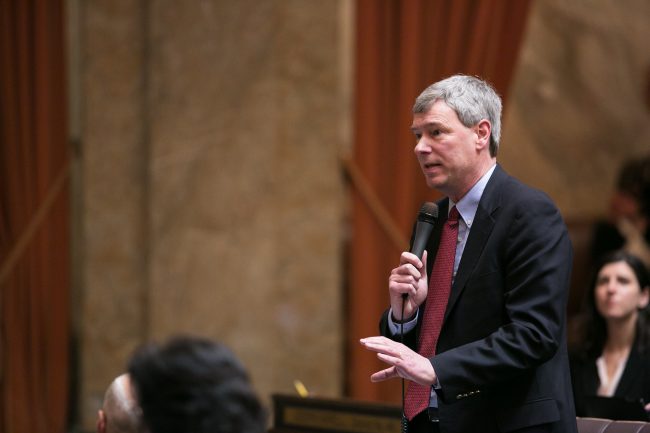 When the Legislature adjourned in March, we passed a bipartisan bill putting $200 million toward addressing the impacts of COVID-19. It was what our public health system and communities needed to confront the virus.
But this crisis is too much for one state to solve alone, and that's why House Democrats convened issue-focused teams convened who are working on everything from economic recovery, to food security, to bridging the digital divide so that all Washingtonians have access to broadband, and more.
By determining current gaps and needs across the state, these teams will provide our federal partners with recommendations for how to structure future stimulus packages to help more Washingtonians.
This work will also inform our caucus priorities in a potential special session and in the 2021 Legislative Session, so we can best support workers, small businesses, and communities getting back on their feet as our state continues to recover.
Keeping in touch
Starting May 11, election year activity restrictions prohibit state lawmakers from sending mass email updates like this one until the November election is certified. My legislative website will also be frozen during that time.
I know many of you will continue to have questions and concerns about the COVID-19 pandemic and what's next for Washington. To help answer those, please don't hesitate to contact me.
In the meantime, for accurate, up-to-date information online, the links below are trusted sources of COVID-19-related information for our community and state:
Stay safe and stay healthy,

Pat Sullivan
---