Hello Friends and Neighbors,
I have spent the last two years working on legislation to establish a 100-percent clean electricity standard for our state. Over the last two weeks the House and Senate finally passed and concurred on this path-breaking legislation. I have believed for a long time that climate change is a great threat to our health, our national security, and our way of life.
This bill will do more than give Washington a clean, stable electrical grid. It will create a clean-energy economy in our state, incentivizing innovation and planning that create good jobs for Washingtonians while helping secure a habitable earth for their children. This legislation will unleash a flood of pent-up investments in clean energy solutions and innovations in our state and throughout the western grid.
That is the power of strong policies that define future goals.
The floor speech I gave when introducing this legislation was eight minutes – the longest of my career in the legislature. I invite you to watch it here or click the image below.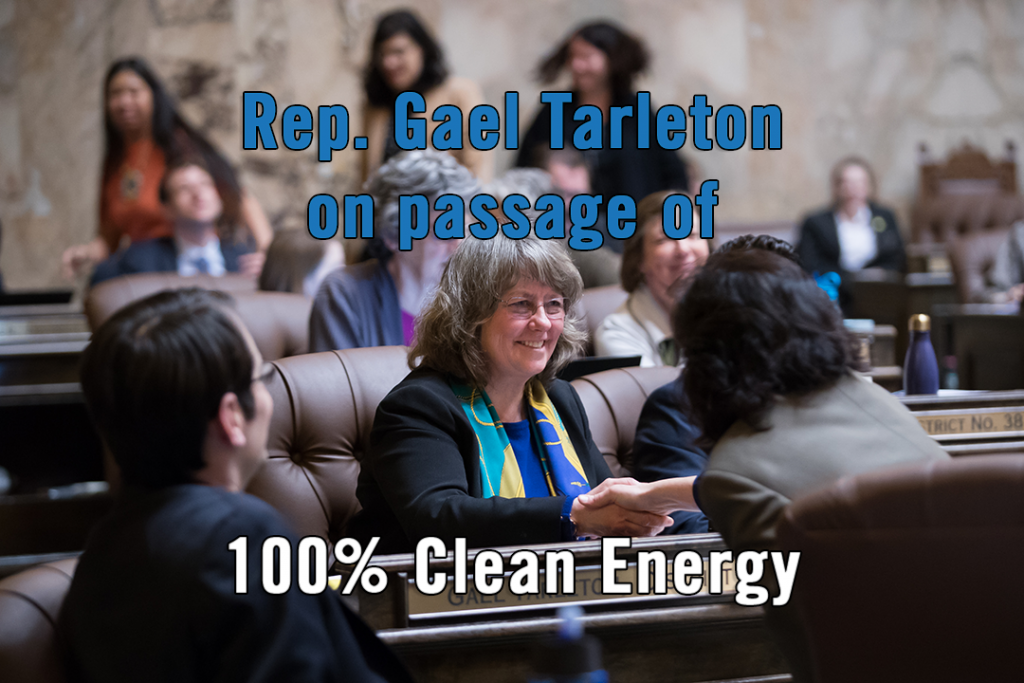 And because yesterday was Earth Day, I want to tell you about some other key legislation we passed recently to preserve Washington's beautiful natural environment for future generations to enjoy.
---
Support For Our Orcas
There are many threats facing the southern resident orcas that live in our waters. Toxic chemicals in consumer products in particular are double-edged swords: Their poisons hurt the orcas, and the salmon upon which orcas depend for survival.
On Monday, the House passed Senate Bill 5135, the Pollution Prevention for Our Future Act. This bill sets up a process by which harmful chemicals can be identified and dealt with before they contaminate our communities. By stopping the toxic treadmill of polluting, cleaning up pollution, and re-polluting; we can cut pollutants off at the source and give our orcas a better chance to thrive in their own waters.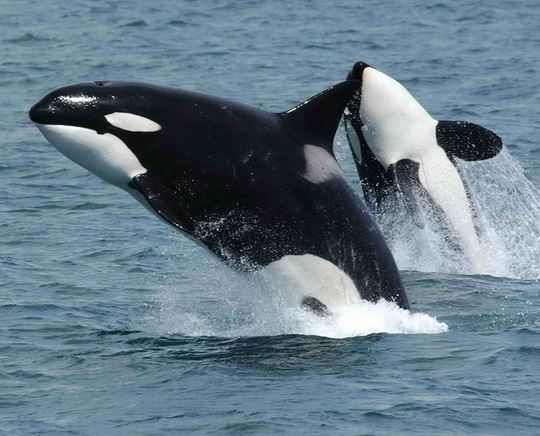 ---
Oil Spill Prevention
Last week we passed House Bill 1578, which requires small oil tankers and barges to have tug escorts when traveling through the narrow straights of the San Juan Islands. This bill was an immediate response to a recommendation by the Southern Resident Orca Task Force, and is an important step in reducing oil spills.
Those spills are devastating to orcas, and to our coastal economies. The Department of Ecology has estimated that a major spill could cost taxpayers close to $11 billion and more than 150,000 jobs. I'm happy we were able to pass this legislation to protect Washington's marine life and industry.
---
Hydrofluorocarbons
The legislature took a big step toward eliminating another greenhouse gas, passing House Bill 1112, which phases out the use of hydrofluorocarbons. This bipartisan legislation will have a great impact on overall greenhouse gas reduction at a very low cost. These hydrofluorocarbons can contribute to climate change even more than carbon dioxide, and it is essential that we eliminate them from our refrigeration units. This legislation does so in a way that is predictable for manufacturers. My colleague, Rep. Joe Fitzgibbon, shot a quick video about why this legislation is important when it passed the House floor last month. Watch below or by clicking here:
---
Along with my 100-percent bill, and bills we passed last week to design new energy standards for large buildings and efficiency standards for some appliances using electricity and water, I am proud to say that the 2019 legislature set Washington on a bold new course in the effort to mitigate the effects of climate change. I hope other states will follow our lead.
Your voice in Olympia,
Gael
---