Elections and Voter Education Funding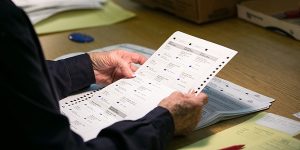 Over the weekend, my elections and voter education funding reform bill, House Bill 2421, won unanimous, bipartisan support with a 31-0 vote out of the Appropriations Committee. County budgets have been stretched to the limits as local elections officials absorb the costs of conducting all elections for local, state, and federal offices.
My legislation will have the state start paying its fair share. House Bill 2421 requires the Office of the Secretary of State to reimburse local elections offices for the costs of conducting state and federal elections.
If signed into law, House Bill 2421 would also require county auditors and elections directors to conduct voter education and outreach and reimburse them for no less than 10 percent of those costs, prorated for voter population. Washington's legislature has led the way over the past several years to create access to democracy by expanding voting rights, offering free postage and deploying hundreds of ballot boxes all over the state. My bill will build upon that success by mandating:
Conducting broad voter education and outreach to include printed materials, paid advertising, video, news coverage;
Educating people about the importance of voting as an act of civic engagement;
Educating and informing people about the entire voting process, from voter registration, to ballot deadlines, to election certification; and
Reducing participation gaps with outreach to communities with a history of poor voter turnout.
---
Cutoff and voting on the Floor
We've reached the point in the legislative session known as "cutoff." Last Friday was the first legislative cutoff of this short, 60-day session – policy committee cutoff. Bills not passed out of policy committees by last Friday are not moving forward this year, unless they're directly related to the budget. Today, February 11th, is the next deadline – fiscal cutoff – for bills to pass out of the fiscal committees, such as the House Finance Committee which I chair, and the House Appropriations Committee on which I serve. These cutoffs are essential for the effective operation of the legislature, but make for a fast-paced, often tense period as we closely watch if bills pass or die.
After these initial cutoffs, the House will start spending a lot of time on the floor passing bills and sending them to the Senate for their consideration. That means, starting this Wednesday, I and my colleagues will be voting on the floor rather than spending our time in committees. I'll keep you updated as important legislation is voted on and continues through the legislative process.
---
Investing in Washington's Workforce
There will be more than 750,000 job openings in Washington in the next few years, and there aren't enough qualified applicants in the state to fill those jobs. That's why last year, the Legislature passed the Workforce Education Investment Act, which makes public college tuition free for families that make up to $50,000 and provides partial financial aid for other low- and middle-income students. The investment fully funds the Washington College Grant (formerly the State Need Grant), funds the Guided Pathways programs at our Community and Technical Colleges, and expands enrollment in high demand fields, such as nursing and engineering.
We've already seen the benefits in our community. At the University of Washington (UW) Seattle alone, the Workforce Education Investment has allowed the university to invest $2 million this year, with plans to double the funding for each year thereafter, to increase degree production in the College of Engineering. That means nearly 500 new slots in the engineering program will become available to in-state students. UW Seattle has also dedicated another $500,000 a year to maintain the Washington State Academic Redshirt (STARS) program, which every year supports 150 engineering and computer science students from low-income, first-generation, and underserved backgrounds in navigating the transition to college-level courses. These investments will help ensure local students have the opportunity to fill well-paying jobs in our region.
In fact, the Workforce Education Investment is working so well across the state that we have more students wanting to go to school or go back to school than we expected. That's why last week, the House passed a bill to simplify and improve the way we collect the funding for these programs, making it easier for businesses to comply, and ensuring our state's students have the access to this opportunity for a higher education.
People want to get the education they need for a good-paying job and we offered them a solution, a promise. Now we are honoring that promise.
---
Upcoming Town Hall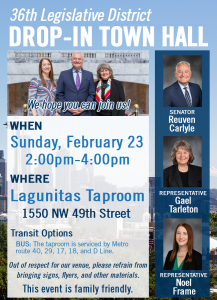 ---
Free, Local Tax Help
United Way is offering free tax preparation services online and at 33 locations throughout King County from now through April 18th. Households making under $66,000 can have their taxes prepared by a certified tax preparer, and get connected to other community resources and public benefits. When the Census becomes available in March and April, these tax site locations will also have information and volunteers available to help fill it out.
Learn more about the Free Tax Prep Program and find information in additional languages.
---
Your voice in Olympia,



Gael
---