Join us this weekend!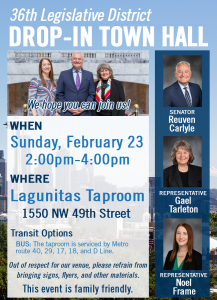 This Sunday, February 23, Sen. Carlyle, Rep. Frame, and I will be at Lagunitas Taproom (1550 NW 49th St.) from 2:00 pm to 4:00 pm.
As a "Drop-In" Town Hall, we encourage you to join us anytime in the two-hour window that works for you. We'll aim for casual, small-group conversation and try to swap out who is at the table to ensure everyone gets a chance to be heard. Out of respect for our venue, please refrain from bringing signs, flyers, and other materials. Kids are welcome.
---
Election Legislation Still Moving through the Process
Securing our State Elections
As a former senior defense intelligence analyst, and a corporate executive who led U.S. – Russian technology programs for nearly a decade, I know this: foreign threats to U.S. national security interests are real.
Elections are the foundation of our representative democracy. Our legitimacy as elected representatives depends on the people believing that we are their duly elected representatives. In order to better guard our elections against outside influence, I've introduced House Bill 1251 to protect our state's elections from cyber attacks and to prepare local and state officials in the event of election interference.
We prepare for emergencies in this state – whether it's an earthquake, a terrorist attack, or a cyber attack on our elections. This bill lays out how local, state, and federal partners as well as private parties should work together to anticipate threats and to mitigate any potential damage. It also defines "foreign entity" for what may be a first in state law. We must help federal and state authorities be able to prosecute foreign entities who attempt to undermine the integrity of our representative democracy.
This is the third year in a row that I've introduced this legislation. Last session it got a unanimous vote in the House, and this year the bill was voted 95-1 off the House floor. The bill is now being considered in the Senate, and had a public hearing last week in the Senate Committee on State Government, Tribal Relations & Elections.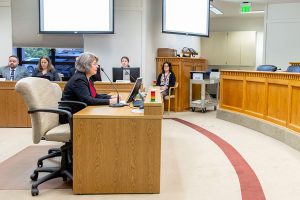 Elections and Voter Education Funding
At the end of last week, my elections and voter education funding reform bill, House Bill 2421, was also voted 80-16 off the House floor, after receiving unanimous, bipartisan support in the House Appropriations Committee.
County budgets have been stretched to the limits as local elections officials absorb the costs of conducting all elections for local, state, and federal offices. My legislation will have the state start paying its fair share by requiring the Office of the Secretary of State to reimburse local elections offices for the costs of conducting state and federal elections.
If signed into law, the bill would also require county auditors and elections directors to conduct voter education and outreach and reimburse them for no less than 10 percent of those costs, prorated for voter population. The Washington legislature led the way over the past several years to improve access to our democracy by expanding voting rights, offering free postage, and deploying hundreds of ballot boxes all over the state. My bill will build upon that success by mandating:
Broad voter education and outreach to include printed materials, paid advertising, video, news coverage;
Education on the importance of voting as an act of civic engagement;
Voter education on the entire voting process, from voter registration, to ballot deadlines, and election certification;
Funding for expanding ballot boxes in areas that have not yet received them; and
Outreach to communities with a history of poor voter turnout in an effort to reduce participation gaps.
The bill is now under consideration in the Senate, and is scheduled for a hearing this Friday in the Committee on State Government, Tribal Relations & Elections.
---
Ban on Suction Dredge Mining passes the House

Last week, the House passed House Bill 1261, which will put an end to suction dredge mining in critical habitat waterways in our state.
Suction dredge and motorized mining can cause vast amounts of damage, including increasing the amount of silt in the water, kicking up heavy metals like mercury, and disrupting the spawning beds where salmon have laid eggs. In the long term it can make rivers shallower and warmer, which also has negative impacts on the endangered salmon populations as well as the struggling orca population that relies on salmon and other forage fish for survival.
More than 150 advocate groups, including tribes, local businesses, and government agencies, as well as recreation, hunting, and fishing organizations came together to help make this happen. Thank you to them, the prime sponsor, Rep. Peterson, and the Chair of the Environment & Energy Committee, Rep. Fitzgibbon. I led this effort from 2014 to 2017, and am so grateful to them all for continuing the work and getting us to where we are today.
I'm thrilled that Washington is on its way to finally joining Idaho, Oregon, and California in protecting our salmon, steelhead, and bull trout from being further endangered by harmful suction dredging practices. The bill is now being considered in the Senate, and I'll keep you updated as it moves through the process.
---
Washington Census Bill of Rights

On February 12, the House passed House Bill 2527, which was crafted after a law enacted in California last year. The bill creates the Washington Census Bill of Rights and Responsibilities, aimed at ensuring every Washingtonian has access to accurate census information so we can all get counted.
The bill affirms Washingtonians' rights to:
Participate in the Census free of threat or intimidation;
Confidentiality of information provided in the Census form;
Respond to the Census by phone, mail, or online;
Request language assistance; and
Verify the identity of a Census worker.
In addition to upholding these rights, the bill makes it a gross misdemeanor to impersonate a Census taker with the intent of interfering with the operation of the Census, obtaining information, or getting consent to enter a person's home.
The bill also requires the Census Bill of Rights and Responsibilities be translated into several languages and be made available on Census websites.
Census results determine how many seats in Congress each state gets, so if we want fair representation at the federal level, we need to make sure our count is accurate. The results also help determine how billions of dollars in federal funding flow into states. Highway planning and construction, support for schools, programs to prevent child abuse, projects to prepare for wildfires, and housing assistance for older adults are among the many programs with funding affected by the Census.
To learn more, check out the House Democrats' Facebook videos on the 2020 Census.
---
Your voice in Olympia,



Gael
---