Dear Friends & Neighbors,
Today, as we celebrate the life and legacy and leadership of Martin Luther King Jr., I am reflecting on the first week of the 2018 session, and all that we hope to accomplish in the coming 53 days before session concludes. Earlier today, I had the honor of co-sponsoring the annual MLK Day resolution. You can watch my speech by clicking here, or by clicking on the image below.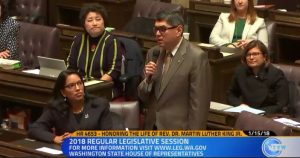 Getting Started
Every year, the Speaker of the House starts the legislative session with an opening day speech. That speech highlights past successes, shares our values, and suggests priorities that lawmakers will tackle in the coming months. This year was no different.
Speaker Chopp reminded us that we are One Washington, and bring together people across the state for a common purpose. In the Legislature we try to look out for communities across the state and ensure that everyone has a fair chance at the American Dream. We believe in putting people first.
"Working together in good faith, our accomplishments will continue, as long as there are people like you willing to make it happen," said Speaker Frank Chopp. He's right. If we work together and focus on people first, we can accomplish a lot.
This year, I'm focused on the Washington Voting Rights act, a capital budget for school construction and infrastructure, and job creation so that all Washingtonians can prosper from our strong economy, not just those in urban areas.
This is an ambitious list, and there's a lot of work to do in a 60-day session, but I am ready to work.
The Washington Voting Rights Act
Communities should reasonably expect their elected bodies to reflect the populations of those who elected them. At a minimum, our election systems must ensure that communities have an equal and legitimate opportunity to have their voices heard. However, too often that is not the case.
In Yakima, voters had never elected a Latino city councilmember despite having a population of nearly 40 percent Latino residents. Then, in 2012, two Yakima Latino citizens sued under the Federal Voting Rights act, claiming that the City of Yakima's election system unlawfully diluted the Latino vote, and it did not allow for equal participation by Latinos in the election process.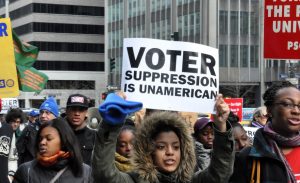 In 2014, after Yakima was required to change its election system by federal court order, three Latina citizens were elected to the city council. The Washington Voting Rights Act would allow communities that are systemically disenfranchised in local government elections to work collaboratively with their local governing bodies to adjust local elections without going through costly and time-consuming federal litigation. If this collaborative process fails after six months, a process that is not available under the Federal Voting Rights Act, communities can then seek relief in state court.
Passing the Washington Voting Rights Act will result in an improved process for addressing systems that perpetually disenfranchise significant segments of local voting populations. I'm supporting this measure to give underrepresented voters a stronger, more meaningful voice in the government closest to them, and empower them to elect leaders that best reflect their community's values and vision.
Protecting Vulnerable Populations
I have introduced two bills this session to help protect the most vulnerable among us.
House Bill 2343 protects vulnerable adults by defining what it means to "willfully" abuse a vulnerable adults, such as seniors in nursing homes, or someone living in a group home. Our current law, which lacks the definition of "willful" has made it easier for abusers to avoid prosecution. I believe that if you hurt someone, you should face the consequences.
House Bill 2700 will protect our children's privacy after they have gone through a traumatic event, by exempting from the public records act the video or audio recordings of children's interviews about their neglect or abuse. A child going through this in their lives does not need their privacy further invaded by having these records becoming public at a later time.
Protecting college financial aid for DACA students
In the past year, there have been many threats to eliminate the Deferred Action for Childhood Arrival (DACA) program by the Trump Administration. Here in Washington state, we can make sure students don't lose their financial aid or college affordability benefits no matter what happens with DACA.
By passing House Bill 1488, which had a hearing in the House Higher Education committee last week, our state law would protect financial aid eligibility for undocumented students, including College Bound state financial aid for DACA students if DACA is eliminated. It's the right thing to do, because we want to keep students in college, working hard and getting degrees so they can help fill the demand for the jobs Washington's economy is creating.
News you can use
How can you get informed and involved in your democracy? The House and Senate are now at work in Olympia in a session that is scheduled to last 60 days. Here's a quick guide on how to contact your lawmakers, learn about the issues or share your views on legislation being debated here in the House:
As a constituent, your views and interests combined with your participation, are crucial to decision-making here in Olympia. You can always email me at javier.valdez@leg.wa.gov, or call my office at 360-786-7818. Our democracy is strongest when everyone has the ability to learn about the issues and share their comments, questions and ideas. I hope to hear from you soon!
Sincerely,
Javier
---