---
---
April 23, 2019
The House concurred with the Senate amendments today. The bill now goes to Governor Inslee's desk for consideration.
Press release from Attorney General Bob Ferguson: Bill to ban 3D-printed "ghost gun" passes legislature
---
April 16, 2019
HB 1739 was approved by the full Senate today by a vote of 30-18. The Senate made a minor technical change to the bill, so now it must come back to the House for a concurrence vote.
---
March 28, 2019
HB 1739 was voted out of the Senate Law & Justice Committee today. It is now eligible for a full vote of the Senate.
---
Undetectable and untraceable firearms and their creation would be illegal under proposed legislation. These types of firearms are being manufactured most commonly via 3-D printers and are often referred to as "ghost guns."

The Senate Law and Justice Committee heard public testimony on Engrossed House Bill 1739 on Tuesday. The Senate version, SB 5061, passed out of the Law and Justice Committee in January but did not move out of the Senate Rules Committee. Differences between the two bills were described as "non-substantive" by committee staff.

Rep. Javier Valdez, D-Seattle, is the prime sponsor of the bill which was requested by Attorney General Bob Ferguson.

"This is really about ensuring that our people out there in the state of Washington feel safe," said Valdez.

It's important to get out in front of this problem with growing technology, said Valdez, citing a case were 3-D assault weapons were being distributed in New Jersey last week.
Click here to read the full article.
---
March 26, 2019
HB 1739 had a public hearing today in the Senate Law & Justice Committee. Watch the public testimony below.
---
March 4, 2019
HB 1739 was approved on the House floor today by a vote of 55-41. It now moves on to the Senate for consideration.
Click on the image below to watch my speech on the House floor in support of this much needed legislation.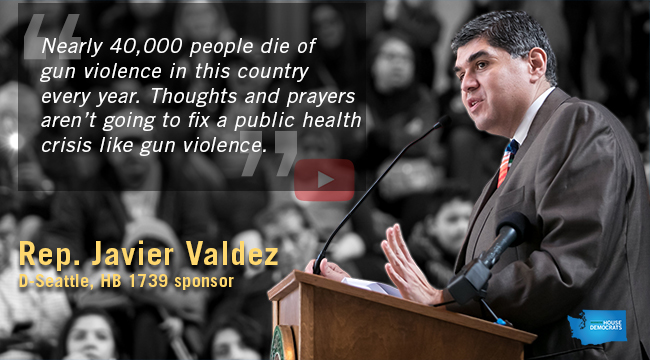 ---
February 15, 2019
Another step forward on gun safety! HB 1739 was placed on the House floor calendar today, which means it's eligible for a full House vote as early as Monday. I'll be working to ensure this bill is taken up for a vote as soon as possible.
---
February 8, 2019
HB 1739 was approved by the House Civil Rights & Judiciary Committee today. It now goes to the House Rules Committee where it will wait for further consideration by the full House of Representatives.
---
February 5, 2019
HB 1068 was approved by the House Civil Rights & Judiciary Committee today. It now goes to the House Rules Committee where it will wait for further consideration by the full House of Representatives.
---
January 29, 2019
Due to a bill drafting error, HB 1073 has been reintroduced as HB 1739. HB 1739 will be the new bill for the bill dealing with undetectable or untraceable guns.
---
January 26, 2019
KREM 2 News: Sam Strahan's mother supports bill limiting 'high-capacity' magazines

---
"We will accept nothing less than action."
January 25, 2019
Those are the powerful words from family members of gun violence victims to members of Congress in this new video.
Sadly, we all know the Republican-controlled senate and the president will not only block common sense gun safety legislation, they'll likely continue to weaken our country's gun laws.
Thankfully, it doesn't have to be that way in Washington state. Lawmakers in Olympia have the power to enact laws to keep our residents safe, and that's exactly what I'm trying to do this legislative session.
I'm sponsoring two bills, HB 1068 and HB 1073, that will take modest steps in the right direction to reduce gun violence.
HB 1068 will ban the sale and manufacture of high capacity magazines. This measure is pretty straight forward – a mass shooter with a high capacity magazine will be capable of killing and injuring more people.
High capacity magazines were used in two recent mass shootings in Washington state.
There is no need for these types of magazines outside of military use, police use, or sporting events, which my bill acknowledges and exempts from the ban. It also doesn't confiscate current legally owned magazine.
HB 1073 aims to get ahead of a threat we know is coming in the not-so-distant future: 3D printed guns. Some call them "ghost guns" as 3D printed guns are capable of eluding common metal detectors.
I know I won't feel comfortable traveling on an airplane knowing it's possible the person sitting behind me could have boarded with a 3D gun, which can be just as powerful and deadly as a standard firearm.
3D printers are becoming cheaper and more readily available each year. This is an issue we can't sit back and wait until a series of tragedies occur.
Lawmakers must act now.
These bills received a hearing in the House Civil Rights & Judiciary committee this week. You can check out my brief testimony along with the testimony of Attorney General Bob Ferguson below.
There's endless amount of data and statistics that support the fact that gun violence is a growing public safety issue that cannot continue to be ignored. I won't rattle off those stats here, but the Washington Post has an excellent summary of mass shooting data here.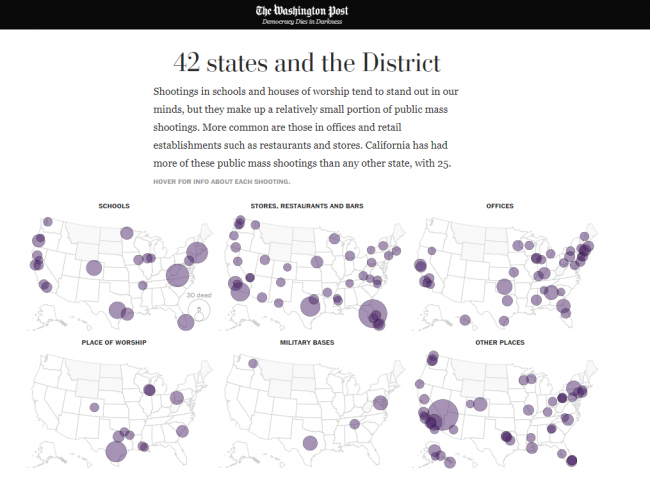 For too long in America, our national elected leaders turned to "thoughts and prayers" as a response to mass shooting tragedies. Thoughts and prayers aren't enough. We need action from our elected officials.
As long as I have the honor and privilege to serve as your state representative, I will continue to push for common sense gun safety legislation that will help keep our communities safe.
---