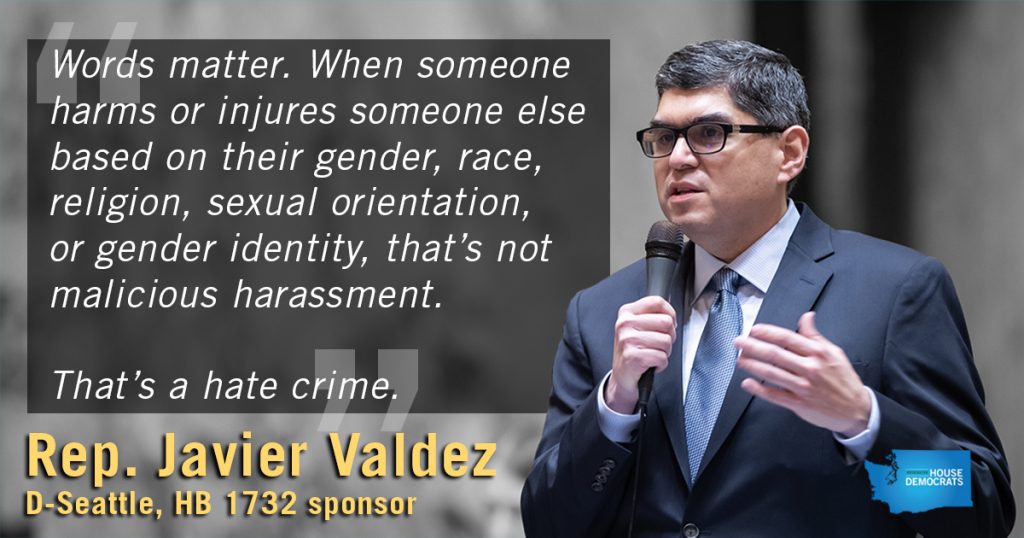 OLYMPIA – The Washington State Senate approved a bill that would strengthen Washington's hate crimes statutes by a vote of 35-11 on Wednesday.
Under current law, crimes motivated by hate are prosecuted as "Malicious Harassment." HB 1732, sponsored by Rep. Javier Valdez, D-Seattle, would more clearly call out these offenses for what they are by renaming the violations "Hate Crime Offenses" in state law.
"Words matter," said Valdez. "We're no longer going to be calling this 'malicious harassment.' It's not malicious harassment. It's hate. When someone does bad things to people based on their gender, their race, their religion, their sexual orientation, or their gender identity, that's a hate crime."
The legislation adds "gender identity or expression" to the list of protected categories. HB 1732 also increases the maximum civil liability for those guilty of committing hate crimes from $10,000 to $100,000.
The bill creates an advisory work group that would take a closer look to identifying the root causes of and preventing hate crimes. The work group must submit a report to the Legislature with recommendations on preventing hate crimes through public awareness campaigns, increasing the reporting of hate crimes, providing law enforcement more tools to investigate and prosecute hate crimes, and supporting victims of hate crimes.
The number of reported hate crimes has been on the rise in recent years.
Nationally, the number of hate crimes increased 17% from 2016 to 2017.
Washington state saw an increase of 42% in hate crimes from 2016 to 2017.
The Seattle Police Department tracked 521 bias-related crimes in 2018, up from 418 in 2017 and 256 in 2016.
HB 1732 was amended by the Senate to include as a hate crime the act of placing a noose on the property of a victim who is or is perceived to be a member of a racial or ethnic minority group. The Senate made other changes related to the advisory work group.
The bill now returns to the House for consideration of the Senate amendment.
The 2019 legislative session is scheduled to adjourn for the year on April 28.
---