Dear Friends and Neighbors,
The 2020 legislative session is off to a busy start! I am excited to be back in Olympia with my colleagues. Here are some updates on what I've been working on.
---
Bills I Am Sponsoring
HB 2240 – Limiting High-Capacity Magazines
There are 36,000 gun deaths and 100,000 gun injuries every year. The Las Vegas massacre used 50-100 round magazines, firing more than 1,100 rounds in ten minutes. Of all mass shootings, 58% involved high-capacity magazines, which resulted twice as many fatalities and 1400% more injuries. High-capacity magazines were used in two deadly shootings in Washington state in the last four years. In the wake of these tragedies, I am sponsoring legislation to restrict the size of gun magazines. My goal is to keep the public safe from gun violence. We can prevent these heartbreaking crises before they happen.
Limiting magazine sizes can mean the difference between life and death. When shooters are forced to reload, victims have a few extra seconds to get away. It will also give police a chance to step in. There is no reason that 100-round magazines are necessary for general public use. They are weapons of war with no place in our society. Nine other states already have similar restrictions on magazine sizes, and it's time for Washington to join this group. My bill will protect Washingtonians from unnecessary, preventable harm.
HB 2632 – Increasing Punishments for Swatting
"Swatting" is when someone falsely reports an emergency in order to deploy armed law enforcement to a particular place. This can result in the deaths of innocent people, in addition to needless panic, evacuation, and trauma. Deadly swatting hoaxes are more than just pranks. Victims have been targeted by hate groups, including Seattle's own Ijeoma Oluo, author of So You Want to Talk About Race.
HB 2632 will prevent people from using first responders as weapons. Creating heavier penalties for false emergency calls can save innocent people from fear and harassment, not to mention relieving burdens on police departments.
HB 1422 – Protecting Vulnerable Adults
Vulnerable adults are people 60 years or older who are unable to care for themselves, and they may receive care services from an individual or facility. People like this can be abused, neglected, or exploited by their caretakers. HB 1422 changes definitions about what constitutes abuse. It also addresses confidentiality issues with investigations and allows people to be removed from the abuse registry if they show rehabilitation. Overall, this bill strengthens protections for our most vulnerable people. Fewer cases will be lost now that our culpability standards are up to par.
This bill was one of the first passed off the House floor this session. It now goes to the Senate for consideration.
---
What's Next for Transportation?

The passage of Initiative 976 means a loss of over $450 million in revenue for the state transportation budget.
The initiative is being challenged in court, but the trial hasn't started yet. We will probably learn the initiative's final fate after we conclude this short 60-day session.
It's a myth — despite what you may have seen in the 2019 voter's guide — that we can simply tap the state rainy day fund to replace the missing funds. The rainy day fund is meant for the operating budget, which pays for public schools, colleges, parks and non-transportation costs. The state constitution prevents lawmakers from spending this fund without a supermajority vote and certain conditions, like an economic recession.
All of that means that the transportation budget has to be balanced now, however painful possible delays may be.
Many state transportation projects have been delayed, not canceled. This includes the SR 522 Crossing Study in Kenmore and the SR 104/40th Pl NE Roundabout in Lake Forest Park. The Governor put these projects on hold. I am happy to announce that funding for the Sammamish River Bridge replacement in Kenmore has not been affected. This project is still on track to move forward.
We need more investments in transit, ferries, trains, and multimodal options to reduce traffic gridlock on our highways and safely get people where they need to be. As a daily metro bus rider, I am invested in finding innovative ways to keep Washington moving. Like so many of you, I can't wait for 2021, when I can ride the light rail to work from Northgate.
---
I am honored to serve you in Olympia. Thanks for reading and please keep in touch!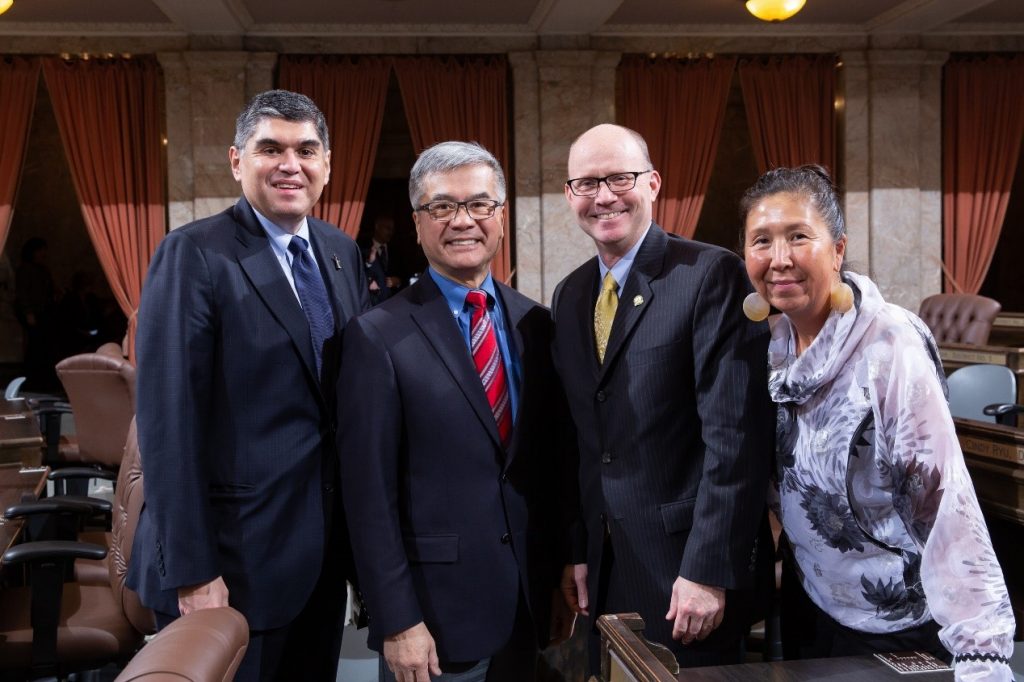 ---