OLYMPIA—Legislation by Rep. Javier Valdez (D-Seattle) would toughen state laws against hate crimes. 
"Sadly, in 2019, our state had more hate crimes per capita than any other area outside Washington D.C," said Valdez, author of House Bill 1017. "We have a lot of work to do to protect people from harassment and violence—and this legislation is part of that work." 
According to the FBI, hate crimes have risen 25 percent nationally since 2015, while the number of hate crimes in Washington state nearly doubled, increasing by 97 percent. There were 542 hate-crime incidents reported to law enforcement statewide, with the offenses including harassment, intimidation, burglary, rape, and murder. Hate crimes in Seattle have gone up 400 percent since 2012.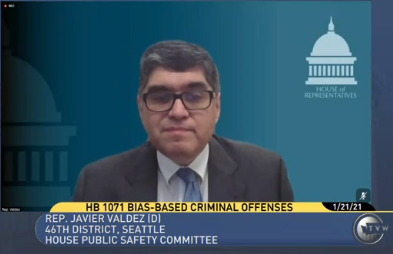 House Bill 1017 was heard in the House Public Safety Committee on Jan. 22. It would add hate crimes to the list of crimes against persons, which would stiffen penalties and heighten victim notification standards. The legislation also adds hate crimes to the list of aggravating circumstances, which can be used during sentencing to justify going above the standard range. 
"The majority of hate crimes are based on race, but that's not all who suffer," Valdez said. "People with disabilities get targeted, along with the LGBTQ community and members of faiths such as Hindus, Jews, Muslims, and Sikhs–including their places of worship. It's wrong, it's against the law, and it has to stop." 
---