Friends and neighbors,
We're only a few weeks away from the end of the 2021 legislative session. As the new chair of the House State Government & Tribal Relations committee, I see a lot of bills that have to do with our elections. Some bills increase representation and access. My priorities have always been to make our electoral process accessible and secure and to stop any legislation that disenfranchises voters. This session, we were successful on all these goals.
---
Restoring voting rights to formerly incarcerated individuals
Earlier this session, the Washington House Democrats passed HB 1078 to restore voting rights to formerly incarcerated people.⁠⁠
The right thing to do is to honor second chances and treat our neighbors with dignity. When people return to our communities to live and work, they should have the right to fully participate in democracy without further punishment. ⁠⁠
They deserve a brighter future and have a unique perspective on our criminal legal system that can help improve our laws. Withholding voting rights is unjust and has continued for too long, and we must not stand in the way of redemption. ⁠⁠
This bill has passed the Senate as well and awaits the governor's signature. Congratulations to Rep. Tarra Simmons (D-East Bremerton), who sponsored this important legislation. She is an attorney and registered nurse who was incarcerated at one time.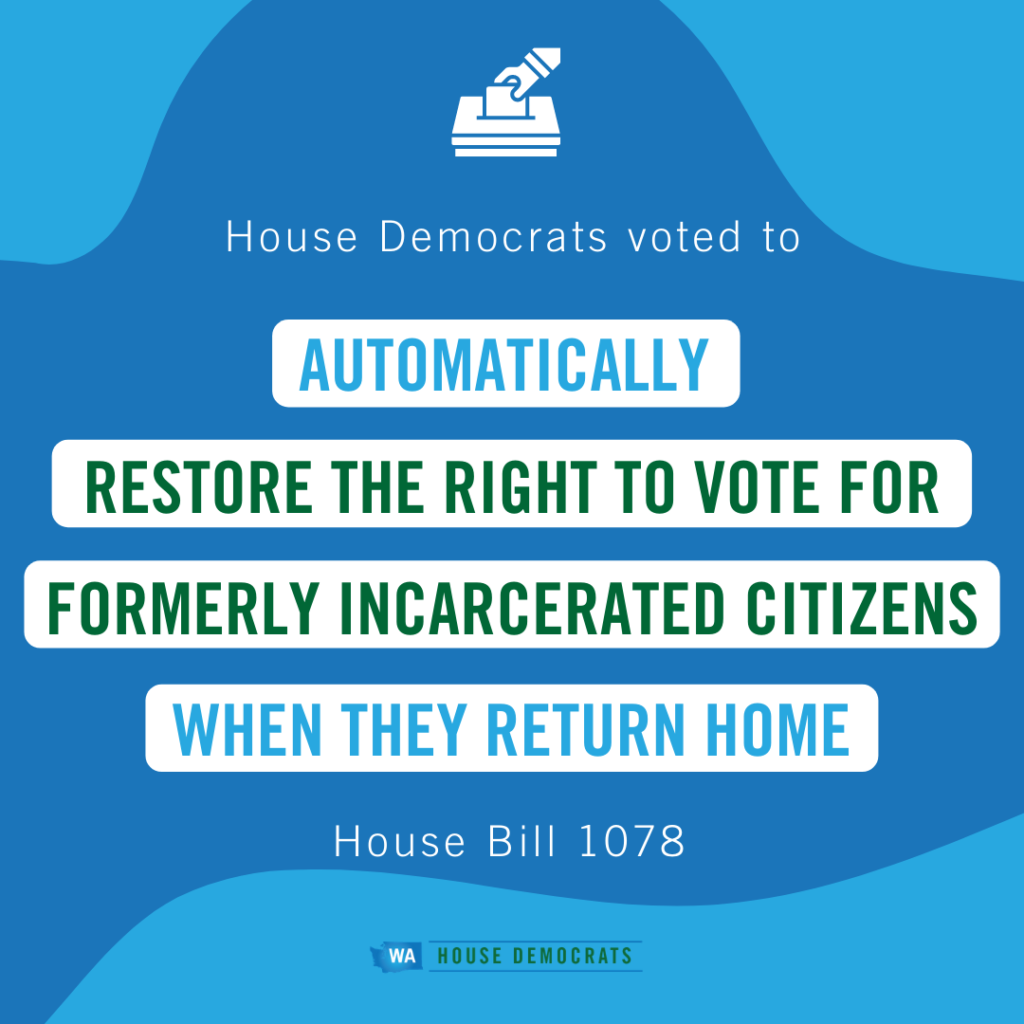 ---
Securing our elections
Over the past few elections, we have seen significant threats to our voting processes. People who mean to undermine our democracy have taken aim at our election processes. Others have produced fraudulent ballot drop boxes that confuse voters. Both actions are completely unacceptable, and we needed to take steps to combat any attempt to undermine our democratic process.
That is why we passed House Bill 1068 which exempts our election security processes from public disclosure. Our election security playbook shouldn't be easily accessed by people who wish to undermine our elections. Exempting our election security efforts doesn't solve this problem completely, but it prevents bad actors from having easy access to our election security measures.
We also passed Senate Bill 5015, which creates a misdemeanor for misrepresenting an unofficial ballot drop box as an official one run by the county auditor. These types of boxes mislead voters and could be highly susceptible to the mishandling of ballots. I delivered remarks on this bill when it passed the House on April 5. These bills have passed both chambers and are also on their way to the governor's desk for signature.
---
---
Protecting your voices
Finally, I want to talk about bills that didn't pass. Specifically, bills that would have disenfranchised voters or put them at risk during a pandemic. These bills include an attempt to establish a state electoral college system that would have diluted the vote of our communities of color, who already face hurdles without creating a system that diminishes their voice. We also saw the introduction of legislation to end our vote-by-mail system. This system works, it reduces the number of hurdles voters must overcome to make their voices heard, reduces opportunities for voter intimidation, and is the safest option for voting during a pandemic.
These bills never got a hearing because they would have disenfranchised voters and didn't deserve the committee time. We have a lot of work to do to help our state government become more transparent, responsive, and accessible. Legislation that hinders these efforts hurts us all.
As always, please reach out to my office with any questions, ideas, or concerns.
Thank you,

Rep. Javier Valdez
Javier.Valdez@leg.wa.gov
(206) 905-8739
facebook.com/RepJavierValdez
---