Hello, and thank you for visiting my website.

As you know, this is an election year and we are required to follow legislative ethics rules to ensure state resources are not used for campaign purposes.
When election-year restrictions are in place, lawmakers who are up for re-election must limit outreach and external communications, including not sending out email updates after April 12, and not posting new content on our websites after June 30.
However, if you need information or have a legislative issue, please feel free to contact me with your requests and concerns and I will do my best to return your call, email or letter promptly.
Even though my legislative website will remain frozen until after the election, you can still get lots of useful information here: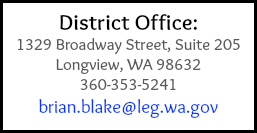 Please keep in mind I am your representative year around, so don't hesitate to get in touch!

______________________________________________________________________

April 29, 2014
Reps. Brian Blake and Dean Takko, and Sen. Brian Hatfield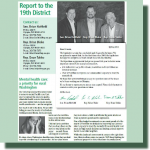 The legislative session has concluded and it's good to be home. We are pleased to report that, for the first time since 2009, the legislature managed to complete our work ahead of our 60-day timeline. The bipartisan supplemental budget we passed this year included some important victories for coastal communities. • $58 million for our public schools, in addition to the $1 billion we invested last year. • Over $32 million to improve our communities' capacity to treat the mentally … Continue reading →









Rep. Brian Blake talks about the $9 million allocation for the Coastal Restoration Initiative that was included in the House Capital Budget proposal. He also talks about the $1 million Emergency Food Assistance Program allocation in the Operating Budget.

Rep. Brian Blake talks about the work he's doing during cutoff week, including passing his trails bill and his micro-housing bill.

Rep. Brian Blake talks about the need to fund the Emergency Food Assistance Program. Currently, one in five Washingtonians are relying on food from their food bank–54 percent of those are children and seniors.
Rep. Brian Blake talks about protecting private property rights and student participation in state government.
Aug. 15, 2013 – Reps. Brian Blake and Dean Takko tour the 19th Legislative District to learn about the different ways Washingtonians get their food.
Aug. 27, 2013 – Representatives Brian Blake and Dean Takko spend an afternoon checking-up on a few bridges undergoing renovations in their district.
Grown in Washington: Tour the 19th District with Rep. Blake