December 17, 2014
Rep. Brian Blake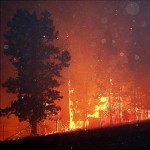 Rep. Brian Blake (D-Aberdeen), Chair of the House Agriculture & Natural Resources Committee, and Rep. Joel Kretz (R-Wauconda) will host presentations by local and state officials for the local community about preparations for the upcoming 2015 fire season on January 5th. The discussion will revolve around the roles and responsibilities of state and local agencies regarding wildfire fighting, protection of homes, evacuation orders and other areas related to fire. Special focus will be given to preparations for the next fire … Continue reading →









Rep. Brian Blake (D-Aberdeen) talks about a bill to criminalize the possession of ivory, a measure to promote hunter safety, the biggest challenge this session, which is funding education, and driving funds to revamp the state's hatchery system.

Rep. Brian Blake talks about the $9 million allocation for the Coastal Restoration Initiative that was included in the House Capital Budget proposal. He also talks about the $1 million Emergency Food Assistance Program allocation in the Operating Budget.

Rep. Brian Blake talks about the work he's doing during cutoff week, including passing his trails bill and his micro-housing bill.

Rep. Brian Blake talks about the need to fund the Emergency Food Assistance Program. Currently, one in five Washingtonians are relying on food from their food bank–54 percent of those are children and seniors.
Rep. Brian Blake talks about protecting private property rights and student participation in state government.
Aug. 15, 2013 – Reps. Brian Blake and Dean Takko tour the 19th Legislative District to learn about the different ways Washingtonians get their food.
Aug. 27, 2013 – Representatives Brian Blake and Dean Takko spend an afternoon checking-up on a few bridges undergoing renovations in their district.
Grown in Washington: Tour the 19th District with Rep. Blake