March 17, 2015
Rep. Jim Moeller
Who: State Reps. Jim Moeller and Sharon Wylie and State Sen. Annette Cleveland What: Telephone town hall for the 49th Legislative District When: 6:00 – 7:00 p.m. on Thursday, March 19, 2015 Where: The 49th Legislative District via telephone. Dial in with this number 1-877-229-8493 and enter the pin 18646 Why: To hear from constituents about what issues matter most to the district and for the legislators to talk about the work they've done so far this session.
Olympia Address:
LEG 436A
PO Box 40600
Olympia, WA
98504-0600
(360) 786-7872
Email Jim
Toll-free Hotline:
1-800-562-6000
1-800-635-9993 (TTY)
Committees:







Spring 2014 Report to the 49th District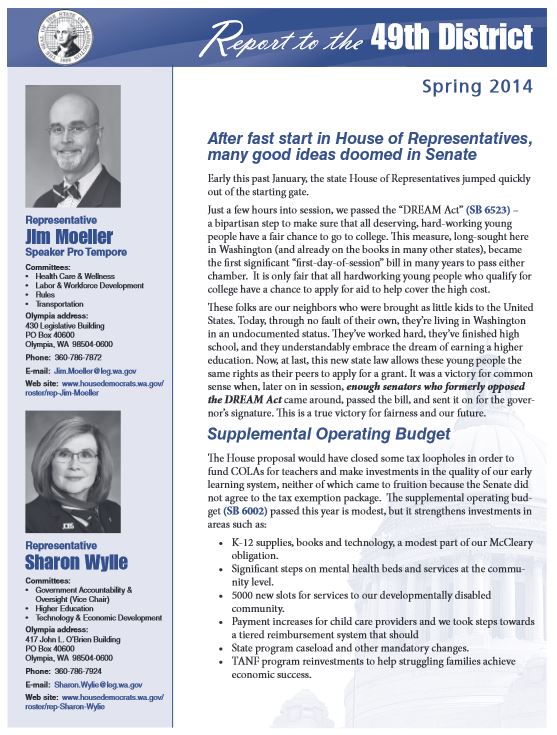 ———————–
Jan 2014 Legislative Report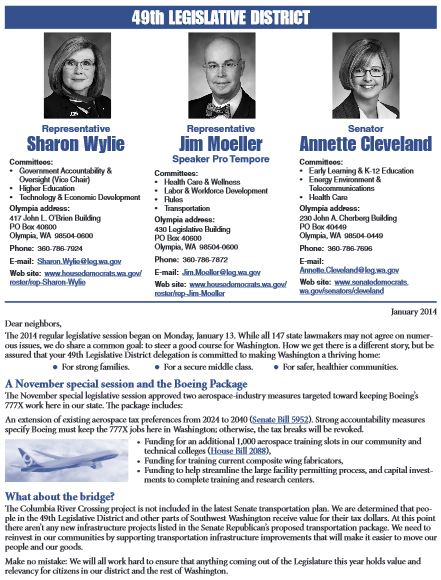 The Impact: Non-resident sales tax exemption

TVW examines the non-resident sales tax exemption in this edition of The Impact. Washington is the only state to offer this kind of sales tax exemption to non-residents.
Rep. Moeller's recent visit to China