Thank you for visiting my website.
Because this is an election year, certain restrictions on my external communications are currently in effect, to ensure that no public resources are used for election purposes. Those restrictions include not posting new content on my legislative website until after next fall's general election.
However, if you need information or have a legislative issue, always feel free to contact me with your requests and concerns and either I or my legislative aide will return your call, email, or letter promptly.
Our district office is located at 1155 N. State St., #306, in Bellingham (98225).  The phone number is (360) 676-2101, and my email address is kristine.lytton@leg.wa.gov.
Even though this website will remain frozen until after the election, you can still get lots of useful information here:
I am your representative all year 'round, so please don't hesitate to get in touch!
Sincerely,

______________________________________________________________________

March 21, 2014
Rep. Kristine Lytton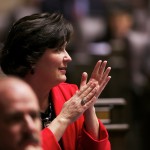 The short 60-day legislative session that concluded last week in Olympia was remarkable for a number of reasons. For one thing, we adjourned on time. As our state grows more complex and our population continues to increase – with corresponding demands for a range of government services – it becomes more and more challenging to neatly wrap up a full year's worth of the people's business in two months, or even in the 105 days allotted for odd-numbered years. While … Continue reading →