October 12, 2015
Rep. Larry Springer
If you've visited a lawmaker's office, you've probably seen family photos on the desk and awards on the wall from various community groups. It's nice to get recognized, and even better when it's by an organization that you respect. I want to return the favor. Because stakeholders and citizen-activists are a huge part in getting things done in our democracy. Without the tireless help of the Washington Low-Income Housing Alliance, we wouldn't have secured $75 million for housing and the … Continue reading →
Olympia Address:
LEG 132E PO Box 40600 Olympia, WA 98504-0600 (360) 786-7822 Email Larry
Toll-free Hotline:
1-800-562-6000 1-800-635-9993 (TTY)
Committees: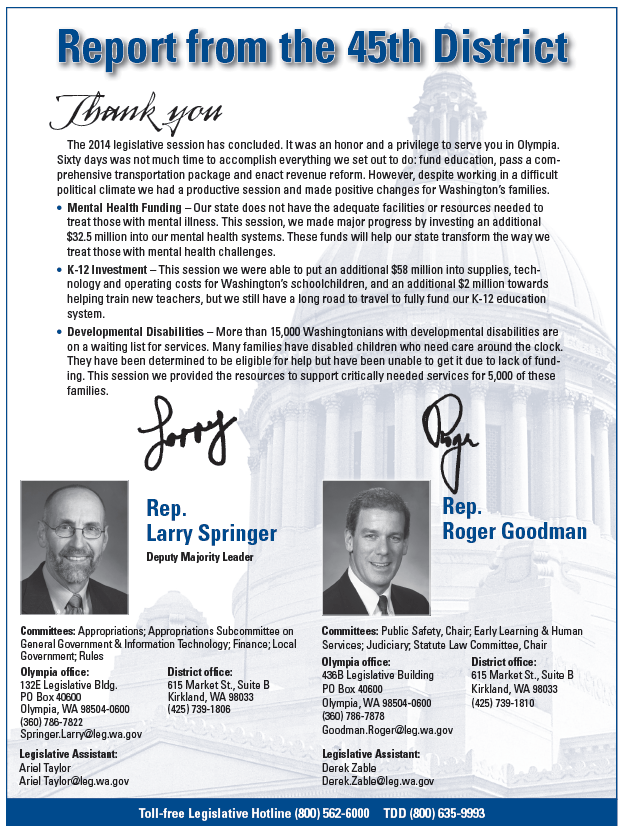 Rep. Larry Springer talks about two major bills during the last few weeks of the session: the budget, and the budget–that is, the operating budget and the capital budget. The House operating budget will emphasize pumping another $200 million into our K-12 funding.
Rep. Larry Springer talks about his work on HB 2680, which would give Washington caterers the ability to sell liquor. The bill, which awaits passing by the House, was an idea Rep. Springer developed with a constituent he met with prior to session.
Rep. Larry Springer discusses his new legislation which will establish a voluntary early retirement savings plan for small business owners to offer their employees.
2014 Priorities Education & Transportation Rep. Larry Springer discusses the opening of the 2014 legislative session and his priorities — funding education and transportation.