November 23, 2015
Washington House Democrats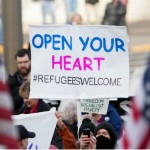 OLYMPIA – Today a group of 18 House Democrats sent a letter to Governor Inslee commending his leadership in the potential resettlement of thousands of families and orphans from war-torn Syria. The letter also comes as a response to a letter delivered last week by state Senate Republicans and recent bigoted diatribes, as well as last Friday's anti-refugee rally at the capital where a handful of state legislators continued to stoke fear and misinformation. "We wanted to make sure that … Continue reading →
Legislative Scrapbook
District office (May-Jan):
7406 27th St. W Suite 207 University Place, WA 98466 (253) 566-5610
Olympia Address:
JLOB 311 PO Box 40600 Olympia, WA 98504-0600 (360) 786-7930 Email Laurie
Toll-free Hotline:
1-800-562-6000 1-800-635-9993 (TTY)
Committees: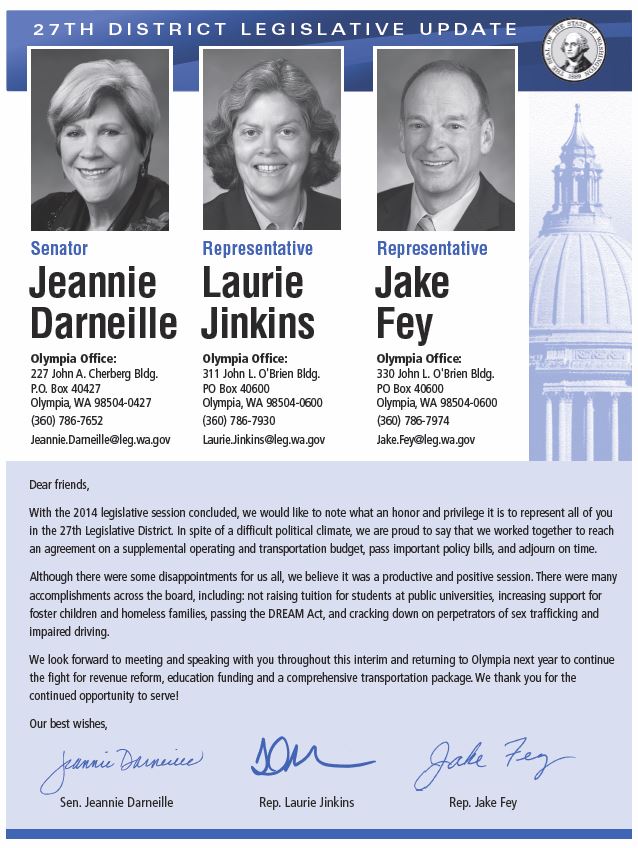 Rep. Laurie Jinkins talks about the House supplementary budget and the closure of tax loopholes that will funnel funding to education. She also talks about the capital budget allotment for classroom construction–kids can't learn unless they have a space conducive to learning. Rep. Laurie Jinkins updates constituents from the legislative building. She talks about the process of cutoff and the number of people who lobby in the capitol, including groups from ECAP and the AARP. Rep. Laurie Jinkins talks about her Paid Safe and Sick Leave bill, which was recently approved by the House of Representatives and is on its way to the Senate floor. Many workers are forced to decide between earning income to support their families and staying home with a sick child. The bill also ensures sick employees can afford to stay home, limiting the spread of viruses. Rep. Laurie Jinkins welcomes her constituents to the 2014 legislative session and gives a short budget update. She introduces Lynda Foster, her legislative aide who plays a key role in the office. Rep. Jinkins also discusses two big issues for this session: medical cannabis and firearms safety.
Rep. Laurie Jinkins interviews other legislators and advocates waiting to get their bills signed by Governor Inslee. Rep. Jinkins Floor Speech Rep. Jinkins speaks on behalf of HB 1044.
2012 Legislative Wrap-Up