Hello, and thank you for visiting my website.

As you know, this is an election year and we are required to follow legislative ethics rules to ensure state resources are not used for campaign purposes.
When election-year restrictions are in place, lawmakers who are up for re-election must limit outreach and external communications, including not sending out email updates after April 12, and not posting new content on our websites after June 30.
However, if you need information or have a legislative issue, please feel free to contact me with your requests and concerns and I will do my best to return your call, email or letter promptly.
Even though my legislative website will remain frozen until after the election, you can still get lots of useful information here: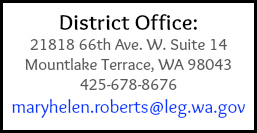 Please keep in mind I am your representative year around, so don't hesitate to get in touch!

______________________________________________________________________
February 27, 2014
Rep. Mary Helen Roberts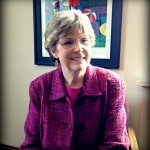 This past weekend, at a series of town hall meetings, Rep. Mary Helen Roberts announced that she will not seek re-election to the Washington State House of Representatives. Roberts, who is on her fifth term in the Washington Legislature, expressed gratitude for the opportunity to work side by side with 21st District citizens and community leaders for the past 10 years she served as their state representative. "While the 21st District is diverse in many ways, our families share most … Continue reading →








Rep. Mary Helen Roberts talks about her concern about the number of women incarcerated in Washington state and what happens to their children. She also talks about the need for investment in treatment for drug problems and other chemical dependency and improving the child adoption process.

Rep. Mary Helen Roberts talks about the first cutoff and what is coming up for the rest of this short legislative session. She also highlights her domestic violence arrests legislation, which makes arrests non-mandatory for anyone under 18, and her bill on chemical dependency diversion programs.

Rep. Mary Helen Roberts talks about her priorities for the year, which include education and transportation packages, improving the care for older kids in foster care, and keeping juveniles out of the criminal justice system.

Rep. Mary Helen Roberts talks about the DUI bill, the Revenue package, closing tax loopholes to fully fund education, and special session.