Hello Friends,
Welcome to my legislative website. As a three year Federal Way City Councilmember, a five year Human Services Commissioner, and a 18 year attorney, I have spent my career advocating for citizens who are disadvantaged by and disillusioned with government.
As your representative, I vow to fight to protect the most vulnerable in our society while ensuring that our state budget operates as efficiently as possible.
I was elected by my colleagues to serve as the vice chair of the House Early Learning and Human Services Committee. In the role I promise to work tirelessly to protect Washington's most vulnerable citizens by reforming laws around school truancy, Child Protective Services and non-violent offenders.
I have witnessed every day how our laws and budget cuts have adversely affected the people of the 30th district and our state, and I will fight to reverse these devastating policies.
I will also work to ensure that the legislature fully funds our education system, as mandated by the Washington Supreme Court's decision in the McCleary case. More than that, we also need to expand our STEM education programs to encourage more kids to become engineers, programmers, and scientists.
As a member of the Transportation Committee and the Technology and Economic Development Committee, I will work to expand Sound Transit in south King County and create an economic climate that encourages startup companies to launch here and remain here as they grow.
Most importantly, I am here to be your voice in the legislative process. Do not hesitate to contact me by phone or email with any questions, suggestions, or opinions.
Please also let me know if you plan on visiting Olympia during the legislative session, and I will be sure to schedule time to meet with you during your visit.
I am excited to represent the people of the 30th Legislative District and be your advocate for jobs, transit, social services and efficient government. I am grateful to have your support.
Best Regards,
Rep. Roger Freeman
Latest news from Rep. Freeman

November 21, 2013
Rep. Roger Freeman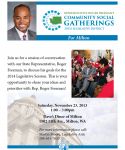 I'll be hosting another Community Social Gathering from 1 p.m. to 3 p.m. Nov. 23 at Dave's of Milton Restaurant and Lounge, 1502 11th Ave., Milton. These are casual town-hall style meetings and residents of the 30th Legislative District are invited. I will provide an overview of the 2013 session and an introduction to legislative work for 2014. To learn more, contact (206) 651-7620.


April 9 – Rep. Roger Freeman and House intern Ian Kinder-Pyle discuss his bills to protect first responders who are injured in the line of duty, strengthen due process for civil driving infractions, and education funding in this week's legislative update.
Jan. 21 – Rep. Roger Freeman speaks on the floor of the Washington State House of Representatives honoring the life and legacy of Dr. Martin Luther King, Jr.
This Week on TVW

Click on the video to learn what is happening in Olympia this week.