Latest News
March 28, 2014
Rep. Ross Hunter
Peter Callaghan: Education bill's unheralded details will need attention | Peter Callaghan | The News Tribune. Peter does a good job here exposing some of the hard work remaining in figuring out school funding details for 2015. He drills into a number of key issues: Local school levies being used for compensation. This is an unconstitutional shift of responsibility from the state to local taxpayers. Weird levy caps that treat different districts differently. Reliability issues with depending on local levies. … Continue reading →










VIDEO: Fuzzy Math
Smoke and Mirrors: House Appropriations chair Rep. Ross Hunter explains how Republican education and higher education proposals are not workable solutions to the state budget challenges.

Recent News
Photo Gallery

About Ross
I'm proud to represent Bellevue, Redmond, Kirkland, Medina, Clyde Hill, Hunts Point, Yarrow Point and a little bit of Issaquah in the Washington State House of Representatives.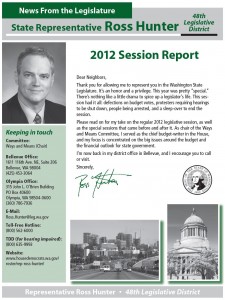 I am chairman of the Appropriations Committee, responsible for crafting biennial budgets. I also chair the Washington State Economic and Revenue Forecast Council.