Hello, and thank you for visiting my website.

As you know, this is an election year and we are required to follow legislative ethics rules to ensure state resources are not used for campaign purposes.
When election-year restrictions are in place, lawmakers who are up for re-election must limit outreach and external communications, including not sending out email updates after April 12, and not posting new content on our websites after June 30.
However, if you need information or have a legislative issue, please feel free to contact me with your requests and concerns and I will do my best to return your call, email or letter promptly.
Even though my legislative website will remain frozen until after the election, you can still get lots of useful information here: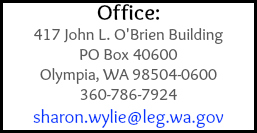 Please keep in mind I am your representative year around, so don't hesitate to get in touch!

______________________________________________________________________

April 17, 2014
Reps. Jim Moeller & Sharon Wylie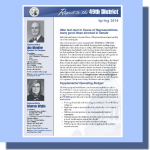 Early this past January, the state House of Representatives jumped quickly out of the starting gate. Just a few hours into session, we passed the "DREAM Act" (SB 6523), a bipartisan step to make sure that all deserving, hard-working young people have a fair chance to go to college. This measure, long-sought here in Washington (and already on the books in many other states), became the first significant "first-day-of-session" bill in many years to pass either chamber.  It is only … Continue reading →








Spring 2014 Report to the 49th District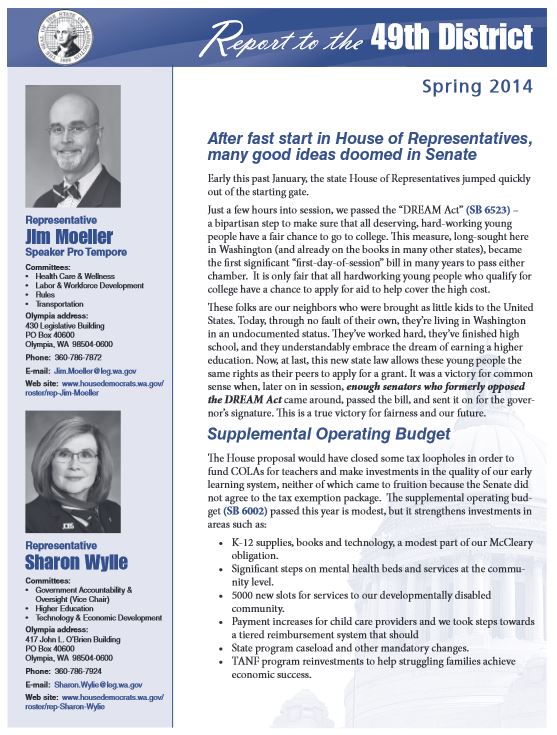 ———————–
January 2014 Legislative Report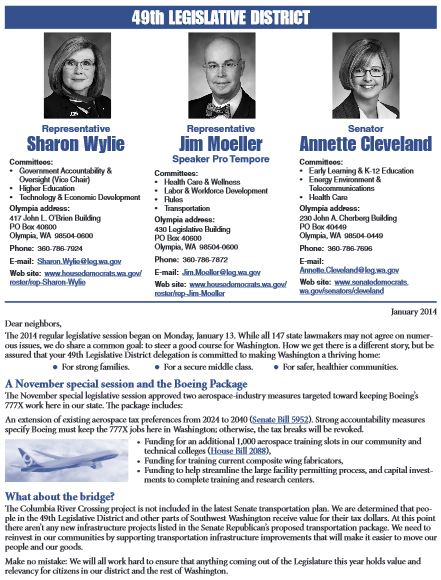 Rep. Sharon Wylie talks about the supplemental budget proposals and the work the legislature has to do in the coming weeks. She highlights the differences in the House budget proposal, which funnels much more money into funding our education obligations. Rep. Sharon Wylie talks about last year's work on the Columbia River Crossing Project, which was included in the House's transportation package. Now, the Oregon legislature is considering going alone. Rep. Wylie makes the case for refocusing Washington efforts on the Columbia River Crossing Project. Rep. Sharon Wylie talks about the work the legislature is doing to implement Initiative 502, the initiative legalizing marijuana that Washington voters passed in 2012. She also talks about the regulation of the medical marijuana industry in Washington and the possibility of revenue once a state system is implemented. Rep. Sharon Wylie talks about her 2014 priorities: jobs, education, and protecting vulnerable people. She also talks about the importance of passing the Dream Act.