Hello, and thank you for visiting my website.

As you know, this is an election year and we are required to follow legislative ethics rules to ensure state resources are not used for campaign purposes.
When election-year restrictions are in place, lawmakers who are up for re-election must limit outreach and external communications, including not sending out email updates after April 12, and not posting new content on our websites after June 30.
However, if you need information or have a legislative issue, please feel free to contact me with your requests and concerns and I will do my best to return your call, email or letter promptly.
Even though my legislative website will remain frozen until after the election, you can still get lots of useful information here: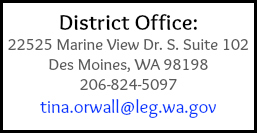 Please keep in mind I am your representative year around, so don't hesitate to get in touch!

______________________________________________________________________

June 11, 2014
Rep. Tina Orwall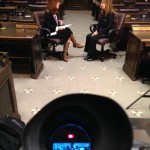 Rep. Tina Orwall, an adoptee herself, knows what it's like to miss important pieces of one's own life puzzle.  Not knowing if you're at risk of hypertension or diabetes could make it harder for you and your medical team to look for specific signs, so finding out if these or other conditions run in your family is truly valuable information. But there are other reasons people are curious about who they are and where they came from. Rep. Tina Orwall … Continue reading →










2014 Legislative Session Report to the 33rd District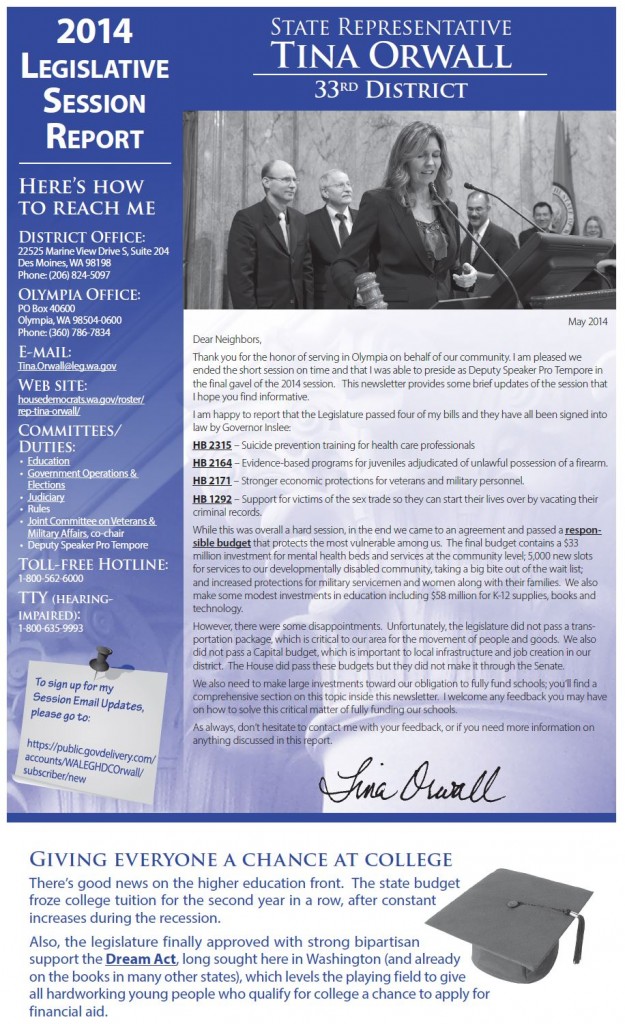 Rep. Tina Orwall talks about four of her bills that are headed to the governor for his signature, including her suicide prevention bill, her legislation for early intervention for juvenile gun offenders, and her bill to help victims of the sex trade rebuild their lives.
Rep. Tina Orwall talks about her leading policy bills, including her bill to provide evidence-based treatment for juvenile gun offenders, and her bill to vacate prostitution records for victims of the sex trade.
Rep. Tina Orwall talks about the work the House is doing during round-the-clock floor action. She also introduces her intern, Twila Begay. They talk about the suicide prevention bill, HB 2315, and the experience Twila has gained by working in Rep. Orwall's office this session.
Rep. Tina Orwall discusses her current legislation, which includes two education bills, one to improve running start participation, and the other one to ensure students can receive IB credit. She also talks about a bill to help victims of the sex trade reenter society, and a bill for preserving crime-related DNA so the wrongly accused can be exonerated.
Rep. Tina Orwall talks about the need to mirror federal protections for veterans and service members in our state, and about the importance of the DREAM Act for Washington students.
Cristina Martinez Montano, a Kent Meridian senior, talks with Rep. Tina Orwall, about the Washington DREAM Act.