March 6, 2014
Rep. Tina Orwall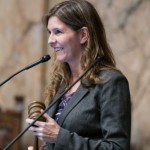 Earlier today the Senate unanimously passed House Bill 2315, which requires certain health professionals in Washington state to complete six hours of training in suicide assessment, treatment, and management as part of their education requirements. When it is signed into law, this measure will become the third prong in the suicide-prevention call for action started in 2011 by Rep. Tina Orwall, D-Des Moines. "We know that with early interventions suicide can often be prevented.  In a person's darkest hour, when … Continue reading →








Rep. Tina Orwall talks about her leading policy bills, including her bill to provide evidence-based treatment for juvenile gun offenders, and her bill to vacate prostitution records for victims of the sex trade.
Rep. Tina Orwall talks about the work the House is doing during round-the-clock floor action. She also introduces her intern, Twila Begay. They talk about the suicide prevention bill, HB 2315, and the experience Twila has gained by working in Rep. Orwall's office this session.
Rep. Tina Orwall discusses her current legislation, which includes two education bills, one to improve running start participation, and the other one to ensure students can receive IB credit. She also talks about a bill to help victims of the sex trade reenter society, and a bill for preserving crime-related DNA so the wrongly accused can be exonerated.
Rep. Tina Orwall talks about the need to mirror federal protections for veterans and service members in our state, and about the importance of the DREAM Act for Washington students.
Cristina Martinez Montano, a Kent Meridian senior, talks with Rep. Tina Orwall, about the Washington DREAM Act.